That text message I'm sure you got at the end of the Cavs-Bulls game yesterday should be the notice up on the whiteboard in the Cavs locker room now. With game one of the Eastern Conference first round in the bag, the Cavs know what's left to do. It's fifteen wins separating us from what we have deserved for almost two seasons now. Any Cavs fan concerned with the season ending form (come on, be honest, there were a few of you) should be left in no doubt right now that we mean business. You know when that hit me? Five minutes into the game when I saw Shaq pestering Noah on a jumper, running the floor, catching the pass, dunking and making the three-point play. Shaq looked like Usain Bolt running the floor yesterday. Okay, maybe Bolt's an exaggeration, but you get the picture. Shaq was so good I'm about to dedicate an entire paragraph to him…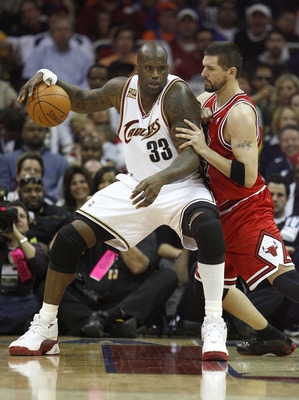 He bullied Joakim Noah for the 35 minutes the frizzy-haired ex-Gator played Saturday night. He totally outclassed Noah in every aspect of the game. He played better man-to-man defense, got involved in the team offense more than Noah, and when it came to the paint it was a non-runner. Whether it be spinning off Noah's right forearm for a vintage Shaq move or swiping the ball from Noah on a drive (which cannoned off Noah for a Cavs ball) he looked like a man on fire. Or better yet, a Diesel Truck with no brakes. When Brad Miller played him, same result. Spinning off the Bulls back up big with ease and aplomb in the paint while showing his soft touch. It was vintage Shaq. Shaq who hasn't played since Feb. 25. Shaq who wasn't supposed to be able to do those things in the paint anymore. 12, 5, 4, 3. That will do nicely for me Mr. O'Neal, thank you very much.
Now for the rest of the Cavs. LeBron looked like a man possessed. Four jaw dropping blocks. 24 points with some "How the ****" moves in the paint. But you know what I loved about LeBron the most? He took just one three point attempt throughout the game. ONE. Love the fact he's playing to not only his but the teams strength. Maybe there was one too many instances of "move out the way I'm running the clock down and taking a bad jumper" LeBron basketball, but other than that he was on another level. It's clear the Bulls couldn't keep up with us, it became more apparent when Mo Williams (can we call him Mo again?) and 'Tawn started knocking shots down. If Mo and Jamison can shoot a combined 50% for the rest of the playoffs while taking 28 shots between them like they did last night, we're in for a special few weeks. Jamison made those awkward floaters only he can make. Mo Williams knocked down the jumpers he didn't in last years postseason. While our bench didn't help in the biggest way points wise (17 combined), they did outplay the crap out of the Bulls reserves. Anderson Varejao was everywhere. Fifteen rebounds is a tidy number to grab off a bench. It's even better when you see that Noah, Miller and Gibson combined to tally…fifteen rebounds. Third quarter aside, we were immaculate.
But what about that third quarter? You know, the one where Derrick Rose was unconscious making running floaters for fun. The quarter where we didn't hit a field goal for over seven minutes. Yeah, that one. If we were playing a team that could have made a jump shot we'd of been in trouble. I know it's hard to get four quarters of perfection; it's darn near impossible. But when it comes to the postseason, we simply can't allow teams to come from 22 behind to just 9. Had we been playing the Hawks or Magic, we might not have weathered that storm. Another thing that can't keep occurring is the alarming number of turnovers. 18 turnovers will never win you an NBA Championship.
Outscoring your opponent 42-26 in the paint will. Handing out 27 dimes will. Having a plus-12 difference on the glass will. Playing as one will. Except for those seven minutes last night, you saw as close to basketballing perfection you're as likely to see. The King sat atop his throne while his henchmen ran on the finest Diesel. One game down, fifteen more to go…
As for the nights other games, kudos to 'Melo for equalling the Nuggets franchise record for most points in a playoff series. Shout out the Brandon Jennings for accounting for 37% of his teams' total points, the highest in NBA history for a rookie in his first playoff game. And oh yeah, was anyone else thinking Pistons/Pacers when they saw Jermaine O'Neal shove Big Baby to the ground?
Game two Monday night…One Goal…All Together we'll achieve it…