I mean, come on? Really? The Wizards? Do they deserve this kind of luck? The franchise that tied Gilbert "Gun-Slinging" Arenas down to a $9.7 billion dollar contract? The franchise who used their last number one pick on Kwame Frickin Brown, career averages of 6.7 points and 5.4 rebounds, once threw a cake at a guy posing for a photo with Ronnie Turiaf and drafted ahead of Pau Gasol, Tony Parker and Kedrick Brown? Ok, that last one was a joke, but come on – the Wizards should not have been given this choice. They should have landed in a position at which the only viable option was to choose Cole Aldrich. That was a match made in Draft Heaven. Heck, even the number two pick and Evan Turner seems better. No way did they deserve John Wall. John Wall is arguably better at this stage (one year of college) than Chris Paul, Deron Williams and Derrick Rose. Arguably. Instead of the prospect of playing for a eccentric and ambitious billionaire, he gets to suit up alongside Nick Young and Quinton Ross. Do I like him and Randy Foye as a duo? Yes. Do I think he could help steady Andray Blatche and turn his potential into night in night out performances? Yes – see example Cousins, DeMarcus. Do I think John Wall will start the season off as a Wizard? Maybe. I put nothing past the Wizards, I wouldn't be surprised if the traded down a slot, or else took Lance Stephenson number one overall because they overheard MJ say he looks good. Either way, the decision facing the Wizards is one 29 other teams would love to face – John Wall or not?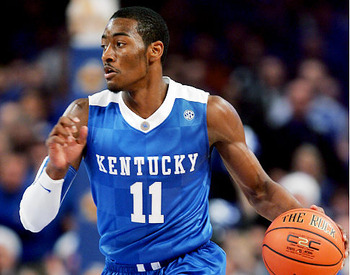 The 76ers know what they have to do – take Evan Turner and never look back, ever. Many people – like, a whole lot – are saying that the guy's going to be better than Wall when it's all said and done. While he averages more turnovers than Wall, his other numbers are great reading – 20 points, 6 dimes and 9 rebounds. Will he get that kind of production in Philadelphia? I'm going to say yes, but not right away. If Jrue Holiday develops the way they expect him to, him and Turner solve the backcourt issue for the next ten years. A polished scorer who gets to the basket at will, Evan Turner may not be the Answer, but could very well be the future.
The rest of the lottery went pretty much according to plan, outside of the Nets landing in third spot that is. Would have been funny had the Jazz lucked out and landed the top pick, you know, after the Knicks traded it to them and all. I just can't wait for the Timberwolves to pass on Greg Monroe and co. and opt for another point guard.
Mikhail Prokhorov has stated his outlook for the Nets – championship in minimum one year, maximum five years. Same game plan as the Magic. He also stated he wanted the Knicks first – way to win the hearts of your fans buddy. The world's 39th richest man doesn't use a phone, that's cool man; LeBron will reject you via smoke signal if you want. Maybe he'll get Jay-Z to pass on the word. Love the part when he said the team needs a power forward, Yi must be just brimming with confidence right now. Wonder are there any six-foot-ten Russian's who can dribble out there?
As for on the court matters –
Vince Carter backed my long-standing belief that he simply isn't meant to win in the NBA. Dunk contests yeah, but anything Nate Robinson has won three of mean pretty much nothing. Down three with a few seconds to go, Carter stepped to the line facing two crucial free throws. At home, without a hostile crowd on his back. It rained bricks. BUCKETED DOWN!!! One of the most gifted players of his generation, it'll never happen for him. When Vince Carter started his NBA career after amazing us at Chapel Hill, would you have wagered $100 on him never winning and NBA title?
But it wasn't like the blame lay entirely on him. Rashard Lewis, Matt Barnes and Mickael Pietrus tallied 16 points between them, same as JJ Redick did on his own. Who'd of thought that JJ Redick and Rasheed Wallace would be the most active contributors off the bench in the Eastern Conference Finals when the season started? I sure as hell didn't, but I also didn't think Rajon Rondo would be this effective. Shows what I know.
We know realise how truly impressive LeBron's defense on Pierce was throughout the series that we shall not speak of. Pierce has racked up 50 points in games one and two. It took him right up until midway through game five against us to reach the half-century mark. Then again, Vince Carter, whose defensive effort can be likened to that of the effort I put into my blogs, has checked him. Wait, I can't say things like that about myself can I? Oh well, just hope Brendan doesn't realise it.
Just one other little thing before I relieve you of reading this, Shannon Brown. You would have been immortalised forever had you nailed this. Even still, you get a big cardboard 10 from all of us over here at Stepien Rules. It was almost, almost the greatest dunk ever – it definitely wins the greatest missed dunk ever, taking the place of this.