It's been a while since we've taken a look around the league together, so I figure that with nothing else stopping us – no breaking news, no on-air TV decisions – now's the perfect time to do so.
I'm going to start with a story I'm sure all of us found quite funny, and if you didn't well then I've got two words for ya: Kwame Brown!! Closely followed by, "signs with the Bobcats." Closely followed by, "who are led by Michael Jordan." The same Michael Jordan and the same Kwame Brown that led to what has to be a front runner for "Worst Number One Overall Pick Ever In Any Sport Of Any Type Ever."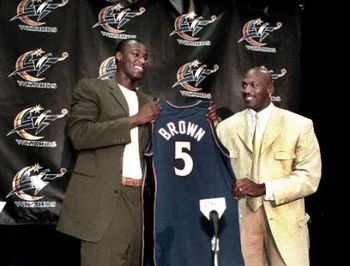 The nine-year pro averaged 3 points and 4 boards in 14 minutes last season for Detroit, and has now agreed to a one-year vet's minimum with Charlotte – a team undoubtedly on the rise in the East but also one that has made some questionable decisions.
Tyrus Thomas was soooo overpaid this summer that only five guys on the team make more dough than him this upcoming season – Gerald Wallace (deservingly so), Stephen Jackson (ditto), Nazr Mohammed, Boris Diaw and Erick Dampier (three not so deserving). But I like the Bobcats outlook this upcoming season; All Star and franchise guy Wallace with Cap'n Jack is offensively and defensively formidable, Augustin should be ready (fingers crossed), Henderson is a bright young prospect, and with Sherron Collins (great, underrated pickup) and Shaun Livingston (ditto) in reserve, the backcourt is set. It's their frontcourt wherein the issue lies, I vote right now that we dub the Bobcats frontline "Over 25 feet getting paid over $34 million to average 9 and 6". Think about it, the Bobcats start with Thomas at the four and Dampier at the five, the guys over on TNT would just come in and say, "And in the frontcourt we have one half of the "Over 25 feet getting $34 million to average 9 and 6″ group with Thomas and Dampier". Classic. But not to worry, all Coach Brown has to do is look down the bench and look for the ever-puzzled looking Kwame Brown; he'll make it all right.
Anybody else find this Xavier Henry contract thing mind-blowingly stupid? Here's what annoys me;
–         They gave Thabeet a max rookie deal
–         Henry is potentially awesome
–         Owner Michael Heisley didn't know they could do what they are doing now
So, the owner of the franchise doesn't know the full extent of the rules the league uses to operate? Cool – I'm feeling confident about my guys right now if I'm a Memphis fan. Also, consider how much money they Grizz would have saved had they loaded Thabeet's contract with performance based incentives – he probably would have ended up having to pay them money. Now, Henry wants a max rookie deal that I feel he is worthy of, and if Memphis aren't giving it (or going to give it) to him, why not call heir bluff and make an offer? He's their rookie sure, but I'm pretty positive that the trade exception and numerous draft picks we have assembled might tempt the Grizz. Plus, Henry would be a cheap, high reward low risk pick up who would potentially be a starter one day. Just saying…
Brendan totally took the words out of my mouth, but I'm cool about it now.
Major respect to Aaron Green for this piece, you can never get enough of JJ Man-crushing can ya? Is the 15 points a game average mentioned a tad too ambitious for us to expect? I don't think so, and here's why;
–         Shaq no longer exists, thus making Hickson option one down low
–         He's our best athlete (ok, maybe a tie with Jamario Moon) so that should be worth at least 4-6 points a night alone
–         He suits this new system that Scott employs
–         Did you ever fully feel that LeBron trusted him 100% every time he looked up to pass? Me neither
–         The fans want him as "the man", that pressure alone should get him a few extra looks a night from Mo, especially if Mo is in the midst of a brick fest
So 15 points a game, I can see it happening. I do however have some beef with the following statement;
"Now in his third season, Hickson is familiar with the league and is primed to be an NBA superstar."
Let's not jump the gun here ok. I'm as big a JJ lover you'll find, believe me, but even I know it's going to take more than one season of high-octane offense to get him into the realm of NBA Superstardom. Durant, Kobe, Rose, Wade, Nowitzki, Howard – they're superstars. JJ is a young, potential laden forward who's in a good spot for him, so let's not jump the gun with the premature superstar status for JJ.
So Kevin Durant won the game against Spain for the US with two well-timed blocks, anybody else shocked at this? Ya, me neither. Look, we all know the kid can score with the best of em, but when did LeBron win MVP? When he incorporated defense into his repertoire, something which Durant has the tools to do just as effectively. If Durant commits to that side of the game and continues his offensive exhibition around the league on a nightly basis, guess who's MVP Trophy it will be to lose over the next ten years? Also, Spain (probably the main rival to the US Team for Gold) are now a starting point guard short after Calderon's injury. A stroke of good luck for Durant and co., until you meet his replacement.
Team USA have now made it known – if you didn't know already – that Jim Boeheim's zone is as tough to penetrate as security at the Museum of Modern Art in Paris…oh wait, that's not a good example. Scratch that, just know that it's a zone run to perfection, utilised beautifully by Syracuse, and could be a very useful tactic for the US in the worlds. Their size and speed on the wings will look even bigger and faster with Boeheim calling the shots, trust me.
Finally, I've only now looked at our season schedule in full – have no idea why it took me so long but anyways – and its not all that bad you know. Our first ten games include six homers – we should conceivably be racking up W's in all but one of them (opening night against Boston). As for the road games, Toronto, Phily, Washington and New Jersey aren't teams we should be quaking in our boots at the thought of facing are they? I'm not saying it won't be tough – because it will be – but they're still our Cavaliers, we're still their fans – some things never change.
Contact me on dol-17@hotmail.com for the Stepien Rules mailbag, on Twitter @DOL17 or Facebook.