I only want to reference last night's game between the Celtics and the Heat because last night's game featured the team scheduled to take the floor opposite the Cavaliers tonight at the Q.  Only reason.  This is a Cavaliers website, and we talk about Cavaliers players.  There were a few ex-Cavaliers on the floor last night, and that's all I'll really say.  You'd need a much larger sample size than "one" to say with any type of merit what most people around Cleveland are thinking right now.  Include me in that 'most people'.  Maybe one day on that, but by no means will we be talking about 'that' around here anytime soon.
We'll be talking about your Cleveland Cavaliers instead for the duration of this NBA season (read Cleveland Cavaliers with the announcer voice in your head to get pumped up). 
Tonight is game one of the 2010-11 season, and I can't believe how excited I am for it.
The Celtics are better than they were last season though, and if you forgot, they were good last season.  If you also forgot, they were called old, over the hill, and at the end of their championship "window" for 85% of the season.  Yeah I jumped on board with all that too.  That ended up being proved wrong though in the playoffs, but what is most interesting to me about last night, is they didn't look anything close to "old" against the Heat, this a season later.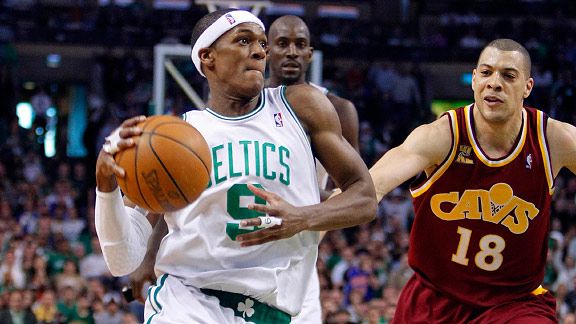 Rondo is my preseason MVP pick.  Some of my other NBA related picks can be found here, and here.  Sure did pick JJ Hickson for break-out player of the year.  Anyways, Rondo only scored a couple hoops last night but still ended up with 17 dimes in helping facilitate the victory amidst a playoff atmosphere.  He will, uhhh, have to be accounted for.
To be fair, watching last night's game, part of me thought: "sweet [read sarcastically] this new season opens with these deep as I ever remember them Celtics.  That's fair." 
Then the other part of me thought this: "well, if we have to open with the C's, at least they had to play the Heat last night on national television, with 500 media members in the house, and a crowd chanting defense five minutes into a game you know they wanted badly." 
So I guess what I'm saying is, here's hoping they're tired.
The keys for the Cavs you ask?  Nobody can pretend to know that right now.  We already talked about this, nobody has any idea what we're going to see. 
That's why it's an exciting day.  
I am hoping for a W tonight.  In the end though, I just want to see these guys leave it on the floor.  Play every game like it's their last this season.  Go hard on the floor tonight Cavs, and Cleveland will go hard for you.  Let's get it.
Credentialed Coverage here at Stepien Rules this season:  While I won't be able to make it down the Q tonight, I did want to take an opportunity to thank the Cavaliers organization for the press credentials they've granted me moving forward.  I'll be down there this weekend, and hope to be covering a 1-0 Cavs team on Saturday when I arrive.  Shouts out to the Cavs for being a class act organization, much appreciated.