With the Cavaliers coming off a 1 versus 16 style beat-down of the Pistons yesterday, and NCAA tournament widdled down to 16, we wanted to take a look back at the memorable moments in March Madness history for our current Cavaliers.  And while LeBron didn't get a chance to hang a banner in the Akron or OSU rafters, some of his teammates did compete for that opportunity.  These are there stories (cue the Law and Order theme music here):
Daniel Gibson – Texas:
Before he was Boobie, Daniel Gibson played two seasons at Texas from 2004-2006.  His teams were a combined 50-18 in his time there, and he averaged 13.8 points, 3.5 assists, and 3.6 rebounds while shooting 39% from behind the arc.  In 2005, as a freshman, his Longhorns were the #8 seed and they lost in the first round to #9 seeded Nevada 61-57.  Gibson scored 8 in that game.  In 2006 (the year George Mason went to the Final Four) he would help to lead his Longhorns to the Elite 8 before losing to LSU 70-60 for the right to go to the Final Four.  As a sophomore, Gibson averaged 11 ppg in the tournament, with wins over Penn, NC State, and WVU. 
Danny Green – North Carolina:
Danny Green had the most storied NCAA tournament career of any current Cavalier.  He played four seasons at UNC from 2005-2009, and averaged 13 points per game during his senior season in helping lead the Tarheels the National Championship.  During that title run, he averaged 12 points and 5 rebounds over 6 tournament games and was named All-Tournament Team for the South Regional.  As a junior he scored 15 points against Washington State in a Sweet-16 game, and scored 15 again vs. Kansas before losing in the Final Four that season.  As a sophomore his team went to the Sweet 16, and as a Freshman he scored 15 against Murray State before they were eliminated in the second round.
Darnell Jackson – Kansas:
D-Block played from 2004-2008 as a Kansas Jayhawk, and averaged 7 points and 5 rebounds per game for his career.  As a senior, he had his best season scoring 11 points and grabbing 7 boards per game, during a year that saw his Jayhawks post a record of 37-3.  Oh and they won the National Championship during that 2007-2008 senior campaign as well by way of a 75-68 win over Memphis.  Jackson had 8 points and 8 rebounds in that title game, which came a game after scoring 12 points in a win over Danny Green's Carolina squad in the national semis. 
Antawn Jamison – North Carolina:
Jamison was a Tarheel for three seasons, and as a junior, he was named the college basketball player of the year during that 1997-98 season.  He averaged 19 points and 9.9 rebounds per game for his college career – ironically just about what he's averaged throughout his 12 year NBA career – before being drafted 4th overall by the Raptors in the '98 draft.  In his final campaign he led his Tarheel squad to the Final Four, before losing to Andre Miller's Utah squad 65-59.  He went to the Final Four as a sophomore as well – in Dean Smith's final season – before falling to eventual champ Arizona led by Miles Simon and young Mike Bibby.  As a Freshman he lost in the second round to Texas Tech.
Shaquille O'Neal – LSU:
Shaq played at LSU for two seasons from 1989 – 1991 and was named player of the year in 1991 along with being a two-time All American and twice SEC player of the year. His fresman year, Neon'sShaq's squad advanced to the second round of the NCAA tournament before losing to Georgia Tech 94-91.  That Tech squad – led by Kenny Anderson – went all the way to the Final Four before losing to Larry Johnson and the Runnin Rebels who won the title that season.  Shaq's sophomore year his team (a #6 seed) lost in the opening round to #11 seeded Connecticut.  Duke went on to beat UNLV in the Final Four that year, and win the tournament…shout out to Bobby Hurley.   
Anthony Parker – Bradley:
AP played at Bradley University from 1993-1997 and is a member of the Bradley all-century team.  He averaged 15 points per game for his career and was the MVC Player of the Year in 1996.  He was twice named to the MVC 1st team, but his team only made one appearance in the NCAA Tournament.  They would make the field of 64 as a #8-seed in 1996 but fall to #9 seeded Stanford in the opening round.  Parker scored 34 points and grabbed 10 rebounds that game, but it wasn't enough for his Braves to move past the Cardnial of Stanford who were paced by 26 points from Brevin Knight.
Leon Powe – California: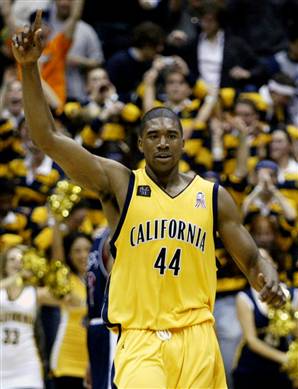 Leon Powe played two seasons at Cal from 2003-2006, sitting out the 04-05, after playing in the McDonald's All American Game with LeBron as a HS senior.  His first season his Golden Bears finished 13-15, however in 2006 they finished 20-11 and made the tournament as a #7 seed, but lost in the opening round to the #10 seeded NC State Wolfpack.  NC State would lose to Daniel Gibson's Texas squad in the following round.  In that first round game, Powe totaled 14 points and 12 rebounds.  For his career he averaged 18 points and 10 rebounds per game, averaging 20 and 10 as a sophomore before leaving for the NBA Draft. 
Delonte West – St. Joseph's:
Delonte played at St. Joseph's in Philadelphia from 2001-2004, and during his junior season – his last for the Hawks – he teamed up with Jameer Nelson to form the best backcourt in college basketball.  He averaged 17 points and 4 rebounds a game as a sophomore and 19 points 5 rebounds and 5 assists per game as a junior in 2004.  As a junior, his Hawks were ranked #1 in the country for a time, and earned a #1 seed in the tournament that season.  They advanced to the Elite 8 before losing by two, 64-62, to John Lucas III and Oklahoma State.  As a sophomore, St. Joe's was a #7 seed and lost to the #10 seeded Auburn Tigers in the opening round. 
Jawad Williams – North Carolina:
Jawad came out of Cleveland to play for the Tarheels from 2001-2005 and averaged at least 12.5 points per game from his sophomore year on.  In 2005 they beat Illinois 75-70 to win the National Title.  He scored 13 points per game that season as a senior, and played alongside Raymond Felton, Rashad McCants, Sean May, and Marvin Williams who would all go on to be first round draft picks that following season.  Williams would have to play his way back into the league however, after going undrafted.  His team did not make the NCAA tournament his first or second seasons, and were eliminated in the second round as a junior before winning it all.  Jawad had 9 points and 5 rebounds on 3 of 6 shooting in that championship game in 2005.
Mo Williams – Alabama:
Maurice Williams played two seasons at Alabama from 2001-2003 and averaged 13 points per game through 64 collegiate contests.  As a freshman, he was named Sporting News National Freshman of the Year, and guided his team to the Tournament in each of his two seasons.  During his sophomore year, he scored 16 points per game and led the Tide to a tournament berth, scoring 26 in the first round against Indiana.  They'd fall to Indiana 67-62 that year though, the same one Dwayne Wade would lead Marquette to the Final Four.  As a freshman he'd score 33 points and grab 10 rebounds in the opening round of the tournament, before eventually losing in the second round to the Kent State Golden Flashes.
*  JJ Hickson is the only other Cavalier on the current roster that played in college, however, his NC State Wolfpack did not play in the tournament during his only year there in 2008.  He averaged 14.8 points and 8.5 rebounds per game that season as a freshman.