In case anyone was wondering or cares, I'm not mad or angry about anything that's about to transpire on Thursday night. I'm not excited to see any of it either. There isn't a cleverly crafted sign that I can see that will make me feel better. There's no series of chants or a chorus of boos that will make me forget either. None of it really matters. I really don't even care what the score is. I just want this game to end.
I never thought I'd see LeBron James play in a game like this, and I just can't help but step back from the whole mess and be simply and solely just disappointed. The national media thinks a guy like me is disappointed because LeBron can't win me a championship now. For as much attention as is paid to this story, they continue to miss that it's much deeper than that. In fact, that's not even the point anymore.
I'm disappointed to have to watch this game and all it will entail because I remember the guy who did everything right once. I remember the guy from Northeast Ohio, who despite the growing fame and fortune, seemed grounded in his approach to basketball and life. He was a role model once. He was to be the first unselfish superstar. The anti-Kobe. Remember that?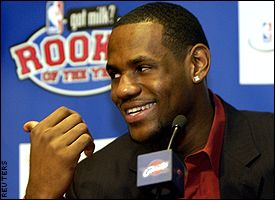 As a community, before we ever knew he'd be a Cavalier, we hoped he'd live up to and outshine every single out-of-this-world-expectation that was leveled upon him after he graced the cover of Sports Illustrated as a High School Junior. We were excited, but also worried for the kid who Dick Vitale exclaimed to be "the truth, the whole truth, and nothing but the truth" on ESPN that night. Who could live up to expectations like that? Then we applauded when he seemed to do just that. One step after another.
He never made it to the top though, and frankly he never will. Not to the heights he could've reached. We were still there cheering for him though as we watched him inevitably collapse under the strength of those expectations. We witnessed him become overwhelmed and afraid of the idea of winning against Boston. We watched him panic under the belief that he might not be good enough. We watched him give up. We watched him fail. We watched him then make everyone a scapegoat. And then we watched him run.
Ten years ago, I never thought I'd see the day when Paul Pierce would lob shots like "it was great taking my talents to South Beach, now it's on to Memphis" after Boston stopped by and beat Miami a couple weeks ago. I also never thought I'd hear a guy like Shaq say "I'm anxious to see if he'll do that chalk [bleep]. I have a bet he won't do it" a day before LeBron James played a game in Cleveland.  In the same arena he once filled as a prep phenom.
I never thought I could ever not root for this guy. I never thought he'd have a chance to go down as the next Vince Carter.  I never thought he'd play the role of villain.  I especially never thought he'd play it here.  I wish he'd never ran from this community as if it was simply an NBA fanbase.  I wish he never made us turn our backs on him. 
I want Thursday to be over so he can continue to chill or do whatever it is he's doing down there with his pals.  I want to go back to ignoring it all as soon as possible.  I don't want to watch this anymore.  This isn't how it was supposed to go.