There's a number of things you can point to as reasons the Cavs lost this thing tonight.  Sure, LeBron probably did get fouled in the closing minutes, and of course, there's no reason for that inbounds pass to be directed towards Varejao.  I know, he was wide open, I'm aware of that.  But if you want to focus on no-calls, and a perceived coaching error (I blame Mo personally there as opposed to Mike Brown, you can't make that pass, and Andy did need to be on the floor for the offensive board) than you're missing the big picture.  And I'm not sure who I mean by you, because there's isn't anybody I've heard tell me those were the reasons the Cavs lost.  I guess it was just my thinking that at first, until I took a minute to wholly digest what I just watched.  So after stepping away, the main things that happened tonight to allow the 16th best team in the playoffs to beat the Cavaliers were two-fold: the Cavs lacked urgency, and they were dominated in the backcourt.
The Bulls for some reason took something away from Game 2 that they felt they could build on.  I wrote, and said during the Wine and Gold Podcast earlier today, that I didn't know what those takeaways could be.  There wasn't anything from an x and o standpoint that I could see the Bulls were particularly doing that the Cavaliers couldn't adjust to.  The only thing that happened in Game 2 was, for a stretch, the Bulls just played harder than the Cavaliers.  If the Cavs just came out and played hard tonight for 48 minutes, that would've pretty much wrapped it up.  Only they didn't.  Not once but twice they left their sense of urgency laying next to their ipods and twitter accounts in the locker room.  They allowed the Bulls to close the first quarter up 11, and got down by as many as 21 during the opening minutes of the third, and you can't dig holes like that in the playoffs…no matter how many whistles go your way, or inbounds passes you execute properly.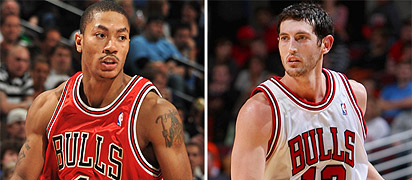 To the backcourt point, the Cavs starters – Mo and AP – combined for 29 points, 8 rebounds, 4 assists, and 4 turnovers.  Rose and Hinrich you ask?  58 points, 7 rebounds, 12 assists, and 1 turnover.And that TO was Hinrich's.  So if you're trying to do the math quickly in your head, Derrick Rose had 31 points, 7 assists and 0 turnovers.  What that means is, he did whatever he wanted to do all night long and most likely didn't even notice the number of the Cavalier player that was 'guarding' him.  And before you get carried away there, I am aware that Rose is a superstar, and I understand you'll have that from a guy like him…especially at home.  But you cannot have Kirk Hinrich outscoring BOTH you're two-guards (AP and Delonte) by himself, by 12 (27 for Hinrich – AP's 8 and Delonte's 7).  Nor should he, at the same time, have more assists (5 for Hinrich a combined 4 for Parker and West) and less TO's (AP and Delonte 2) than the both of them either.  That's not good.  And you can say that those two guys won't shoot it like that again, but I just can't help remember saying that same thing about Rafer Alston…
and well, forget it.
But those two things aside, the sky is not falling, and this might just be a good thing.  After how well the Cavs played to open this series, I kinda forgot quickly that this is a revamped lineup that hasn't played together – at all – during the regular season.  There's going to be a figuring out process, and it looks like we were reminded of that tonight.  Additionally, if you want to find some more solace in this defeat, the Cavs did sweep through the first two rounds last season and see where that got us?  Maybe a little adversity is what they needed.  Maybe they needed to get beat one time to realize that they can't keep settling for 35 three pointers (14 of 35) when there's free runs at the basket everywhere.  Maybe they needed to – not make it – all the way back from down 21 to understand that you won't survive deep in the playoffs if you allow teams to jump out that far ahead.  Even if they did make it all the way back to an AP halfcourt heave that looked like it might fall.  Additionally, maybe the supporting cast needed to know that they cannot just stand around watching LeBron score 40 every night (39-10-8 tonight) while flashing goosenecks when he makes a three.  They – Mo, Antawn, Delonte – need to look for their shot and be the aggressive scoring threats that they are capable of being.  Sure Antawn had 19 and Mo finished with 21, but Antawn was 1 of 6 from three and Mo was 5 of 11…go to the basket fellas.  LeBron won't be mad at you for attacking the rim, believe me, he's cool with it.
But saying all that, the Cavs played hard for a quarter and a half in road playoff game and lost by two, so take it for what its worth.  That's all I got on this one, and I think I'm done talking about.  Check back with the Wine and Gold Podcast one hour prior to tip-off of Game 4…it'll be better next time Cavs fans, promise.  The game I mean, no promises on the podcast.