This Cavaliers roster is so deep that one guy who was a productive starter through 73 games, another that finished amongst the NBA leaders in 3PFG%, and a third guy who logged over 740 regular season minutes for the Cavaliers could not crack the rotation to open these NBA Playoffs.  And that's by no means a problem.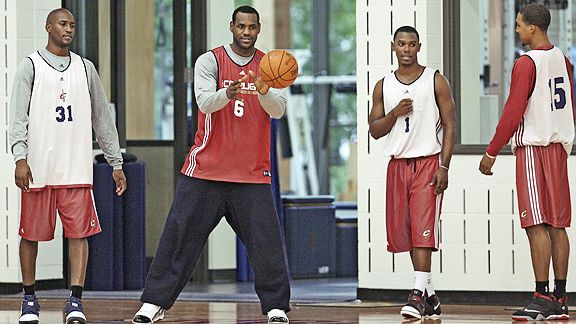 The bench options that Mike Brown had at his disposal last postseason on the other hand, now that was a problem.  There's no arguing with the nine-man rotation that the Cavaliers have utilized through the first two games of this opening round – double digit wins over the NBA's 16th best playoff team aside.  The top seven – including Andy and Delonte – are no-brainers, and if there is some debate around the use of Z and Moon to round out the top-nine, there shouldn't be.  Ilgauskas is a guy that you have to keep involved in the event the Big Fella is sidelined for an extended stretch during a given game, and I think Jamario Moon answered any questions about his inclusion in the rotation last night – if he hadn't already coming in.  And besides those nine players, there simply just aren't anymore minutes to be divied up.  So that leaves JJ Hickson, Jawad Williams, and Daniel Gibson forced to sit, stay ready, and flash gooseneck signs up on the bench all game long in the meantime, to no fault of their own.  But at the same time, if the Cavs playoff roster looked like it did a season ago, there's no doubt that those same three guys would've been the 6th, 7th, and 8th man respectively.
As a reminder of how deep this squad is, here is a list of the top four guys off the bench from last postseason, with respects to games and mintutes played:
Joe Smith: appeared in 13 of the 14 games, played 217 total minutes, averaged 16.6 mpg.
Ben Wallace:  appeared in all 14 games, played 177 minutes, averaged 12.6 mpg.
Daniel Gibson: appeared in all 14 games, played 171 minutes, averaged 12.2 mpg.
Wally Szcerbiak:
  appeared in 12 games, played 155 total minutes, averaged 12.9 mpg.
I mean, I don't really even think there's anything worth saying after revisiting this list.  That was 6 thru 9 for the Cavaliers last season…and Mike Brown got all the heat he got for being out coached.  Sic bench he had to work with. 
Anyways, I don't think that I have to tell you that this year's version of JJ Hickson is an upgrade from Joe Smith…all due respect to Joe Beast.  Likewise, anybody -especially Jawad Williams – is a massive upgrade from the Ben Wallace that played in Cleveland last season, and the '10 Boobie – who had the best season of his career – is an upgrade from the '09 Boobie who might have had his worst while battling through some injuries that may have had more of an impact than most people thought at the time.  And to remind you, this is a comparison of the guys that will remain inactive this season…not talking about Andy, West, Z, and Moon – this year's 6 thru 9. 
So, in summary, I guess I'm just saying the Cavs have more talent than they did last season…not that you didn't know that…and I guess I also just got a little carried away when I read back through the Cavaliers postseason stats from from '09 earlier today.  Was Ben Wallace really guarding Lewis, or did I dream that?  Anyways, the ideas that three guys who I think are good, and can help the Cavaliers win, are also three guys that I agree should get DNP's in the stead of the other guys that could help the Cavs win more is just crazy on some levels.  We've come a long way from the starting backcourt days of Larry Hughes and Sasha Pavlovic Cavs fans…I just hope it all equates into 4 more wins than they got, and 6 more wins than they got last season with Wally.