This week we look at the two players most affected by the absence of Shaquille O'Neal and Zydrunas Ilgauskas (11 games since Shaq hurt his thumb, including the game when the injury happened):
J.J. Hickson:
11 games, 251 min (22.8/g), 44-87 FG (50.6%), 20-26 FT (76.9%), 58 reb (5.3/g) and 108 pts (9.8/g) 
Anderson Varejao: 11 games, 308 min (28.0/g), 57-77 FG (74.0%), 19-27 FT (69.2%), 91 reb (8.3/g) and 133 pts (12.1/g)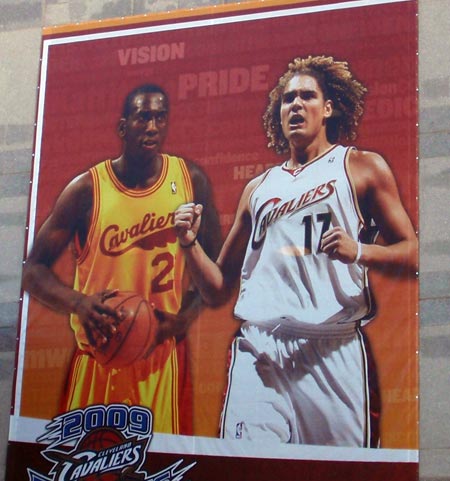 Anderson Varejao has been getting the bulk of his recent minutes as the back-up center to J.J. Hickson.  This has helped Mike Brown find him more minutes with the addition of Antawn Jamison.  For the season Andy is averaging 29.1 minutes/game, so he is down 1 minute/game but his production is up 3+ points and 1 rebound per game.  Hickson is playing 3+ more minutes per game and his productivity reflects that (+2 pts/g and +1 reb/g).  The play of these two guys is directly related to the Cavs going 10-1 over this stretch.
You might say that the Cavs have avoided the great centers, i.e. Dwight Howard and ??? (wait, is there any other great Centers in the League right now), but we have faced Brook Lopez, Andrew Bogut, Tim Duncan, Samuel Dalembert and Kendrick Perkins (twice).  That's about as good as you are going to get in today's NBA.
Looking at a big indicator of production, Andy is at an outstanding 1.73 points per shot, and J.J. is at a very solid 1.24.  For reference, Dwight Howard is 1st in the League with 1.81 and 2nd place is Corey Maggette at 1.58.  These are very important numbers for Cavalier players as except for LeBron James, Maurice Williams and now Antawn Jamison, you aren't going to get many shots and you need to make the most of them. 
Big Z should be back next week and Shaq should be back by the playoffs.  This will put Mike Brown in a very tough spot to find minutes for his "bigs".  You cannot justify Andy getting less than 25 minutes per game.  He has proved time and time again that the team is better with him on the floor.  Similarly, despite his defensive lapses, J.J. has proven to be a solid contributor.  He is also a very tough match-up with his extraordinary athletic ability, as proven by recent match-ups vs. the aging Boston Celtics.  The problem for J.J. is that there just isn't going to be minutes for him in the regular playoff rotation.  He is going to have to be used in the right situations.  He will have to stay ready and Mike Brown will have to be open and flexible enough to actually pull the trigger and use him in those situations when we need him.  It will be interesting to say the least.
Cavs statistical history and scoring title update after the jump…