As I mentioned the night Nick Gilbert won the Lottery for Cleveland, we will be throwing a Cavaliers Draft Party at Mullarkey's Irish Pub on June 23rd to celebrate the rebirth of the Cleveland Cavaliers.   
The festivities are scheduled to get underway as soon as the Cavs are on the clock with the 1st overall pick (7pm ET), and will continue for the duration of the Draft.  For those that don't know, Mullarkey's Pub is located in Downtown Willoughby on the corner of Erie and 2nd Street.
Mullarkey's will be offering Miller Lite Drafts for $1.75 each as well as FREE Pizza for Stepien Rules readers all night long.
It should be an exciting night for Cavs fans.  I've been on record here, and with anybody I've talked to about it, that the first pick is a no-brainer: Kyrie Irving.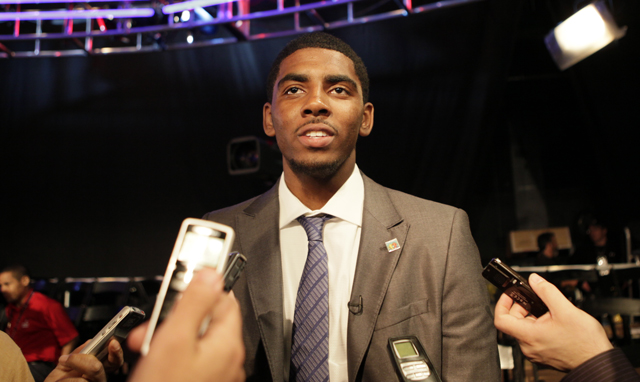 From there though anything can happen, and I continue to think the Cavaliers will end up trading their fourth pick.  Chris Grant is actively exploring everything, and we've heard some rumblings already with regards to Rudy Gay, Pau Millsap, and some other guys. 
Now I don't expect either those trades to happen specifically, but I do expect a blockbuster type deal to be announced on Draft Night.  Which will only make things even more interesting than they already are walking in with pick numbers one and four already in hand.
For whatever it's worth, the latest Mock Draft from NBADraft.net has the Cavs taking Irving at one and Enes Kanter at four.  I personally don't believe Kanter will be there at four though, but we'll see.
Whatever ends up happening though, I hope you can make it.  Bring some friends with you too and let's toast to the new chapter of Cavs basketball unfolding right before our eyes on draft night. 
Oh and I plan to invite Skyenga as well; I'll be sure to keep you posted on whether or not he can attend in the days leading up to the draft.