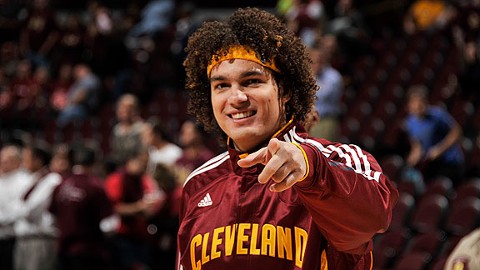 According to ESPN's #NBArank, Anderson Varejao is the best player on the Cleveland Cavaliers.  
They have him slotted at number Eighty-Five overall, and with the final numbers in this week, Twenty-Seven of the Twenty-Nine other teams in the Association are represented by at least one player ranked ahead of Anderson.  
Twenty-Three of those Twenty-Nine NBA squads have at least two players ranked higher than any member of the Cleveland Cavaliers, and Nineteen teams have at least three players ranked better than anybody on the Cavs.  
So what they're saying is they don't think the Cavaliers roster isn't too good, basically. Of those Eighty-Four players ranked ahead of Varajeo, below is how that shakes out on a per team basis.
Number of players per team in the Top-84 (ahead of any Cleveland Cavaliers player) according to ESPN's #NBArank:
Portland Trailblazers: (6) players in ESPN's #NBArank Top-84
Dallas Mavericks: (5) 
Denver Nuggets: (5)
Memphis Grizzlies: (5) 
OKC Thunder: (4)
LA Lakers: (4)
Chicago Bulls: (4)
Boston Celtics: (4)
Atlanta Hawks: (4)
Philadelphia 76ers: (4)
Miami Heat: (3)
Orlando Magic: (3)
New Orleans Hornets: (3)
New York Knicks: (3)
San Antonio Spurs: (3)
Milwaukee Bucks: (3)
Golden State Warriors: (3)
Houston Rockets: (3)
Utah Jazz: (3)
New Jersey Nets: (2)
LA Clippers: (2)
Phoenix Suns: (2)
Sacramento Kings: (2)
Minnesota Timberwolves: (1)
Indiana Pacers: (1)
Washington Wizards: (1)
Toronto Raptors: (1)
The only two teams who ESPN collectively agrees does not have anybody better than a Cleveland Cavalier are the Detroit Pistons and the Charlotte Bobcats.  
After Andy at 85, here's how the rest of the Cavaliers roster shakes out if you hadn't seen that yet:
Baron Davis: 106
Antawn Jamison: 107
Kyrie Irving: 140
Omri Casspi: 158
Ramon Sessions: 177
Daniel Gibson: 237
Anthony Parker: 259
Ryan Hollins: 309
Tristan Thompson: 319
Luke Harangody: 342
Semih Erden: 361
Alonzo Gee: 368
Christian Eyenga: 377
Samardo Samuels: 398
Manny Harris: 405
Joey Graham: 408
There were Five Hundred players ranked in total, as a heads up, and if you wanted to get real carried away with these rankings you probably could.  A bloggosist such as myself, for example, could headline a post "ESPN thinks the Cavaliers spent the 4th pick overall on a player who's worse than Ryan Hollins."  Now granted, that would be a pretty long headline, but you get the point.  I would have statistical data to support that claim as well, with Tristan Thompson ranked at 319 and Ryan Hollins at 309, but I'm not going to do that.  All rookies were ranked low, and I suppose that's fair since they never played in the Association before while guys like Ryan Hollins already have games where they dominated LeBron James and the Miami Heat on their resume.
Speaking of Rookies, Kyrie was the highest rated of any draft picks this past June, and by a lot too.  Coming in at 140, while to me that seems low, he was still 56 spots better than Derrick Williams who was the next highest NBA freshman after Irving.  As far as that last move the Cavaliers made before the Lockout, Hickson for Omri, #NBArank has JJ 33 spots ahead of Casspi at 125, but that's basically a wash in my opinion.
It's tough to really argue that too many Cavaliers should have been ranked higher at this point too, outside of maybe Kyrie and Tristan, but I would have assumed that Baron Davis is a Top-100 player at least.  If healthy, if in shape, if he plays like he did at times last season in Cleveland, he's most definetely a top-100 player in my book even at this stage of his career, if not higher.  I suppose he and the rest of the Cleveland Cavaliers will have to prove that though, and hopefully they get the opportunity to start doing that soon.
George Cohen, we're behind you sir, make something happen.  All for now.
—
Photo: ESPN.com