In 2002 there were no concerns about Dajaun Wagner's body fat percentage. After Coach John Calipari revoked his scholarship to force him to take the NBA money that awaited him in the Draft, Wagner arrived on the scene looking lean and mean.  So much so, that analysts and pundits everywhere were calling Wagner "a bigger, stronger, version of Allen Iverson." 
As a Cavs fan, I'll never forget that.  After hearing this, the 2002 version of myself was seriously excited when the Cavaliers selected Wagner with the 6th overall pick.  If you don't happen to remember this banter, here's a link from ESPN.com saying as much in their "summary". 
As history has told us however, despite the fact that he wasn't "fat", his body didn't hold up unfortunately.  Turns out dropping 100 points in a high school game takes more of a toll than we thought.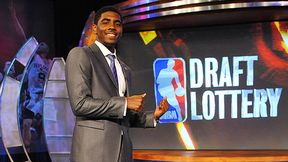 As does missing all but 11 games of your freshman season at Duke prevent you from being in premium shape.  Because in Irving's case, it's really that simple for all you Cavs fans up in arms about Kyrie's supposed "weight problem." 
From Sam Amick, SI:
"He [Irving] was humbled by how his own hunger factored into his conditioning, as Irving measured in at 10.2 percent body fat and became part of an unflattering class of draft prospects that could stand to get in better shape before the big day arrives on June 23. Of the 54 prospects measured, Irving was one of the seven whose body fat percentage was 10 percent or higher.
None had as good of an excuse as Irving, though, as he missed approximately three months last season with a toe injury before returning to action in March.
"I'm still a work in progress, and it's kind of embarrassing that (the body fat is) at 10 percent, but it's something that my father has told me I can't really worry about just based on the body of work," Irving said. "I had to maintain when I was out for three months, and coming back I was around 193 (pounds) and that was something I was nervous about just based on (the fact that) I never gained so much weight eating and not working out." 
If you didn't read all of Amick's piece he goes on to mention that Derrick Williams – who a lot of Cavs fans think we should probably look strongly at now because Irving is supposedly fat – measured out with a body fat percentage of 10.8. 
Fatter than the "porker" Irving I suppose.  Not that I wouldn't take Williams because of this development (at 4), because I would.  I just wouldn't either bother jotting this down on my "cons list" for reasons not to take Kyrie at 1.  These guys will be paid millions to work out every single day next season, I think they'll be able to turn a few pounds of fat into muscle. 
So my message to Cavs fans continues to be this: the Cavaliers won the lottery on Tuesday.  They are holding a winning lottery ticket.  Cash it in, draft Irving, and let's all speculate on what to do with the 4th selection.  There will be a blockbuster trade to talk about, and get excited about, in addition to drafting Irving at one.  Promise.  Move on from Irving though at this point, and if the kid is spotted at Pizzeria Uno on his way out of Chicago wolfing down a pie, don't worry.  It's all good.
— 
Other notable pre-draft body fat measurements you might not have known:
Nick Collison 17.0, DeMarcus Cousins 16.4, Daniel Orton 13.8, Kevin Love 12.9, Shaq 12.2, James Harden 10.1
—
On the ability to actually follow the "Thunder Model" without Kevin Durant
Below is an excerpt from my latest over at Crossover Chronicles earlier this week:
How exactly is a team supposed to duplicate this Thunder Model without Kevin Durant?  A guy who lead the NBA in scoring over the last two years.  A guy who scored 40 in the Western Conference Finals on Tuesday.  And most importantly, a top-5 NBA player who chose to sign an extension this past summer for 6 more years well before his contract came due.
Thing is, if LeBron signed that same extension at that same moment in his career everybody would be talking about following the "Cavaliers Model" right now.  No way Danny Ferry adds the pieces he does if LeBron is locked up for 6 more years.  And there's also no way – in my humble opinion – that we'd be calling it the Thunder Model had Portland not drafted Greg Oden.  Team Durant with Brandon Roy and we'd be calling it the Trailblazers Model. 
I'm not saying the Thunder didn't make other good draft picks early in the first round right around the same time they picked Durant because they did.  Russell Westbrook is a star, and James Harden – while probably not 3rd overall good (Carmelo Anthony went 3rd) – is pretty good too.  So was Jeff Green, who they've since exchanged for Kendrick Perkins who is currently averaging 4 points a game right now in the playoffs for OKC.  Don't tell him I said that though because his mean-faces scare me quite a bit.  
All this isn't to say I don't like Perk though because I do.  I also do like the Thunder's make-up overall as well.  In so many ways they have done things "the right way" as an organization.  I simply believe that Kevin Durant's impact on the organization's ability "to do things the right way" is way, way, way under-appreciated.  There is no "Thunder Model" without Kevin Durant, and I really think it's foolish to think that you can follow that template blindly and be as successful.
Read Full Post over at Crossover Chronicles.
—
Photo Credit: ESPN.com