The Cavaliers dropped another game in Milwaukee last night, moving their record to 17-63 with two games remaining.  After going two straight games without getting off the bench,
our man Christian Skyenga
finally got to play last night, thanks in part to Anthony Parker's back issues. 
Byron Scott obviously wanted to send Skyenga a message for his lapses on the defensive end.  It looks like that message was received loud and clear.  Skyenga responded with 13 very active minutes.  He did not just stand at the three point line, he used his athletic ability to move around and make some plays. 
He scored 5 points, grabbed 2 rebounds, dished out 2 assists and also had 2 blocked shots.  Skyenga also had a team high plus minus of +7 (Boobie Gibson also had a +7).  It was good to see Skyenga get some court time and perform.  He was a first round pick, he is under contract for the next few years, so we need to get him ready to play and hopefully be a factor.   
The 5 points scored last night by Skyenga moved him past another former Cavalier and into 160th place all time:
| | | | | | |
| --- | --- | --- | --- | --- | --- |
| Rank | Player | Years | G | Pts | Avg |
| 160 | Christian Eyenga | 2010-11 | 42 | 284 | 6.8 |
| 161 | Gary Brokaw | 1976-77 | 39 | 282 | 7.2 |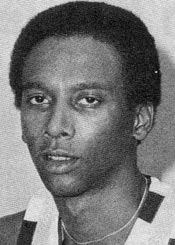 Gary Brokaw was a first round draft pick (number 18 overall) of the Milwaukee Bucks in the 1974 NBA draft out of Notre Dame.  He was a 6'4″ guard.  He averaged just over 8 points and 3 assists for two and a half seasons with the Bucks before he was traded mid-season in 1977 to the Cleveland Cavaliers. 
The Cavaliers traded Rowland Garrett and two first round draft picks for Brokaw and Elmore Smith.  Brokaw lasted just the remainder of that season averaging 7.2 points and 3 assists per game for the Cavaliers.  After the season he was traded to the Buffalo Braves for future considerations.  The Braves waived Brokaw after only 13 unproductive games.  His NBA career was over.
The Cavaliers have two more games remaining.  Hopefully with his performance last night, Skyenga has earned his place back into the rotation. 
Stay tuned to see where he lands on the Cavalier All-Time Point List after his rookie season.