The Cavaliers lost to the Knicks for the first time this season last night, falling 107-123. This dropped the Cavs record to 15-61. In my opinion, the Cavaliers only need to win one out of the last 6 games.  This would ensure that they do not finished tied with the 1970-71 and 1981-82 teams for the worst record in Cavaliers' history (15-67). Other than that there is not much left to be played for.
Christian Skyenga has been in a pretty big slump lately. The grind of the season is most assuredly getting to him as he has not played this extensively yet in his career. He had a slightly better game last night though, looking more active on both the offensive and defensive ends. In 12 minutes of court time, he scored 5 points and grabbed one rebound.
The 5 points moved him up the Cavaliers All-Time scoring list for the first time in 3 games:
Rank
Player
Years
G
Pts
Avg
161
Christian Eyenga
2010-11
40
275
6.9
162
Tony Battie
2003-04
50
272
5.4
Tony (Batman) Battie was the 5th overall draft pick of the 1997 NBA draft out of Texas Tech. He was drafted by the Denver Nuggets. He played one year with the Nuggets before being traded to the Lakers and subsequently to the Celtics prior to the start of the strike shortened 1998-99 season.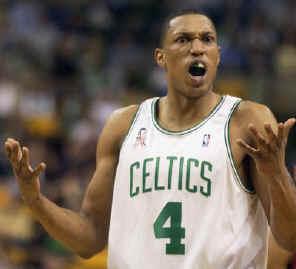 He played for the Celtics for 5 and a half years before being traded to the Cavaliers along with a few other players in the Ricky Davis deal. His best contribution to the Celtics, was not on the court, where he averaged 6 points and 6 rebounds a game, but it was off the court. Battie was with Paul Pierce when he was seriously wounded by multiple stab wounds in September of 2000, and Battie and his brother helped save Pierce's life by rushing him to the hospital. Battie played one season with the Cavaliers and was then traded to the Magic for Drew Gooden and Anderson Varejao. That was a great deal for the Cavaliers. Battie bounced around with a few more teams after the Magic and is currently on the Philadelphia 76ers, where he is averaging 2.6 points and 2.6 rebounds per game coming of the bench for the playoff bound 76ers team. In his career Battie is now over the 800 games played mark (810 and counting) and he has put up 6.2 points per game, 5.2 rebounds per game and 0.9 blocked shots per game.
The Cavaliers take the court again on Wednesday. Stay tuned to see if Skyenga can make a move and continue up the charts.