The Chris Grantland Five is where every meeting starts with endless promise and ends after 12 hours at about 2AM with the reporters in the lobby making jokes about pizza. I'm not sure if that last sentence meets with Lucien Carr's requirements for lead writing, but this is Chris Grantland, it's almost December and there's no NBA, there's no Cavaliers, and there's more labor dispute court filings than there are prospects of a 2011-2012 season. Here's your starting five:
1. WHAT IN THE HELL ARE YOU DOING WITH YOUR LIFE? Reading books these days instead of postgame wrapups. Remember what those were like? Actually enjoying living instead of being left in comtemplation of the transitory nature of your exsistance in the persistence of time? And the ultimate fleeting existence of everything outside of you?
Maintain your sanity…. Well hell man, you're a Cavs fan, you think you can in good conscience skip out Tait's book, Raab's book OR Shaq's book? Can't watch "Major League" EVERY night, bro. Expand your mind. Read something. Besides what you're reading right now, obviously.
2. NOTICE: PROFESSIONAL BASKETBALL IS STILL BEING PLAYED IN OTHER COUNTRIES. IF you are totally starved for basketball, and can't get enough of a fix from watching kids in college play ball, and if you're even considering checking out the gritty Euroleague READ this: "Euroleague 101 for Starving Hoops Fans" from the guy that does http://euroleagueadventures.com/. He's digging that only the hardcore of hardcore are going to get into Euro basketball, but he's lays it out straight:
"In the absence of The Association, people will do many things. They will watch more football, dive a little deeper into college basketball, maybe finish that Tom Wolfe book that's been peering at them from their bedside table for 16 months. They might start volunteering at their kids' school or finally try that new Korean barbecue place that they saw on the Food Network. Maybe they'll just sit at home and live out the 2011-12 NBA season on a PlayStation or XBox.
One thing people will not do is flock to the Euroleague en masse."
http://sheridanhoops.com/2011/11/18/gibson-column-euroleague-101-for-starving-hoops-fans/
Also, it's free to follow this guy Nick Gibson on Twitter: @Euro_Adventures. And incidently, I don't know if there's a fair or even legitimate comparison between European basketball and Japanese baseball, relatively speaking. But I'd like someone to answer this question also, just for my own understanding of the situation before I get any more involved.
3. SKYENGA, THE CONGOLESE KILLAH, IS ONE OF THOSE GUYS IN EUROPE. I found the "Eyenga Primer" on the aformentioned website a couple weeks ago. Basically videos of our guy E, lighting up gyms with blocks and dunks. If you're an Skyenga-fanatic, you might be familiar with some of this material, but really, you need to see this stuff and remember why it's worth being pissed off that these guys can't figure it out so we could watch this on Friday night instead of trying to decide on the fair value of Grady Sizemore's next contract, or whatever it is you do with your self to weather these difficult times. Feel free to ignore his obnoxous and annoying comment about Cleveland (or don't):
http://euroleagueadventures.com/your-christian-eyenga-video-primer/
Also, there's more recent stuff here from www.ballineurope.com. I know you remember, but this dude Eyenga has some pretty amazing physical skills. Played his second game for FIATC Joventut, went 4-9 for 11 points in 19 minutes:
http://www.ballineurope.com/us-basketball/nba/news-highlights-deron-williams-christian-eyenga-khadeem-lattin-stephen-dennis-brian-qvale-9514/
If you read that pice with a kean discerning eye, I'm sure you saw that Semih Erden is playing on Deron Williams' team, and the giant Turkish Cavalier is actually playing well. So that's cool too, although the cynic might just say that the dude looks a lot better when he's playing against the Euroleague. ACTUALLY, after I wrote this but before it was published, Erden broke his left thumb. But he was great for a couple games. Total Erden.
Meanwhile, in Isreali league, Omri Casspi, the Small Forward the Cavs got from the Kings for JJ Hickson is playing for Maccabi Tel Aviv BC. If the name of that team is familiar, it's because that's where Anthony Parker won his two Euroleague MVPs in 2004-05 and 2005-06. This total Cleveland guy Fred Taub at JewishCommunityRadio.com did an interview with Casspi about playing in Cleveland, which you should check out: http://jewishcommunityradio.org/audio/2011-Nov-4-Omri-Casspi.mp3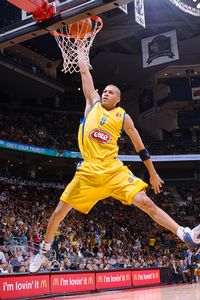 Anthony Parker EuroDunking (via ESPN)
Incidently, that trade is a total steal if Hickson doesn't play this year for the Kings, since Hickson goes into 2011-12 offseason as a restricted free agent who could potentially leave the Kings without ever playing while the Cavs will keep control over Casspi and the conditional superprotected draft pick they got with him. Who knows, maybe the Cavs get a shot to bring Hickson back before they play another game.
4. IGOHARDNOW.COM, WHAT DOES IT ALL MEAN? YOU NEED TO VIEW MORE NBA CARTOONS BY KENDON LUSCHER. Dude is killing the lockout and everyone involved, including you: http://www.igohardnow.com/search/label/Comic Micky Arison, owner of the Miami Heat and his bizzare steak fetish are prominetly featured.
5. WHAT HAPPENS WITH THE DRAFT IF THERE'S NO 2011-2012 SEASON? No one knows. There's a lot of possible things that could happen. Don't count on the Cavs being in a lottery position they were in for the 2011 draft though. Don't start cheering for the whole season to be wiped out thinking that it's going to help your beloved Cavs. Not pessimistic either, since I don't feel like Dan Gilbert is going to let the Cavs get screwed over when we get out of this thing. That's just my gut talking though. You could trust my gut. OR, you could trust this image of Sally Field as Norma Rae. Whatever gets you through man.