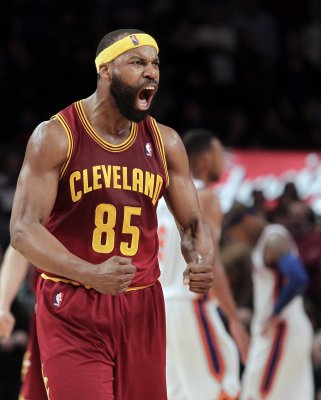 As Cleveland fans we're not strangers to fan conundrums.  Take our Browns for example.  It's become our winter ritual to enter that awkward phase of the season when winning is losing and losing is winning. Half our city wants a loss, the others think it's crazy, and so on and so forth.  This Cavs season is one giant dilemma for me.  I've been a rollercoaster for months.  Rewinding back a few months I was totally fine with a lockout eliminating the entire season.  There were a few reasons I was okay with that but mostly because I was looking forward to seeing us add another draft pick without suffering through another gloomy joke of a season.  Then the phrase "5 year aggregate" became known to me and I've been rooting for a deal ever since.  I'm not sure what this season will entail or what I really want from it but I do know this.  I'm excited for it.
In my opinion there is one big decision the Cavs need to make that will give us a sense of the organization's take on things.  One Mr. Baron Davis.  The addition of Baron Davis has already given us a clear example of the pros and cons when it comes to building for the future and playing for the present.  See the picture above.  Baron Davis showed us he's still capable of those moments.  There were few moments I was off my couch in excitement over the Cavs last year.  Then we got the chance to watch him light up Madison Square and get a win as the NBA landscape was falling all over themselves over the Knicks with the Carmelo deal.  We watched him play a good 4th quarter to help close out the "team down south" and followed up a beautiful pass to Hickson with a throat slit because it was over.  Those were exciting games.  What if I told you it cost us having both the #1 AND #2 picks in the NBA draft this past summer?  Because they basically did.
We lucked out beyond belief to obtain Kyrie Irving.  Thank God it happened but we can never expect anything like that to happen again.  For this team and this organization to add top tier talent it has to be done through the draft.  It's just reality.  As we saw last year we have to suck beyond sucking to get into position to do that.  We won ONE basketball game last year between November 30th and February 11th.  If you factor out the Clippers trade, that got us in position to draft 4th overall.  Luckily this years draft class looks a bit deeper as of now so we might not have to get #1 to get an impact player but still, herein lies the issue.  The dreaded middle.  If Baron suits up for us this year, Kyrie's a player, and we stay healthy I fear this team is bad enough to just miss the playoffs and good enough to win 25 or so games in the shortened season if things break right.  If you told me right now that Kyrie, Casspi, Tristan Thompson, and other young guys lead us to pick #13, I'm all for it.  We need to see these young guys play well.  They're the future if we have any chance of legitimately competing before my mid-30's.  But if you tell me we resign Anthony Parker and he plays great along with Twan and Baron Davis?  Where does that get us 3 years from now?  I'd rather suffer through being horrible and adding big talent to this roster in a short timeframe then be the Milwaukee Bucks for another 5 years.  In the middle.  NBA's Hell.  So lose right?
When I first read about the amnesty clause my first thought was "Baron's Gone."  It's the smart move.  Rarely does the NBA throw you a life raft.  Take it.  As a bonus it guarantees you more playing time for Kyrie, maybe it justifies keeping Sessions here, and it probably worsens your team at the same time.  Win.  Win.  Win.  Then I realized that what was most enticing about it was a mirage.  Cap space.  So in my original thinking we're going to lose a ton of games, clear a ton of space, add some nice pieces in the draft and all of the sudden NBA free agents are going to come here?  Not happening.  
On second thought, keep Baron Davis.  Let young soft spoken Kyrie Irving watch Baron go on mini-runs on the court.  Let him watch him flex and scream running off the court when the opposing team calls timeout.  Let him tell Kyrie about all of the stupid mistakes he's made.  Let him tell Kyrie about how it took years for him to realize what Byron Scott was telling him was the truth.  Baron has given every indication that he's willing, if not looking forward to doing that. If it doesn't work out then you can use the clause next summer.  If it does work out then what he's provided is more important than cap space and it might just provide us some more exciting moments as well as another trade asset the following year.
At some point your draft slot plays second fiddle to the culture of the organization.  Gilbert knows this.  He didn't build himself up to where he is now from his garage by accepting failure.  The Cavs are in an interesting position in the NBA.  As opposed to the NFL the NBA is not a league for sudden quick rises and falls.  This team has been in hell, heaven, and back to hell within one decade.  There are still players on this team and people in the organization that remember expecting to win every night.  The player left but the attitude can still remain.  If Anderson Varejao stays healthy all year and he's not traded, Tristan Thompson is going to learn how to effect the outcome of a basketball game without a jumpshot.  That's huge because we need him to in the future and he doesn't have one.  They're going to see a veteran who's made a lot of money in this league primarily because he plays his ass off.  Kyrie has the talent to be great.  Nobody knows what his ceiling is or Tristan's for that matter.  These could be good lessons to learn.  
It's certainly not going to help them grow or enjoy Cleveland (like it or not that's a factor now more than ever and going forward; star retention) by getting ripped on on Sportscenter, made fun of on talk radio, and blasted in the papers.  Last year we still had the Lebron trickle effect in attendance.  We are an amazing sports city considering how awful the team was and how well the Q drew.  That's not going to happen this year.  If we start 4-13 it's going to bring back nightmares of the dungenous Gund Arena and it's bright blue empty seats.  Winning will keep fans in the seats and electricity in the building.  So just win right?
I still have no clue.  There's still pros and cons for each angle.  What to root for?  Then it dawned on me.  I'm a Cleveland sports fan.  Clearly what I root for doesn't matter.  Whatever happens will happen.  I'll just sit back and watch it play out and be happy we have basketball back.  After all, if not for the settlement, the NBA was crafting a plan for the draft that would have seen us pick 23rd.