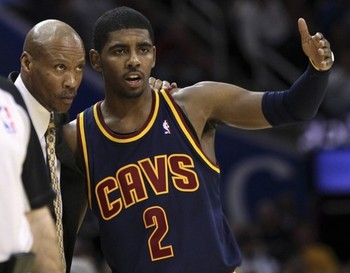 The Cavs 21-45 showing in the lockout shortened campaign of 2011-2012. The nuclear meltdown that is our Cleveland Indians. The early makings of what looks like an all too familiar train wreck for the Brown and Orange.
It's very possible that all three of our local teams could finish dead last in their respective divisions in 2012. For a city that has made ourselves sane waiting for next year this year could ultimately be one of the worst in recent memory. Great, huh?
So as myself and the rest of us in Northeast Ohio get set to watch our beloved Browns' season debut, and finale, on primetime Thursday night I received an email. An email that brought a rush of excitement. Cavs single game tickets go on sale Friday. I've been so caught up with life, family, and the start of football that it hadn't fully dawned on me that our Cleveland Cavaliers were so close to suiting it up again. While still early in the season, the Browns look to be on their way to yet another losing season. So the Cavs are the next man up for us Cleveland faithful, and frankly they're the most intriguing of the group at the moment for a few reasons.
While the Tribe and the Browns have low budget guy and unproven coordinator dude leading the charge the Cavs have themselves a bonafide NBA coach. One that's been to the mountaintop as a player, and pretty damn close as a coach. One who specializes in creating stars out of young talented PG's. A championship caliber SG who's welcoming in a new young SG he lobbied for and believes in. One who has a training camp notorious for whipping hoopers into shape. Most importantly, the Cavs has a coach who has a history of turning around franchises. I for one believe Byron Scott is "the guy" for this job. He's been a good soldier, waiting patiently for Chris Grant to tank, errrr, reassemble this roster and infuse it with young talent. Now it's time to start winning some games.
Another large piece the Cavs have is the budding superstar. While the jury is still out on T-Rich, any jurors still deliberating after last season regarding Kyrie Irving had their arms twisted and kneecaps beaten after the Team USA workouts this summer. As Uncle Drew was becoming an internet sensation, word leaked that there were times when the 20-year old PG was the most dazzling player on the Vegas court. A court that included every superstar the NBA has to offer it. He is unbelievably skilled at his age. He can shoot. He can handle. He's polished with the media. He has the humility to be a great teammate with an inner swagger to challenge Kobe to a one-on-one matchup or take over a game in the final minutes. He can do it all to some extent already and will only get better.
So basically Cleveland, it's time to get behind this team in a big way on Halloween Eve.  This young team and all of it's parts, Tristan, Waiters, Zeller, Andy, and Gee should provide a lot of excitement and should also go through their ups and downs. But through all of the rebuilding this is the year to start seeing progress in the W/L column. With bundles of cash to spend next summer, that they HAVE to spend, it's time to let the rest of the NBA and it's prospective free agents know that something special might be starting at the Q.
For us Cleveland fans next year actually starts October 30th.