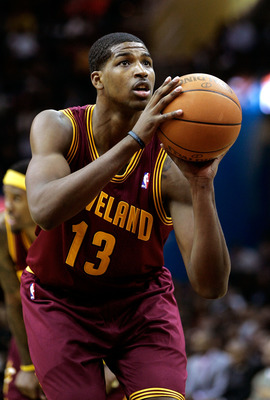 I really can't believe the NBA season has crept back around this quickly. It has though. In less than three weeks, the Cleveland Cavaliers will be inviting fans down to Quicken Loans Arena for their annual Wine and Gold intra-squad scrimmage. Tip-off is scheduled for Saturday, October 6th, at 5pm.
This will give us all our first look at Dion Waiters playing in the city of Cleveland. Tyler Zeller too, along with CJ Miles, Jon Leur, and whoever else. Will be interesting to see the new guys, as well as get an idea of what type of progress the returning vets made this summer.
Those guys probably won't be playing with Kyrie Irving that day though, so for however good they play we can all assume they'll eventually be a little better. I'd imagine they'll keep Kyrie out of just about everything they can in anticipation of having him one hundred percent and ready to go by opening night, but that's me speculating.
For whatever it is or isn't worth though, the Cavaliers email announcing the Wine and Gold game features pictures of Tristan Thompson, Alonzo Gee, and a few Cavs fans. No Uncle Drew.
Anyways, more from that announcement:
The Cavaliers annual prelude to the tip off of a new season starts with the team's intra-squad scrimmage where Wine meets Gold to give fans their first look at the 2012-13 Cavs on the court. The Wine & Gold Scrimmage presented by FirstEnergy Solutions takes place on Saturday, October 6th at Quicken Loans Arena at 5:00 p.m. This special preseason event features everything that makes attending a Cavaliers home game an incredible fan entertainment experience— and it's FREE!
Fans will be treated to the full-blown production of the Cavs' award-winning game presentation featuring lights-out player introductions with Q-Tube flames. The Cavalier Girls and Scream Team will perform, mascots Moondog and Sir C.C. will stir things up, and in-arena host Ahmaad Crump will oversee all the fun. There will also be many other special fan activities and team interaction elements and giveaways both on and off the court during the evening. Doors will open at 4:00 p.m. so fans can enjoy concourse activities and $1 hot dogs and $1 sodas while taking in the excitement of being back at The Q for Cavs basketball.
Awesome that it's free. Great opportunity for fans to get down to the Q and check these guys out. Free tickets, and even if you are Antonio Cromartie you can still buy all your kids a hot dog and a soda each while you're there for under $20.