Since the Draft Lottery first positioned the Cavaliers at 4th overall, there's been rampant speculation that Charlotte at number 2 could be a potential trading partner for Cleveland. Today John Telich reported that the two teams are currently talking, and that Cleveland is willing to give up picks number 24 and 34, in addition to 4, in order to move up two spots. It is then assumed, in my opinion at least, that the Cavaliers would make that move in order to pick Bradley Beal before Washington has the opportunity to do so at 3. Below is what Telich reported specifically:

If Chris Grant ultimately makes this move, I believe it will come to define his tenure as Cavaliers General Manager one way or another. I understand the rebuild has a long way to go. I get that we're heading into only the second season of the Kyrie Irving Era. I also clearly understand that four Cavaliers rookies will not make the opening night roster. But to make this trade, one thing you are doing is specifically and deliberately passing on two players figured to go in the top-5 that your franchise player has a close relationship with. If Beal's an All Star that's not a problem, if he isn't though?
Neither Harrison Barnes or Michael Kidd-Gilchrist elected to workout for the Kings who are picking 5th. Assuming it does go AD, Robinson, Beal – or you think it would go that way, and you make this trade anyways – the Cavs are first passing on the opportunity to chose between Barnes and MKG at no cost. Then you're spending two picks that could turn into at least one solid rotation player in order to move up and take Beal in this spot. Regardless of how many picks the Cavaliers have this year, next year, or the one after, this move seems extremely aggressive. I'm not sure Beal's that much better than those two other guys. If Grant does, I hope he's right. 
Beal's certainly good, but stop comparing him to Ray Allen:
As a Freshman for the UConn Huskies in 1994, Ray Allen shot 40.2% from three point range. From the floor overall he shot 51%. In the process Allen averaged 12.8 points per game while playing 21.6 minutes in 34 games as a Big East Rookie. The college game was better than too, but I'll leave that out for now. For his career at Connecticut, Ray Allen finished shooting 45% from 3P-range before leaving as a 20-year old Junior in 1996. He shot 44% from three as a Sophomore, and 47% as a Junior.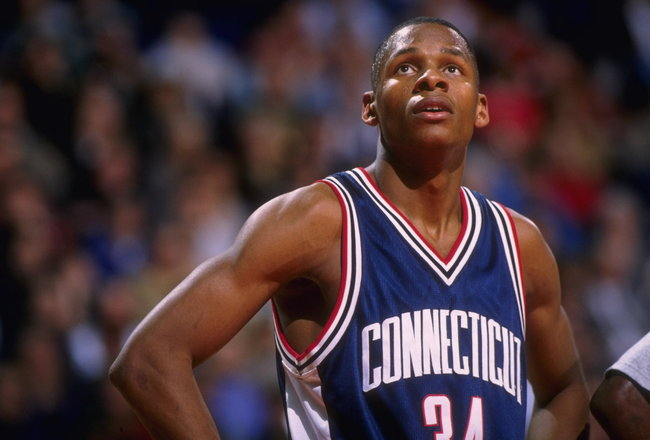 Bradley Beal shot 33% from three this past season as a Freshman at Florida. He shot 44% overall from the floor. In 34 minutes per game, 13 more minutes than Ray averaged at the same time in his career, Beal scored 14.8 points. Bradley Beal and Ray Allen are not comparable. I think people are getting a little carried away. Especially when you consider that line Beal shot 33% from moves back a couple feet for him next year in the League. 
I do understand why some Draft pundits compare him favorably to Ray Allen when he was a teenager though at the same time. I realize his form is similar, and maybe he'll start making more if he's able to shoot all day in the gym and not have to go class. I'm not exactly surprised that his U-17 coach would think he's the greatest player to ever live either. I also know and understand that Bradley Beal is not lying when he tells people that he shoots similarly to Ray Allen. His shot just doesn't end up going in nearly as much as Ray's does. Not enough, for me at least, to spend a 24th overall Draft pick along with the 34th to move up and take him before Washington does. Not when MKG and Barnes are both sitting there for whoever it is that ends up picking fourth.