Nick Mancini checks in with his second of five questions as Cavs open training camp…
2. Will Tristan Thompson make the offensive leap we're all hoping he'll make this season?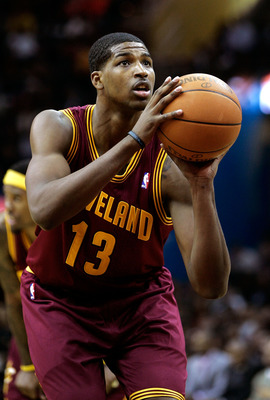 When the Cavaliers made Tristan Thompson the No. 4 overall pick in the 2011 draft, first reaction from many fans might have been "who's that"? He was coming off a season at Texas where he averaged 13 points and nearly eight rebounds per game. Solid, yet unspectacular.
He was raw, but everyone saw the potential right away. Last season in Cleveland, we also saw glimpses of what that potential could one day become on the NBA level. When Anderson Varejao went down with injury, Tristan's minutes increased. For the most part he capitalized.
Thompson finished his rookie campaign averaging 8.2 points and 6.5 rebounds per game. In 25 starts, those numbers increased to 10 points and 7.5 rebounds. A nice increase in production with respect to minutes played.
But he did struggle when receiving the ball in the post, however, mainly because he didn't have a go-to move. He relied on athleticism and offensive rebounding for his baskets. But this seasons he needs to do more.
He finished last year at 43 percent shooting. I think it is reasonable to expect him to increase that to 47-49 percent. He said he wanted to work on his offensive game this summer and hopefully that work pays off.
Tristan will still get his share of touches on offensive rebounds alone. But if he can develop that ability to score with his back to the basket, or step out for a 10-12 foot jumper, the options are endless. We all know what we have in Kyrie Irving. With the addition of Dion Waiters, there will be some space for Thompson to operate inside. He will have to take advantage of that.
I personally think, if Thompson can be as improved as he says he can, this can go from a rebuilding team to something much more.  But if he struggles to create his own shot, this team may continue to need that "one more player" we often talk about. I really think Thompson will surprise a lot of people with his development though, not just in Cleveland but throughout whole League.
In two weeks we'll begin to find out for sure.