The website TuBasket.com is reporting that the Dallas Mavericks and Cleveland Cavaliers are "very interested" in Brazilian Center Rafael Hettsheimeir. The translated report suggests that Dallas appears to be more interested, but that both teams are considering contract offers within the one-year, fifty percent guaranteed range. No indication of proposed dollar values associated with each potential contract offer were indicated.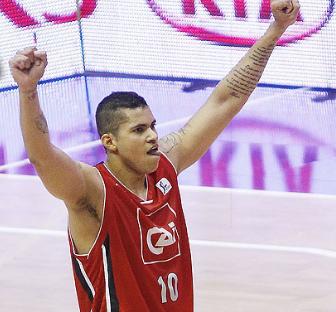 Hettsheimer is a 6-10, 260-pound, 26-year old center from Araçatuba, Brazil. Playing 33 games for CAI Zaragoza in Spain last season, Hettsheimer averaged 13.3 points and 6.4 rebounds on 55-percent shooting from the field. He would've played with Anderson Varejao on the Brazilian national team during Olympic competition, but he was sidelined this summer while recovering from knee surgery. He's reportedly back healthy and ready to go now.
For more on Rafa, here are some highlights:
http://youtube.com/watch?v=
_2cCdwnWaRs[/youtube]
I'll be reaching out to my sources in Brazil later this afternoon and be sure to include a further update on this should anything break. Enjoy the Friday people.