Byron Scott's biggest concern for the 2012-13 Cleveland Cavaliers is defensive rebounding. I don't necessarily disagree with the importance of rebounding on that end of the floor either. Securing the defensive rebound not only stops the other team from scoring, but it also gives your team the basketball.
The two most fundamental elements for success at any level. 
Behind Anderson Varejao and Tristan Thompson up front, however, along with guys like Alonzo Gee on the perimeter, there are at least a few reasons to believe that the Cavs will be okay in that department. Beyond the necessary size requirements, defensive rebounding in the NBA is more about heart than any other aspect of the game. It's a controllable for any team, to an extent, assuming the desire is there.
http://youtube.com/watch?v=
CK86b-qVO5o[/youtube]
My biggest concern is who exactly is going to score once the Cavaliers do collect that rebound. Besides Kyrie Irving, of course.
Last season Antawn Jamison averaged 17.2 points per night as the Cavaliers second leading scorer. He played in 65 of the 66 games. Obviously now he's gone. Anderson Varejao returns as the next leading scorer after that, at 10.8 points. He only appeared in 25 games. Alonzo Gee comes back at 10.6, Tristan Thompson at 8.2, Daniel Gibson at 7.5 and Omri Casspi at 7.1. 
None particularly close to averaging 17 points per game in the NBA.
So somebody will need to improve their scoring average by at least six points, as far as I can tell, in order for the Cavaliers to score enough to compete. Unless Dion Waiters or CJ Miles fill the void left by Antawn. Either those options, or about seven guys will need to average at least 10 points to collectively score anywhere near 100 per game. Including Jamison's 17, the Cavs had four players in double-digits last season and they averaged 93 points as a team. 
With that in mind, I began to identify who I thought could be the Cavs second leading scorer this season. Included below are the Over/Under Scoring Average Lines I set for the five players who have the best chance of assuming that role. The odds for each of those players to end this season as the Cavs second leading scorer are also below.
Projecting the Cavaliers Second Leading Scorer for the 2012-13 NBA Season: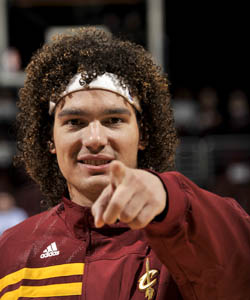 5.) Anderson Varejao:  Andy quickly developed a nice chemistry with Kyrie Irving on the offensive end last season. He didn't play that many games, but Irving did connect with Varejao on dives to the basket and flashes across the lane for scoring plays at the rim while he was out there. Varejao will also have his share of put-back opportunities this season, as I expect he leads the team in offensive rebounding. He's a 7.3 point per game scorer for his career though, who's never averaged more than 10.8. I expect him to be between 10 and 11 again this season, but no more than that.
Over/Under on Points Per Game: 11.3
Second Leading Scorer Odds: 15 to 1
4.) Alonzo Gee:  Before you suggest that Alonzo will have more of an opportunity to average over the 10.6 points he did last season, keep in mind that he already played 29 minutes per game last year. Jamison led the Cavs in playing time last season at 33.1 minutes per night. So let's assume that Gee's playing time stays just about the same in whatever role he assumes – maybe he averages 31 minutes per night instead of 29. Like Varejao, I do expect him to be up over 10 points per game again this season. I don't think he averages more than 12.5 though and I expect him more in the just-over-11-range. 
Over/Under on Points Per Game: 11.9
Second Leading Scorer Odds: 12 to 1
3.) Tristan Thompson: I realize I outwardly root for Tristan Thompson. I actually root for all the Cavaliers, but his development is especially critical. That said, I'm being unbiased when I suggest that he could have a better than expected season scoring the basketball. Like Anderson, he will create his share of put-back opportunities. He'll also get dunks in transition and catch lobs from Irving in the half-court. Will he be able to find an effective post move? Knock down the 12-foot jump shot? I'm not sure. But he will play more than the 23 minutes per night he averaged last season. In 30 minutes this time around, with the energy level he plays at, I think he scores at least 12 points per game. Seriously. But not more than 14.
Over/Under on Points Per Game: 12.2
Second Leading Scorer Odds: 8 to 1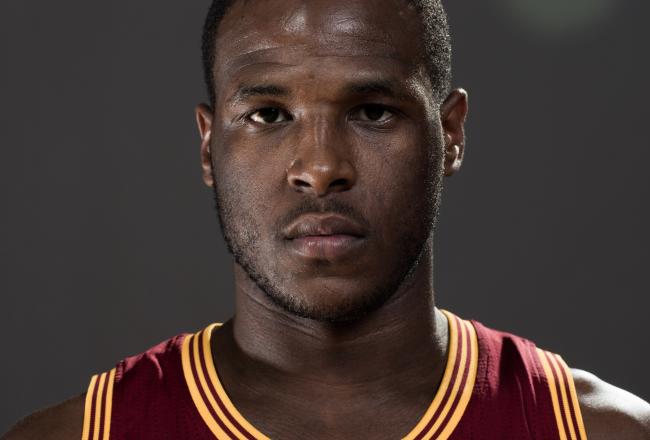 2.) Dion Waiters: Here's where it gets real interesting. In an honest moment, I'll readily admit that Dion Waiters could average anywhere between 6 and 16 points per game this season. Meaning, I'm honestly not sure right now. I continue to believe he will have enough shot opportunities over the course of the season to be this team's second leading scorer. I also think that his skill-set will translate once he becomes more comfortable with the offense. The best situation for the Cavs would be that Waiters is the second leading scorer, coming in at about 15 per night during his rookie season. I realize people might bet the under right now, and maybe I'll have to move the line accordingly, but I think his potential to get 16 is too real to completely ignore. 
Over/Under on Points Per Game: 13.9
Second Leading Scorer Odds: 4 to 1
1.) CJ Miles: I'm about to tell you that a guy who's only averaged double-digits once during a seven-year NBA career will arrive in Cleveland and average 15 points per game for the Cavs this season. Part of the reason is because this team will need somebody to score those points and I'm not sure there's anyone else besides Dion with the potential to actually get that many. It's no knock on Anderson, Tristan or Alonzo either. They will lead the team in rebounding and defensive production while also scoring some themselves. But somebody needs to score at a relatively high level to help this team put enough points on the board to win. Edge goes to CJ Miles right now in that category for me. Even though he averages 8.4 for his career with his best season to date being 12.8. 
Over/Under on Points Per Game: 14.5
Second Leading Scorer Odds: 3 to 1 
Sixty to one odds that it's somebody from outside this group. Hit me up on Twitter and let me know what you think.