Alex Raffalli is a writer for BasketAmericain.com and is the creator of PodCAVS, a podcast about the Cleveland Cavaliers. Henceforth, for your infotainment and on a regular basis, I will be interviewing him in an ongoing never ending interview/conversation about various topics impacting the Cavs.
Nerlens Noel is the concensus top pick in the 2013 NBA Draft. However, there are concerns about Noel being selected with the first pick, due to a torn ACL in his left knee during his freshman season at the University of Kentucky, the NBA-readiness of his body and his basketball skill level on offense. These are serious concerns.
After the lottery, in which the Cavaliers won the top overall pick, Alex began researching Noel and these issues.
Nerlens Noel can palm two basketballs. He has 7'4" wingspan. That's a loooong wingspan. (Hoop365.com)
1. WHAT HAVE YOU DONE TO RESEARCH NERLENS NOEL?
Let's see. I have probably spent a total of 30 hours since the Cavs won the Lottery reading everything that has ever been written about Noel and that is available to me on the internet.
THAT'S IT?
That's a lot by the way. Unfortunately, there is not a lot of film available given he only played 765 minutes of basketball in college, but I've watched as much film of him. I don't consider myself a great talent evaluator, so I would say watching the film was more to get confirmation of what I read all over the internet about Noel's impact once he plays in the NBA.

2. WHAT ARE YOUR EXPECTATIONS OF NERLENS NOEL AS A PLAYER AT THE NBA LEVEL?
I expect Nerlens Noel to be one of the most dominant defensive players of his generation. He has all the tools to be a stopper like the Cavs have never had inside. I'll go as far as saying that Noel could very well end up leading the league in steals AND blocks. He can defend all the way to the three point line. Has mesmerizing quickness off his feet and quick hands as well, and under the patronage of Mike Brown I have no doubt he'll become such a good pick & roll defender that he will make Kyrie Irving look good on defense. Having such a player is a game changer in the NBA. The Milwaukee Bucks are one of the best defenses in the league just because they have Larry Sanders inside. Noel will be even better than Sanders at protecting the rim.
As a defensive anchor, and a guy who will lead by example, Noel will not be a star the way NBA players usually become stars (by scoring an insane amount of points) but will make watching Cavs basketball that much more fun. When it comes to the 2013 Draft, I think Nerlens Noel will be the best player in this class ten years from now. There is sort of an uncertainty around him (only played 27 games, torn ACL, no offensive game at this point) but I think he will overcome that and be remembered as the consensus number one pick he should be today.
3. LARRY NANCE WAS ONE OF THE BEST SHOT BLOCKERS IN NBA HISTORY AT 6'10" 205. NOEL'S DETRACTORS CLAIM THAT HIS BODY IS TOO SMALL FOR THE NBA. CAN NOEL BE THE KIND OF DOMINATING SHOT BLOCKER THAT NANCE WAS AT THE NEXT LEVEL?
Former Cavalier star Larry Nance has a similar body type to Noel. (NBA)
It's funny that you should mention Nance since he was listed at 205lbs…! I am not as advanced age-wise as you are and I have I obviously never seen Larry Nance play live, but that comparison seems interesting. Not only Nance was an All-Star (3 times) but an All-NBA Defense guy as well. If Noel ends up having the defensive career Nance had, I think we'll be happy about the pick since it is clear already he will not be the primary piece of the Cavs going forward, "just" a very important one.
Now, one of the big concerns is not, at least from what I understand, that he won't be able to rack up 2.2 blocks per game in his career as Nance did but rather if he can fight with the bigger interior players in this league. He was measured at 206lbs at the Combine, which is lighter than Dion Waiters. That's a problem. Of course this was not his playing weight, because he has been out for almost 4 months now. I'll will give you two arguments why I am not worried about his weight as much as other people:
1- Every rookie that comes in has to gain weight. There is not one guy that is not considered too small/skinny in his first season and then they get with the best trainers in the world for their first full offseason and gain 15/20lbs. Look at a guy like Gordon Hayward in Utah. Last summer he looked like he doubled his muscle mass. He went from skinny white kid to grown ass man in 4 months and his production in his second season was THAT much better because of it (at least in part).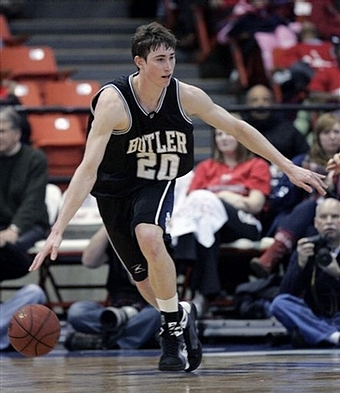 Skinny and White (AP Photo)
Grown Ass Man (AP Photo/Rick Bowmer)
2- I have been saying – and I think I'm not the only one – that Kyrie Irving needs to be stronger, bulkier, if he wants to sustain the kind of tear he puts his body through night in and night out. And I think he was that much more injury prone because his body was not ready to play in the NBA (even though it's pretty clear the Cavs milked all those injuries). Now, here is my point: coming in the 2012-13 season, Irving had worked his ass off to put up about 15 pounds of upper body muscle in the offseason. What happened next? He has his wisdom teeth removed, lost 10 pounds, had the flu to start the season, lost another 5 pounds and was back to his initial weight.
Body mass fluctuates. That's just how it is. You can think Nerlens Noel is too skinny, not strong enough, but the 19 year old (he was 18 for most of the season) Noel you're watching right now is not the Noel you will see play for the Cavs for years to come.
I didn't assess the "height" thing because it is irrelevant in my opinion. Noel has a 7"4 wingspan and some of the best shot blockers of all time were/are much smaller than 6"11 (Dwight Howard or Bill Russell didn't need to be 7 feet tall!). His extraordinary athleticism will allow him to block – or at least contest – potentially any shot
4. PEOPLE KEEP CLAIMING THAT THIS DRAFT STINKS, THAT THERE'S NO SUPERSTARS AND THAT THE PICKS AT THE TOP OF THE DRAFT AREN'T AS ATTRACTIVE AS THE ONES THAT WILL BE IN NEXT YEAR'S DRAFT. WHICH PICKS FROM NEXT YEAR'S DRAFT WOULD YOU TAKE OVER NOEL?
Today? He probably doesn't go in the top3 if Andrew Wiggins, Julius Randle and Jabari Parker – at least - are in the draft (keep in mind I haven't studied these guys as much as I did for Noel).
That being said, I want to point out that Noel finished high school a year early so he'd be part of the 2013 Draft instead of the 2014. Noel is not 1 full year older than all these guys mentioned above. He's only about 6 months older than Randle.
A year from now, who knows? Remember when the 2011 Draft was supposed to be so great, then all those guys stayed in college and what not? I think we do a very bad job of actually assessing the quality of a Draft, and that comes to bite us a couples years later. I am pretty sure I have read every year since I follow the NBA that "next year's Draft will be much better". In twelve months, maybe Wiggins is totally disappointing, maybe one of the Harrison brothers has an injury and Karl Towns stays in school.
I don't care about 2014 at the moment. I want to know what this crop of future NBA talent will bring to the league.
5. WHAT ABOUT THE KNEE?
Horrible knee injury (KentuckySports.com)
I MEAN LOOK AT HOW HORRIBLE THAT WAS! AREN'T YOU WORRIED THAT A BIG MAN WHO HAS A HORRIBLE KNEE INJURY LIKE THAT ONE IN THE PICTURE ABOVE MIGHT BE TOO MUCH OF A RISK AT #1 OVERALL? LIKE LOOK AT WHAT HAPPENED WITH THAT GUY GREG ODEN, OR THAT OTHER GUY SAM BOWIE!
This sure looks gruesome. And for a guy whose game relies so much on his athleticism and leaping ability, you could be thinking it's really bad. But there are a few things to be said about ACL injuries.
First of all, if anything, it is better this happened to an 18 year old rather than at the peak of his career (think Bernard King if you want the worst case scenario for an ACL injury).
Second, ACL injuries, assuming they heal properly, do no cause any structural damage. It's more a question of getting back in shape, but it doesn't mean Noel has more chance of getting the same injury (or any injury) again than anyone else. The Greg Oden comparison is not a good one since the only thing they share is probably being #1 picks and centers (as well as being rumored to play in Cleveland soon).
Oden had microfracture surgery (right knee) before his 1st season, then broke his foot because he was overweight and came back too quick. He fractured his left patella a year later, had microfracture surgery again (left knee this time) followed by arthroscopic surgery on both knees with complications (articular damage). That's NOT close to what happened to Noel. And as of today, we can only make this pick knowing what we know now. But I sure find it interesting that you did not mention Blake Griffin in the list of big men who were picked #1 and had knee issues. He broke his left kneecap and missed a full season, but I think he's still jumping pretty high over reasonably priced sedans.
Top prospect Alex Len, for example, has a stress fracture in his left ankle which is months away from recovery. I would worry about that before I would worry about ACL injuries.
I would add that going to Cleveland, he would have the best medical care in the country. He has no other known history of knee problems and I don't see him getting out of shape/overweight and putting more pressure on his knee than it can bear. Overall, I'm pretty confident he won't be an injury-prone guy, because getting an ACL tear does not translate into future injuries if treated well, assuming he has a full recovery. The Cavs will have their doctors look all over that knee before they make that call and take him on June 27. They will know what the extent of the injury is and the progress he's made so far. Are you really not going to pick the best player and maybe the best fit for you in this Draft because he might miss a couple months of basketball?
6. DO YOU THINK NOEL WOULD BE A MORE OBVIOUS FIRST PICK OVERALL IF HE HADN'T BEEN INJURED? I MEAN, THAT INJURY WAS HORRIBLE, YOU THINK THAT'S WHAT IS HOLDING PEOPLE BACK FROM SAYING HE'S AS GOOD AS ANTHONY DAVIS? AND YOU KNOW WHAT? IS HE AS GOOD AS ANTHONY DAVIS? COULD HE BE AT THAT LEVEL OR BETTER? JUST SAYIN, BECAUSE HIS COLLEGE NUMBERS SEEM EVEN BETTER AS FAR AS DEFENSE THAN DAVIS AND THEY BOTH PLAYED THE SAME POSITION AT THE SAME SCHOOL AND ALL.
First, let me tell you that I think the Anthony Davis comparison isn't fair.
Players are different. You're not drafting Anthony Davis 2.0 because Noel is unique just like any other player. There was a great article about how comparisons are not a very smart way to judge a player on NBADraftinsider.com: (http://www.nbadraftinsider.com/2013/05/jamaal-franklin-evan-turner-and-the-flaws-in-nba-comparisons-for-draft-prospects/).
Comparisons help casual fans have an idea of production or body type, but that's it.
Now, if you really want to compare both their games, I think Noel will be more defensive minded. He's longer and even a little bigger, although of course he's too thin right now. He's probably more athletic and will be an elite P&R defender in the coming years. Davis already has an offensive game and can shoot it from 15 feet in while Noel is totally incapable of making a jumpshot. He didn't attempt a shot from further than 12 feet last season and missed all 6 of the jumpers he attempted.
Unfair to compare Noel to Anthony Davis (sandrarose.com)
Davis averaged 14 and 10, shooting 63% in 40 games for his rookie year. I don't think you can expect the same impact from Noel his first year, especially considering he'll be recovering from an ACl injury. In the mid to long term future, it's hard to tell. Remember, people said Davis was the "second coming" of Tim Duncan? I doubt that but if it's the case then no, Noel won't be close to Anthony Davis.
Now, we're not in the 2012 NBA Draft anymore, and we shouldn't compare players from different drafts when deciding where to pick guys from the class of 2013… Only guys I'm interested in comparing Noel with are the McLemores, Porters and Bennetts.
As far as the injury scaring people, yes, this probably true. It's just not natural to pick a #1 guy who can't play right now and you want your first pick to come in and be a game changer right away. Noel will be, just not before January at the very best. But he's still the best player in this Draft.