CBS radio in Cleveland, 92.3 FM "The Fan", reported yesterday that NBA free-agent forward Lebron James' agent, Rich Paul, has stated that James will be returning to the Cleveland Cavaliers.  This news was reported in advance of a meeting which has been widely reported to be taking place later today between James, Paul, and Miami Heat Team President Pat Riley. And it has become more possible that the meeting will be an exit interview.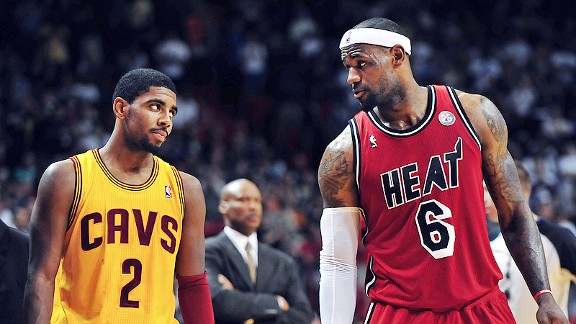 TEAMMATES?
Even very recently, the Cavaliers were believed to have been a long shot to bring in James as a free agent this summer.  However, speculation generated by media reports that James' choice of where to play has become so formidable that the Vegas odds of the Cavaliers winning a championship have dropped from 40-1 before the weekend to 10-1 and even 5-1 currently. This appears to be happening and it would change everything about the Cavaliers the moment it occurs.  Completely.
The pursuit of Lebron James by the Cleveland Cavaliers, following his decision to leave Cleveland in June of 2010 has been rocky and mysterious. Did it impact head coach hirings? Did it impact General Manager hirings? Did it impact draft picks and personnel moves that were made over the past four years? It seems like, until very recently, it was very plausible that almost every decision that was made by the team, and particularly during the Chris Grant era, to some degree involved Lebron James as a consideration. Cap space was maintained. Flexibility was largely maintained. Over three seasons, the small forward position was occupied for 6,300 minutes by the athletic but imminently replaceable Alonzo Gee.
This method of talent acquisition of an MVP caliber player, on its face and at essentially every level, seemed completely delusional. First, most media reports concerning James indicated his non-interest in playing for the Cavs. Second, the Cavaliers were non-competitive and essentially unattractive to a free agent player looking to "win now".
Third, the City of Cleveland was turned off by Lebron's antics and by the way he treated the city and Cavaliers fans in his departure. The television show that precipitated his departure from Cleveland wasn't the end game.  The real Lebron James isn't who appeared on television, in commercials, or who sells an app, shoes or Sprite. The real Lebron James was a self-obsessed solipsist who was treated like a brother and a member of the Cleveland area community by birthright and figuratively urinated on it.
It's easy to project the media persona of a highly public individual onto their actual person. Recall how before the presidential election in 2000, the perception that George Bush was winning the personality war with Al Gore and that Bush was "the type of guy you'd rather have a beer with" undoubtedly bled over into voting results favoring Bush's narrow "win".  Neither Bush nor James were ever really one of us, Bush didn't even drink beer, and the magnitude of the masses, the electorate, the fanbase, and the realization that you don't actually have any connection to a famous person can be a difficult one to absorb.
Lebron James made that fact more difficult as part of the marketing of his brand.  He was a "local kid" who was loyal to his high school friends and included them in his business, which was often the business of selling his persona rather than the business of playing basketball.
The business of selling his persona took his friends on team flights, engaged him in a two-year long free agency tour from 2008 to 2010, where feeding speculation regarding where he might go when he left Cleveland was as much a part of watching the Cavaliers as were the games. Lebron James discussions of playing in New York where he gave out free hot dogs at MSG for one game in 2008 (but could he handle the New York media and fan pressure??), perhaps Chicago ("would he want to follow Michael Jordan's path?").
What about the path to a championship? Many Clevelanders were critical of the Miami Heat team-building strategy in 2010, when three unrestricted free agents formed a "superteam" in Miami.  Jerseys were burnt and James was jeered and booed by Cleveland crowds for four seasons as a member of the Heat.
That issue may be put behind the Cavaliers, their fans, and Cleveland, and very soon. If Paul's comments that James is returning are taken at their word, they are an NBA agent working for his client. In the simplest terms, while there has been no confirmation from Paul responding to the report, the only existing evidence is the report that James agent has said that he will be a Cavalier.
 It is possible that by later today, July 9, 2014, that Lebron James could declare that he will be returning to the Cleveland Cavaliers. It is possible that Clevelanders will feel the relief and joy that balances out the anger and grief from 2010, that takes the team to the next level, and from playoff contender to perhaps something even more.
Photo Credit:  Steve Mitchell USA Today