It was, perhaps, the most absurd press conference in the history of the Cleveland Cavaliers franchise.   Kyrie Irving and Dion Waiters were assembled to address rumors that they did not like each other.  Waiters responded that he not only likes Irving, but that he "loves" him, albeit "as a friend".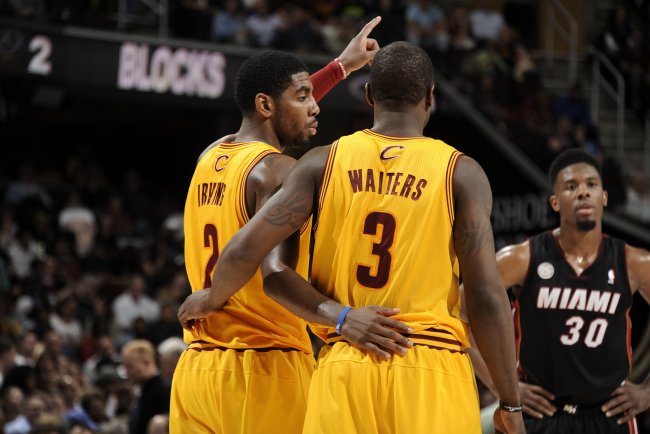 IRVING AND WAITERS, COMFORTABLE TOGETHER ON THE COURT
The press conference followed a comment made by Browns wide receiver Josh Gordon, who had appeared on ESPN and stated briefly that he lived in the same building as Dion Waiters and that he knew there was a "rift" between Waiters and Irving.
One media outlet, fixated on the idea of locker room toxicity and instability with the Cavaliers this season, immediately responded to the report, and almost instantly, a quote was generated from Kyrie Irving addressing Gordon.  Interestingly, and perhaps the only thing interesting about the quote or the entire situation, Irving identified himself as someone who follows the Browns.  Not to be outdone, after this "report" came out, Gordon logged onto Twitter and posted about how it seemed like he touched a nerve with Irving.
Taking the situation to the next level, Dion Waiters and Kyrie Irving had a press conference at the Cavaliers practice facility in Independence.  The two players were actually asked questions by the media about the issue of whether they like each other.  In fact, Waiters was also asked the question of whether he is friends with Josh Gordon.
Ultimately, Waiters said that he has a good relationship with Irving, has been friends with him since high school and said "I love him as a friend".
TWO PEOPLE HOLDING HANDS WHILE THE SUN SETS IN THE DISTANCE
Photo of Irving and Waiters by David Liam Kyle/Getty Images
Photo of two people holding hands and the sunset from herscoop.com.