There has never been a Cavaliers game in the history of the franchise with more team assists than the Cavs managed against the Pistons Wednesday night.   41 assists in one game, including 12 from rookie Matthew Dellavedova.  An NBA season high 26 in the first half.  These were astounding numbers, considering that one of the main difficulties the Cavs have had this season has been distributing and sharing the basketball.
But there it was.  This was the greatest assisting Cavaliers team of all time.
And it was eerie to see the scene in the Arena when, despite the win, the Cavaliers were eliminated from the playoffs about 30 minutes after winning the game 122-100.   It was empty and dust fell instead of confetti and the building knew that no one would be here through the NBA playoffs.
THE EXACT MOMENT.
For the first time in his head coaching career, Mike Brown has coached a team which will not play in the playoffs.   Even as an assistant, Brown has coached in the playoffs every season he's been working since 1999.
On Wednesday night though, after the Cavs had completely and thoroughly destroyed the Detroit Pistons, the clock wound down on a Atlanta Hawks comeback over the Boston Celtics in Atlanta, and with the Hawks win, the Cavaliers were officially and completely eliminated from the 2014 playoffs.   By this time, the Quicken Loans Arena was empty, pretty much completely quiet.
For a full half hour before they were eliminated, gears were still grinding. They had dismantled the Pistons and it felt like a complete reversal of last season's Pistons 4-0 sweep of the Cavs-Pistons series.  The Cavs finished 3-1 this season against the Pistons, 4-1 if you include the preseason.   Somehow the Pistons were able to completely suck the life out of their team this season, despite the stage being set for the emergence of mammoth center Andre Drummond by surrounding him with veterans Josh Smith and Brandon Jennings.
In this game, Drummond was mystified by a variety of long and mid range shoots made by Spencer Hawes, who scored 13 points in the first 9 minutes of the game, essentially putting the game out of reach.  Coming into this season, the Pistons appeared to have a huge advantage over the Cavaliers in the frontcourt, featuring both the young Drummond along with Greg Monroe and Josh Smith.  In this game though it was Cavs centers Hawes, Tyler Zeller and a 9 point 5 rebound third quarter from Anderson Varejao that kept the Pistons from ever making the game closer than 20 points after the Cavaliers built a 69-37 first half lead.
TWO ROOKIES DELLAVEDOVA IN SUMMER LEAGUE EARNING A JOB
Matthew Dellavedova, the best rookie on the Cavs this season, took advantage of the extra playing time with 14 points and 12 assists.   Many people thought that the Australian National Team member failed to distinguish himself in Summer League last summer, that he would be unlikely to make the Cavs team, but he did it as an undrafted free agent.
The way Dellavedova has done it has been by exerting an obnoxious amount of effort on both sides of the ball and playing a smart conservative offensive game.  Brendan Bowers of Stepien Rules likes to point to that early season game when Delly found himself wrestling for the ball with 285 pound Orlando big man Glenn Davis as evidence that Dellavedova is just completely fearless.   He's got this desire, he's unrelenting, but he's also an everyman who bought his own ticket on stubhub.com to a Browns game and who couldn't resist making a Instagram video of himself as "Rocky" charging up the stairs of the Philadelphia Museum of Art when the Cavs played in Philadelphia earlier in the season.
Since March, Dellavedova is shooing 49.0% from three point range.  His season average of 37.2% is second among rookies and ahead of much more hyped rookie shooters including CJ McCollum and Tim Hardaway Jr..  There are a lot of potential changes for the Cavaliers this offseason, but I'd expect to see Dellavedova playing for the team next year, and I expect him to be a bargain at $900,000.
PRETTY MUCH THE WHOLE SEASON WAS A WASH FOR BENNETT
Anthony Bennett, meanwhile, has been a project all season.  In fact, I actually saw him working out on the court before the game against the Pistons.  When I did, I was surprised.  It was a rare appearance since he's missed what is now 14 straight games with a left patellar tendon strain, and he had been absent from the team for "personal reasons" with his family in Toronto.  In practice though, Bennett looked great.
I have to admit, I was under the impression that for the Cavs to really improve and have a shot at catching the 8th seed in the East, that it would have to have been Bennett that stepped up and took his game and the team to a winning offensive level.  Which is to say that it is probable that I underestimated the impact that Spencer Hawes would have on the team offensively and also the impact that having a credible professional small forward in Luol Deng replacing Alonzo Gee and Earl Clark's minutes would be.
Really though, I was in the group of people that heard David Thorpe from ESPN talk about how Bennett's size and shooting mechanics make him someone that should not be overlooked because of his, by all accounts, lousy start as a Cleveland Cavalier.   I was still pretty convinced that they should take center Nerlens Noel from Kentucky with the first overall pick, even though four other organizations also passed on him and he dropped to 6.  I just didn't see it.
Watching Bennett practice though, he has those shooting mechanics that Thorpe was talking about and they are worth getting excited about.  His hands are in the right place when he shoots, his arms move in a consistent, fluid motion and he displays unusually great range for a man his size.  Simply, a shooter as big as Bennett that can also play close to the rim presents a unique skill set for his body type and a difficult player to stop on offense.
This season is a wash, but he isn't done.  A lot of things made this a difficult season for Bennett.  He wasn't in NBA game shape to start the season.  The shoulder surgery that he had last year (SLAP surgery, a complete rotator cuff repair) can take up to a full year for recovery.  He probably shouldn't have started the season on the active roster under these conditions.  Maybe there were pressures there from then GM Chris Grant for Bennett to contribute immediately that prevented them from bringing Bennett along slowly to start the season.
Going forward, as Thorpe said, Bennett can still be a star, but he needs to have a plan and stick to it:
"Making wise eating choices. Getting extra cardio work in on off days. Studying game film to see where he can make more rim runs or be more explosive. And choosing to make an impact in the paint each night while not even trying to be a perimeter player."
If Hawes is re-signed to start at center for the Cavs, and Bennett comes back in shape and healthy for his second season, that gives the Cavs two inside out players in the frontcourt, creating very difficult matchups for virtually every team they'll face.   And with a new GM who is not beholden to Bennett as a first pick overall, it will be in Bennett's best interest to work as hard as possible to show that he can still be a star player on the level of Lamar Odom or Rasheed Wallace which would be a valuable piece on this Cavalier team.
ONE OTHER ROOKIE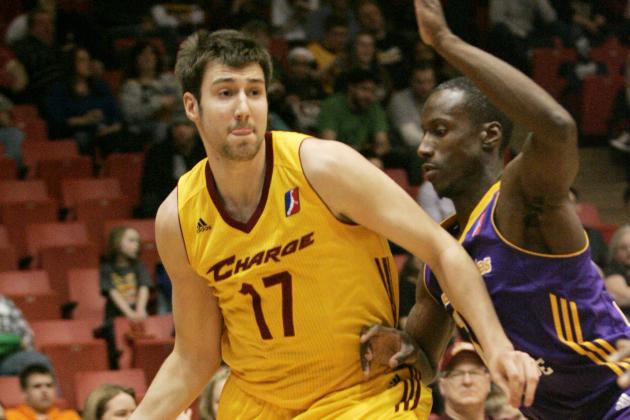 20 YEAR OLD KARASEV, YEAR 1.
Sergey Karasev, the vaunted international prodigy out of Russia, also played in the win against the Pistons, but he hasn't played much at all this season in terms of meaningful minutes on the NBA level.  This is despite the complete lack of a viable option at small forward for the first half of the Cavaliers season and then despite the injury to CJ Miles ankle that opened a spot for a player that can hit open shots from the outside, play passable defense and not be relied upon to do much else.
Karasev has been playing for the D-League Canton Charge, but has shown underwhelming athleticism.   It's hard to even remember at this point back a year ago when he was working out at the Nike Hoop Summit in Portland in April 2013, matched up against Andrew Wiggins on a daily basis and holding his own.  Or that Karasev won a slam dunk contest in the Russian League barely two years ago.
As a professional playing in Euroleague, Karasev was a go-to scorer in some of the highest level basketball outside the NBA in the year before he was drafted.  Then after he was drafted, he was a contributing player on the Russian National Team at FIBA Europe, turning in a dominating performance in Russia's final game against Turkey.
It's been interesting to watch Karasev and the way he's been managed by the Cavaliers this season.  Brown, no doubt by necessity, has given him opportunities to assume a larger role with the team, but for one reason or another, Karasev has been unable to capitalize on them.
Earlier in the season, there were discussions about the management of Bennett, concerns that he needed playing time and that the D-League was not being properly considered by Chris Grant as an option.   Meanwhile, Karasev played 18 games in Canton this season, shooting 45.1% FG, 42.6% 3pt and 83.6%  FT and averaging 13.5 points per game.   I had heard rumors earlier in the season that Karasev had shown a certain lack of selectiveness with his shots in Canton, but that apparently wasn't borne out in his shooting percentages.   I've also heard multiple times that a lack of Karasev athleticism became apparent in Canton, particularly on defense, but I never witnessed that myself.
It appeared to me that when Karasev finally got to the United States, that he was tired.   He wasn't introduced by the Cavs with the other draft picks, Bennett and Carrick Felix, because he was still playing for Russia at the time.
Last summer Karasev went directly from playing for his professional team in Euroleague, where he was outstanding, to playing in the World University Games, where he was again outstanding.  Then, almost immediately, he began playing for an undermanned Russian National Team that struggled in FIBA.  Karasev was underutilized by Russia in FIBA, but famously blew up for 25 points in Russia's final FIBA game, largely after Turkey had assumed a 65-64 lead of the Russians when Karasev scored 11 points of a 19-5 Russia scoring run.
When Karasev did come to Cleveland, which wasn't until almost immediately before the preseason, he'd never been here before (other than for one day when he was flown in and introduced to media as the draft pick) and had no family or friends here.  He was 19 years old at the time but he didn't know anyone and was living in temporary housing (he told me he was living in a "hotel").   Chris Grant wasn't in Cleveland when Karasev was introduced, and Grant literally met Karasev for the first time on media day.
Despite the issues with his athleticism, Karasev has skills, but they were a long term investment.  A player like Tim Hardaway Jr. may have been able to provide more of an immediate impact to the Cavs this season, but Karasev can still help the Cavs eventually and still has a shooting stroke that can get even better.   As the Celtics learned in that game against the Hawks from watching Kyle Korver hit the three point shots that keyed the comeback that also eliminated the Cavaliers, a shooter that cannot be ignored for even a few seconds is extremely difficult to play against.
PHOTO CREDITS:  The picture of the inside of the Q I took myself after the Hawks game ended.  I was watching it on my phone while Mike Brown's post game press conference was going on.   The picture of Delly is via Getty Images, but I found it on the Right Down Euclid blog.  I like those guys and got to know them during the season when they covered some games around the holidays.   The picture of Bennett is also Getty Images and the picture of Karasev is too.