It's difficult to understand just how many attempts to construct a cognizable offensive system have been attempted with this current roster of Cavaliers during the 58 games of Mike Brown's second tenure as the Cleveland Cavaliers head coach.
HE'S NEVER MISSED THE PLAYOFFS IN HIS CAREER AS AN NBA HEAD COACH
(Tony Guiterrez, AP photo)
Initially, it was easy to blame some of these issues on the inclusion of a true center into the lineup. The guards, who had never worked with one of these very rare post players had trouble getting Andrew Bynum the ball. And then they had so much trouble figuring out how to work Kyrie Irving and Dion Waiters together on the court at the same time that eventually Waiters was moved to the bench. Then undrafted rookie Matthew Dellavedova was promoted to the starting lineup. Then C.J. Miles. Then, after an injury Jarrett Jack.
And the front court had its own litany of offensive struggles. Of course, Anthony Bennett problems scoring in the start of the season mushroomed into a full blown national media story. Tristan Thompson's progression into an above average power forward stalled out and his difficulties finishing at the rim returned. Anderson Varejao was far from 100% to start the season, played his way into shape and displayed a mid-range shooting game that was among the best for any big man in the game. But the offensive system didn't account for Varejao's ability to hit these shots and they never came within the flow of a play but rather when the clock wound down and as pleasant surprises.
I think it's likely that friction between any of the players on the team was overblown and the notion that there was a "toxic" locker room was a hyperbolic narrative. It's not toxicity when players are upset about losing, which is what was happening. But, Brown did nothing to dispel these ideas. It is entirely possible that he wasn't in a position to resolve whatever problems there were.
The Cavs are one of the youngest teams in the NBA, and it's probably not abnormal for a team this young and inexperienced to go through lineup fluctuations and offensive system breakdowns. As much as it makes sense that there would be some truly horrible losses and some unexpected wins.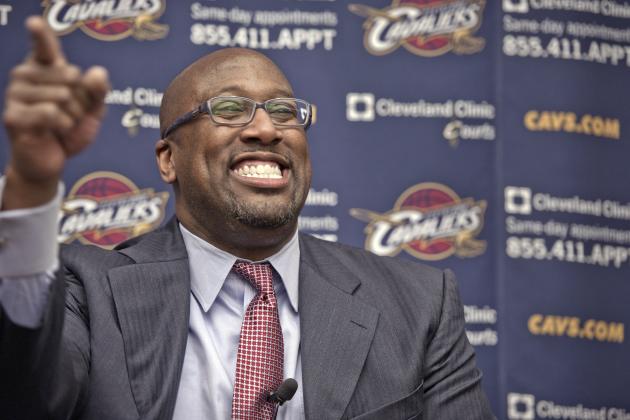 HE WAS PLANNING ON MOVING TO CLEVELAND BEFORE HE WAS HIRED
(David Liam Kyle/ Getty Images)
I don't think Mike Brown came into this situation with anything but the best intentions. He's got a loaded coaching staff, he's well prepared on a game to game basis, and he maintains a long view and an almost chillingly rational perspective. I'm certain that Mike Brown has thoughts that you'll never know because although he's emotional enough on the court to be ejected from games, he's reserved enough to keep some things, maybe the most important things, locked inside his head.
But when Sam Amico appeared on 92.3 The Fan Joe Lull's show after the game against the Toronto Raptors last night, he brought the uncomfortable truth. As much as we may have an affinity for Brown, Amico's comments about Brown illustrated the meritocracy that is NBA coaching:
When you try as many things as the Cavs have and see continued failure to properly utilize the roster, it falls on one person. – Sam Amico, 2/25/14
The Cavs have an acting General Manager in David Griffin now. He's qualified for the job permanently, qualified enough to be above working on an audition basis, and perhaps in position to keep the job long term. Griffin would almost certainly be in position to start the job, if he gets it, with a head coach of his choosing. Speculation is that he would pick someone that matched the philosophy of the Suns organization with which Griffin worked for almost two decades. This family of coaches includes Mike D'Antoni and, much earlier, Paul Westphal, signaling the possibility of a more fast paced aggressive offense being a closer match to Griffin's background and philosophy.
Nevertheless, there is an investment with Mike Brown, beyond the literal $20 million and four more years that he's owned on his contract to coach the team. The investments are also philosophical and emotional – a connection to a faded winning culture that may have drifted from existence, that needs to be rebuilt in a way that's completely fresh. This weighs on Mike Brown most heavily.
IT MIGHT HAVE BEEN DIFFERENT HAD HE NEVER HAVE BEEN FIRED IN 2010
(Tony Guiterrez/ AP Photo)
No one knows what could have happened had the decision been made to keep Mike Brown after that dismal end to the Celtics series in 2010. Maybe Brown's defensive principles stay intact and are passed down to the new roster as new players were assimilated into the team. Maybe the 26 game losing streak never happens. Maybe playoff participation would be happening at the grinding end to this regular season instead of playoff spectatorship.
This is all speculation. And this is not scapegoating. There have been serious problems that have faced the Cavaliers this season, coaching, front office, player personnel, and developmental. But the season has been one of high highs that portend to show glimpses of what could be a talented playoff worthy roster and low lows that bear close similarity to last season, which was deemed not good enough by the organization, the former general manager, and the ownership of the Cavaliers organization.
Nor by the objective measure of wins, which is the most important defining metric, and also the one which has proven to be the most elusive.