The basketball insole is possibly one of the most important accessories a player can have. Basketballs shoes are fairly flat and do not have a lot of extra cushion like walking or running shoes have. The lack of cushion can leave players feet hurting at the end of a game.
We asked our panel of players what they thought the best basketball insoles were, and why. The experts had definite opinions on which insoles they wear and which they feel comfortable suggesting to friends.
We listed their recommendations below, and then followed up with their advice on how to choose the right insoles.
Top 7 Basketball Insole Reviews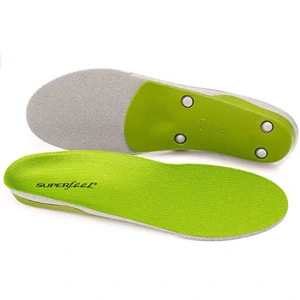 Superfeet green are full length insoles that you trim to customize the fit in your shoe. They have a deep heel cup so they naturally give you the maximum amount of shock absorption and support.
These insoles help to stabilize your foot and are specifically designed for people who have high arches. They reduce the amount of stress your feet, ankles and knees go through.
They give you the greatest amount of heel support possible. You will have increased energy and ability when wearing these insoles because your feet simply will not hurt like they did before you got the inserts.
What We Like
Long lasting and durable
Made from high density foam
Synthetic sole
What We Don't Like
Can be noisy when you are walking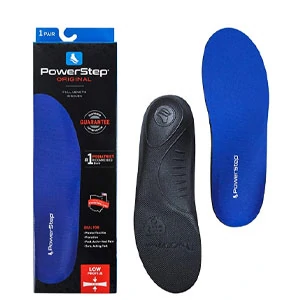 Powerstep full length orthotic shoe insoles are infused with anti-microbial properties. The 100% polyester they are made from is designed to help rid your shoes of bacteria that can cause odor, and foot fungus conditions.
These insoles are not going to need to be cut to make them fit into your shoe. They are thin so they do not interfere with how the shoe fits or feels on your foot. They can be worn with the majority of shoe styles, including basketball sneakers.
They are 100% polyester so they can be washed. You should hand wash them; instead of putting them in a machine.
What We Like
Firm but flexible
Full length insoles
Made in the USA
What We Don't Like
The insoles are not as thick as some others and only provide moderate cushioning.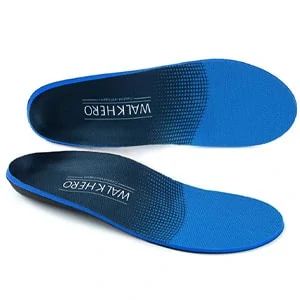 Plantar Fasciitis sufferers will want to try these amazing orthotic inserts. These inserts have an incredible heel cup designed to cradle the foot and correct foot positioning. It provides a cushion from the impact that the heel feels when you land from a jump.
Arch support in the insole provides you with enhanced foot and leg alignment. People who have flat feet and people with high arches will love how the arch support of these insoles reduces the pain they feel in their feet.
The fabric the insoles are created from has a cooling effect to help your feet stay cooler and more comfortable in your shoe.
What We Like
Durable
Pain relieving
Hand washable for cleanliness and odor control
What We Don't Like
You need to remove the sole from your shoe before placing these insoles in them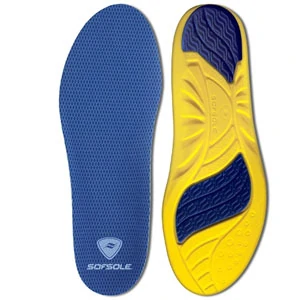 Sof Sole insoles help to control the odor that athletic shoes, work boots, and shoes worn for long periods of time develop. Moisture wicking technology has been designed into the 100% Implus foam the insoles are made from. When the moisture is wicked away your feet feel drier and more comfortable. The foam dries very quickly so bacteria that causes odor does not have an opportunity to develop and grow.
Gel pads have been placed in the heel section of these insoles. The gel pads give you a greater amount of cushioning and comfort in an insole that is less bulky. The forefoot area has also been reinforced with gel pads to provide you with more cushions.
What We Like
Neutral arch that most people can benefit from
Cooling effect to keep feet comfortable
Durable
What We Don't Like
These are made for men's shoes not unisex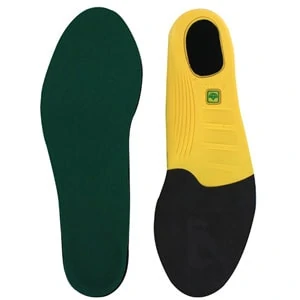 Nylon material with the ability to stretch four ways has been used to create an insole that fits your shoes better than most other insoles. These insoles reduce the possibility that blisters will develop on your feet. They also provide enough cushioning to make it possible for you to run farther and jump higher.
Odor control technology has been used in these insoles. The odor control happens because the insoles help to stop the growth of odor causing bacteria.
A special hell plug in the insole helps to absorb the majority of the shock your foot receives when you jump. This shock absorption helps your heels, your knees, and your hips to receive a slighter jolt.
What We Like
5/32" thick for maximum cushioning comfort
Lightweight
Adjustable fit
What We Don't Like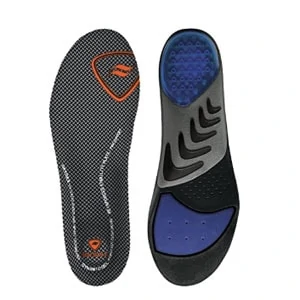 Gel heels inserts and gel in the forefoot of these best insoles make them capable of providing you the utmost comfort when you walk, run, jump, or have to stand for long periods of time.
The heel and arch of the insoles are crafted so that they absorb the shock that your feet get when you jump high and land. The shock absorption will help reduce pain and prevent injury to your foot.
The fabric used in these insoles is Coolmax. Coolmax fabric is designed to quickly wick moisture away from your foot leaving you feeling dry and comfortable. This also means less odor and less bacteria in your shoes.
What We Like
Promotes good alignment to reduce foot, leg, and back pain
Full length
Great arch support
What We Don't Like
Not as durable as some other brands of insoles are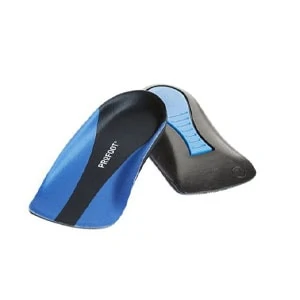 Plantar Fasciitis sufferers know the extreme shooting pains that can go through their heels when they try to walk. ProFoot orthotic insoles are specifically designed to deal with the hell pain and heel spurs that cause so much pain.Gel inserts that are wider at the heel allow the insole to absorb shock and cushion your heel to reduce the pain you suffer. The heel cup is designed to provide the best cradle so you can walk, run and jump again.These are low profile inserts that fit into the majority of shoe styles. They are half foot insoles that can be removed and hand washed.
What We Like
Comfortable
Durable
cooling
What We Don't Like
Buying guide for basketball insole
Insoles are not all made the same. The differences in these items are great and you have to choose your insoles according to the problem you have and what you want the insole to do for you.
Before you buy insoles consider what kind of shoe they will be used in. Do you need more support more cushion, or odor prevention? Do you need more arch support or more support at the heel of your foot?
Once you know what type of problem you want to address, and what type of shoe you wish to put the insole in, then considering the following things about the items. With a little research and planning you will be able to find an insole that puts a spring back into your step.
Support
The type of support that you need from the insole will be directly related to the foot pain that you have when you wear your shoes without them. Many people need extra arch support and other people need support at the heel of their foot.
The insoles you choose will be labeled as capable of providing arch support, extra cushioning, or having a deep heel cup. Read your package carefully and determine what the insole is designed to address.
Cost
Cost is not the most relevant part of shopping for insoles. The cost of the insole may reflect on the quality of materials used in the item, and the durability of the item. If you truly want to find insoles that are going to benefit you then do not be tempted to buy the cheapest ones you find.
Thickness
The amount of cushion the insole will provide to you will be determined by the thickness of the device. You want to get the thickest insoles that you can, but you do not want the thickness of the insole to interfere with how your shoe fits.
Measure Your Foot
The best wat to assure that you get insoles that fit properly and work properly is to measure your foot. Instead of just buying the one that says it fits shoes between sizes 7 and 10, measure your foot and buy insoles that have exact measurements.
Use a soft tape measure to measure the length of your foot and the width of your foot. You also want to measure the distance from your natural arch to the heel of your foot.
Pain
Insoles are designed to help relieve foot distress and pain. The different insole styles are created with specific pain in mind. Certain types of foot pain can only be addressed with insoles prescribed by your orthopedic specialist.Insoles can help to keep your body properly aligned and reduce the amount of pain you feel in your feet and legs. They can also help relieve or prevent lower back pain.
Arch support
The insoles that are designed to give you extra arch support have an arch built into them. This is great in basketball shoes because basketball shoes are relatively flat and have little to no arch support.
Odor Eliminators
Some of these shoe inserts have built in technology that allows them to stop bacteria growth and reduce the amount of odor in your athletic shoes. If your feet sweat a lot the odor eliminators are a good choice for you.
Tips on How to Clean Basketball Insoles
The insoles in your shoes will need to be cleaned from time to time to keep the odor down. The following tips and advice will help you to clean your insoles properly.
Remove the insole from the shoe before you try to clean it
Take a soft brush and use it to clean away visible pieces of dirt and debris. Repeatedly go over the insole until all of the larger pieces of dirt and debris are removed.
Put a small amount of water in a shallow dish and add a few drops of mild detergent
Put the insole in the water with the detergent and use your hands to swish the insole around.
Remove the insole and wring out the excess water
Place clean water in the container with no detergent and rinse the insole
Wring out the excess water
Place a towel on your countertop and lay the insoles on top of the towel to dry
You can turn a fan on to help circulate the air and cause the insoles to dry quicker
List ElementDo not put the insole back into your shoes until they are completely dry
Frequently Asked Questions
Do NBA players wear insoles?
The majority of NBA players do wear insoles in their sneakers. The flat bottoms of basketball shoes offer very little cushion. The lack of cushion can leave a player with feet that ache, and later on with feet that are constantly hurting. Players wear insoles to improve their comfort, which also improves their game.
Do VKTRY insoles actually work?
The VKTRY insoles are some of the higher priced shoe insoles. The higher price makes people wonder if the insoles are worth the price. The truth is that these are really good insoles. They increase your energy levels and most people that wear them swear that they have increased their performance abilities.
Can insoles make you jump higher?
The best basketball insoles can make you jump higher. The right insoles give your feet a little cushion so when you jump there is less jarring, and it is less painful to land. You naturally jump higher because you are not worried about the pain associated with landing after the jump. The right insoles increase your confidence so much that you will also run faster and shoot farther than you ever have.
Last word
Insoles are designed for a myriad of reasons. Some reduce the odor in your athletic shoes, some give you added support in the arch of your foot or in the heel of your foot, and some are made to give you more cushion. They are all designed to make your shoe more comfortable and reduce some pain that you have.
Wearing the right basketball insoles can make you a better player. They can also insure that later in life you will have less foot and back pain.