I was at 7, my dad bought me the first basketball hoop. It was a portable and inexpensive one and also my introducing portable hoop! We were decided to choose a portable basketball hoop thinking about the conveniences. That hoop was a long-term companion of mine and my first basketball learning aid.
Considering the utility, facilities, and the usage, you'll see portable hoop is the best as it is an all-in-one package. It is more popular with people so, if you are thinking about getting a hoop in the backyard or the driveway of your house, a portable hoop should be the first thing on your choice list.
From my previous experience, for people of different budgets, I'll suggest some of the best portable basketball hoop for driveway that will definitely meet your expectations.
Our Top Picks
IMAGE
PRODUCT
DETAILS

Best Overall

Best Overall

Volume of base:

25 Gallon

Backboard size:

54″

Backboard Material:

Polycarbonate

Check Price

Best High End

Best High End

Volume of base:

19 Gallon

Backboard size:

60 x 34 inches

Backboard Material:

Aluminum

Check Price

Best Under $300

Best Under $300

Volume of base:

31 Gallon

Backboard size:

48 inch

Backboard Material:

Makrolon

Check Price

Best Under $500

Best Under $500

Volume of base:

35 Gallon

Backboard size:

54″

Backboard Material:

Markrolon

Check Price

Best for Kids

Best for Kids

Volume of base:

25 Gallon

Backboard size:

54″

Backboard Material:

Polycarbonate

Check Price
Best Portable Basketball Hoops for Driveway in 2020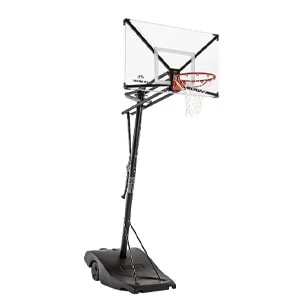 With a standard BB rim, the Silverback NXT portable basektball hoop features quicker assembly, supreme solidity, easier setup, higher strength and easy portability. The infinity edge backboard, as they call it, is different than regular backboards. They call it so because the edges wrap around the back of the backboard which makes it seem like one continuous material.
Though the instructions say you can set it up in 90 minutes, I needed more than that. It took me 2 hours to set the whole thing up. It has large wheels that make it easier to move. You have to choose a position, attach some parts to each other, and fill the base with sand or water. And, the hoop is ready!
The 54-inch long backboard gives it an impressive look. The material of the pole is steel, and the base is of hard plastic. The item is very sturdy and robust. You can adjust the pole height from 7.5 feet to 10 feet with an increase of 6 inches.
With this hoop, you will get the same experience a gym backboard gives. It's a bit heavy, but you can effortlessly move it when the base is empty.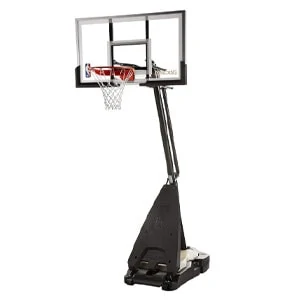 This hoop features a 60-inch backboard made of acrylic fiber. It has a white base which makes the hoop look stylish.
You can adjust the height measurements from 7.5 feet to 10 feet maximum according to your necessity. With the exacta-lift system and every 6 inches rise, you can position the pole at a suitable height.
The 3.5 inch angled pole is designed for competitive playing. The hoop has ball system will transform the pavement into an arena. The hybrid base with its removable lid for easy storage access hold 19 gallons of water and 200 lbs. (4 ea. 50lbs bag of sand) of sand or gravel. The acrylic backboard allows for fast rebounds – great for bank shots and forward players. The heavy duty arena-slam rim features breakaway action with steel rams to attach the net.
The backboard provides added safety against injuries with its NBA graphic backboard pad. The instructions were easy; it took me 90 minutes to set up the hoop with the help of my 10-year-old boy. No doubt, this one is a very solid and stable hoop.
The item has wheels underneath the base for easy mobility. While the base is unfilled, you can quickly move it. It's affordable and an excellent piece for the price. It'll be perfect for placing in a driveway and much more professional look.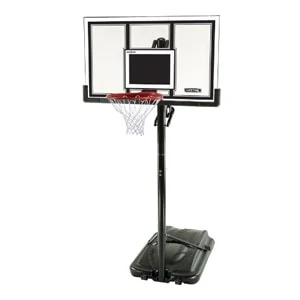 The Lifetime 71524 XL height adjustable basketball hoop is a high-end product. If you are looking for a hoop which is made of high-quality materials and has got longevity, then this one is for you.
The 54-inch shatterproof backboard has a steel-frame with frame pad. The Makrolon polycarbonate-made parts offer supreme rebound. The item features a power-lift-height-adjustment system. I liked this aspect the most. For this quality, I no longer need someone to help me to adjust the height. I can do it all by myself with the squeezing of a handle. You can set the height at 7.5 feet lowest to the highest of 10 feet.
The base of this hoop is extra-large. It has a capacity of 35 gallons. Fill it with water or sand, and the hoop becomes stable as a tree. The pole had a powder coated finish and made of rust-resistant material. It is 3.5 inch round.
The rim has double compression springs so that you can spring it back quickly. It has a cover to protect the springs from rust too. It also has bellows, a blow-molded frame pad for added protection. Read full review of Lifetime 71524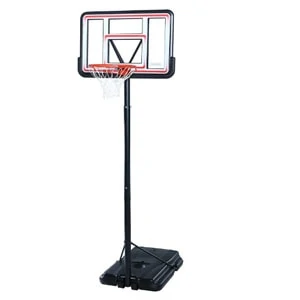 This one is another item from Lifetime that features a 44-inch backboard made of high-density polyethylene. The length of the backboard is perfect for kids with age ten years or more. The polyethylene ensures extra strength and durability of the hoop. The hoop has a classic rim with all weather-resistant nylon net.
It has telescoping height adjustment system that requires no tools for setting up the height. You can set it up on your own while most hoops need you to want assistance in this case. The backboard is shatterproof, and the graphics are fade-resistant.The material of the backboard is acrylic. While the base is empty, you can quickly move the hoop to an appropriate position. The base being full, you need help to shift it.
I needed two hours to set up the whole thing. For an average person, it will take one to two hours. The holes that the base has are relatively smaller than other hoops. I needed a lot of time filling sands in the base.
This item has a heavy-duty base, and the hoop comes at an affordable price. With all the useful features it has, the cost is meager. If you need a cheap portable hoop with excellent features, you should check this out!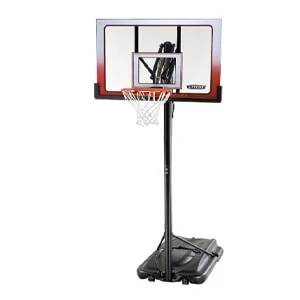 This item, as the name says, has a 52-inch backboard. It features a patented pneumatic power lift system that enables you to lift the height from 7.5 feet to 10 feet without anyone's assistance.
The rim has double-compression springs so that it can be sprung back quickly. The 3.5 inch round steel pole has a powder coating for rust and weather resistance.The backboard is Makrolon polycarbonate based which is stronger than acrylic based ones. The backboard is unbreakable, and it has fade resistant graphics.
The base can hold 35 gallons of water or sand for solidity. It has two wheels underneath for mobility.
Setting up this hoop doesn't require a lot of time. You can set up the whole thing approximately in 1.5 to 2 hours. Cleaning the parts and storing them is also no hard tasks.
At a rate below $300, this one is a pretty good deal for driveway hoop under $300. The stability and durability of this item are undoubtedly impressive. In-depth review of Lifetime 1558 is here.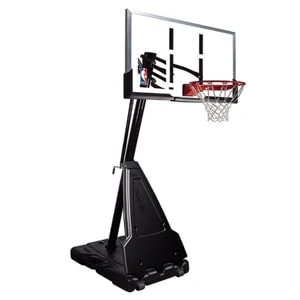 The spalding NBA is one of the major picks in the market for people who want to get a quality portable basketballhoop. The system will come with a strong base that has the capacity to fill up with about 40 gallons of water or sand.
The backboard is also a plus with the tempered glass offering a quality rebound. The backboard measures about 54 inches wide and its thickness goes up to a quarter of an inch.
The hoop's rim is designed using heavy duty steel for the ultimate strength. In case you are looking to adjust the height, you can use the reliable screw jack adjustable system. The hoop can be adjusted between 7.5 feet and 10 feet high.
The base is designed to offer highly reliable stability to ensure safety while playing.
The spalding NBA portable basketball system is one of the most affordable portable hoops for home that you can get in the market. The strength, reliability, and simple working mechanism ensure an outstanding performance. Although it's heavy, that is not by any stretch a deal breaker. Read full review of spalding NBA protable hoop.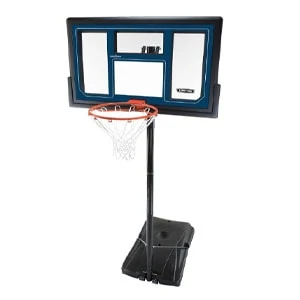 Lifetime 1529 basketball hoop is a good item with a base of 27-gallon water capacity. You can fill the bottom with sand or water for stability. I like to use multipurpose sand for this purpose. This hoop has a three-pole support system. It has a coating of a rust-resistant material.
This material of this item is Makrolon Polycarbonate which makes the hoop stronger than other material-made hoops. Polycarbonate also makes it unbreakable.The backboard is 50 inches long, and it is durable. It has adjustable height measurement. With an increment of 6 inches, you can adjust the height from 8 feet to 10 feet. I needed my husband to help me with the height adjustments.
The base has wheels underneath it. So, you can quickly move it around your driveway to place it in a suitable position. The whole item weighs only 30 lbs. For a single person, it's simple to move rolling the wheels.
The item features a 3.5 inch round pole, polycarbonate backboard with the rim. Setting up the hoops is a single person job. At some points, you might need help from someone. If you follow the manual step by step, you can set up the pole alone.
Best Portable Basketball Hoop Under $300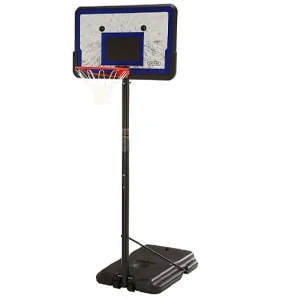 This one features a 44-inch backboard which is smaller than most other items we tried, but it's virtually unbreakable. This item has a 2.75 inch round pole, and this thin pole is solid as a rock.
This one also has height adjustment system. You can change the height from 7.5 to 10 feet while increasing 6 inches in height every time. I like to put it in 9 feet from the ground.
The base has a 27 gallon capacity of water or sand. The holes to fill it are comparably smaller than other hoops. So, it takes a little more time to fill the base.The whole item is made of weather resistant material so you can place it in your driveway or store it in the barn without worrying. With this quality, the hoop can stand the harshest elements.
The affordable price and the stability of this hoop make it an outstanding item on a budget. It is easy to set up, and the maintenance is simple.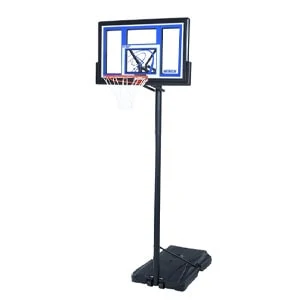 The Lifetime 1531 Portable Basketball System features a 48-inch shatterproof backboard which has fade-resistant graphics on it. The all-weather nylon net comes along with the package; you don't need to buy it separately.
While most other basketball hoops need you to adjust the height with someone's help, this one has a quick height adjustment mechanism. The slam-it rim with the springs and nylon net sits in the middle of the backboard. The heavy-duty portable base of this hoop can carry 31 gallons of water. You can fill it with either water or sand so that the hoop stands sturdily.
The parts are easy to assemble if you go through the instructions thoroughly. Though you can set it up all alone, two persons might do the job faster. The quality of the material is high, and the performance is also fantastic.
It is one of the great portable basketball goal for the money. The cleaning and storing of this item are also painless.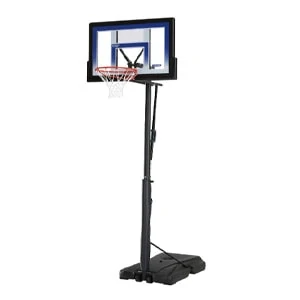 This one is Lifetime Portable Basketball Hoop with 48-inch backboard. The fusion backboard uses a shatterproof material which includes Makrolon Polycarbonate. The backboard has a polyethylene frame which is also unbreakable. The graphics are made of UV-resistant ink so that the print last longer without fading the colors.Unlike most other basketball hoops, this one has a speed shift adjustment for height. This mechanism allows you to shift the height from 8 feet to 10 feet with 6 inches rises with minimum efforts.
The 3-inch round steel pole has a powder coating for weather resistance. The blow-molded base has two wheels for portability. You can move the hoop quickly whenever you need.
The 31 gallon capacity of the base is for stability. I use sand to fill the base as water tends to freeze in cold weathers.
The item is highly durable and comes at an affordable price.Though the instructions say setting this hoop up needs two persons, I don't think so as I set it up all alone. The instructions are trouble-free, and so was the arrangement. The hoop is excellent for kids and youth. You can get in-depth review of Lifetime 51550 hoop.
Ultimate Buying Guide for Portable Basketball System
No matter how much experienced you are, you take opinion from people, go through customer reviews while buying a product. To make the whole process easier, we have presented a buying guide for you.
While buying a basketball hoop system, you need to keep certain things in mind. In our buying guide, we have tried to cover all those things and aspects which will lead you to the best goal for driveway. The list of items I have given here will help you a lot. But in case you need to check out the features and specifications, we have made this buying guide. This guide makes it easier for you to understand the specs and judge them.
So, below we have given tips and necessary details that you need to know.
Backboard by Size
The material and the length of the backboard is the first thing you should check out. You'll find hoops with backboards that are long ranging from more or less than 40 to 60 inches. Backboards that are 52 to 56 inches long are standard. In-ground hoops mostly have much longer backboards than the portable ones.
Kids & Beginners Portable Hoop Backboard Size
If you are buying a hoop for your driveway so that your kids can play basketball, then buying 40 to 44-inch wide backboards will do the job. Kids who are not very serious players can do well with this width range. This size is perfect for kids who are starting to learn the game.
If you're a beginner level player, you can start with a 50-inch backboard. Or you can try a 52-inch backboard. Whether you're an adult or a kid, a 52-inch backboard will meet your expectations if you're a starter. Though the size may seem smaller to an adult, a beginner should start with this width range.
For recreational players and adults
If you are not a regular player, but you've got some skills with the game, you should try out backboards that are 54 to 60-inches wide. Those will cost some extra money, but will also give you the experience of playing with a regulation size hoop. This size is appropriate for adults. If you have a teenager in your household who is trying to turn to serious gaming, then also you can get a 60-inch backboard.
For professional basketball players
A professional player should get a 72-inch wide basketball hoop to play. To a serious player, any board less wide than this size will seem like a toy. They are used to playing with the regulation size boards which is 72-inches. Those backboards are 42-inch wide and ½ inch thick. But there's a bad news! You cannot get a portable basketball hoop with 72-inch backboard. This size is for in-ground hoops.
The size of the backboard is an important fact when you're considering the player's age and level. So, before going to the store and buying a hoop, consider these things first. If you take my opinion, I'll tell you to buy a 54-inch backboard. This one is a standard size for everyone.
Types of Portable Hoop Backboard Material
The board material can be Polycarbonate, acrylic or tempered glass. The durability and performance of a hoop greatly depends on its backboard's material.
Polycarbonate
Polycarbonate backboards are stronger and more durable than the other. They make shatterproof and heavy-duty backboards. This material is cheap, and so, the polycarbonate backboards are inexpensive. For a kid, polycarbonate is perfect. Till your child reaches a strong level, you can use a polycarbonate backboard for him.
The durability is outstanding. They are good for teenagers and adults too. If you have a low budget and you still want a good item, you should choose polycarbonate backboards. the sturdiness and durability will impress you.
Acrylic
Acrylic costs a little more than polycarbonate. It's incredibly weather-resistant. This quality of acrylic enables those boards to withstand the harshest weather situations. If we compare acrylic to the other materials, it stands in the middle of them considering the price. But it beats all other materials with the weather resistance and robustness. For kids to adults and recreational players, acrylic is excellent. Keeping everything in mind, acrylic is better than the other materials.
Tempered Glass
The tempered glass makes the backboards cost more than all other material. They are break-prone, but the performance is top-notch. The regulation backboards are always made of glass; the material is tempered glass.
The serious and aggressive players use the glass backboards. You might have seen the glass boards in a gym or in a serious game in the television. For their proneness to breakage, people like to avoid the glass backboards. But you'll not get the professional feel of the game with the other materials.
Only a tempered glass backboard can make you feel you are a pro gamer! Though I don't like to say this, you shouldn't get a glass backboard if you just have started learning to shoot!
As you see, all the materials are exceptionally great in their own places. But you have to choose one. If I had to do the same, I would go with acrylic. They make durable and weather and rust-resistant backboards. They don't cost much. So, I'll say, acrylic is better than the others. The choice is yours; I have just given my opinion.
Types of Portable Basketball Rim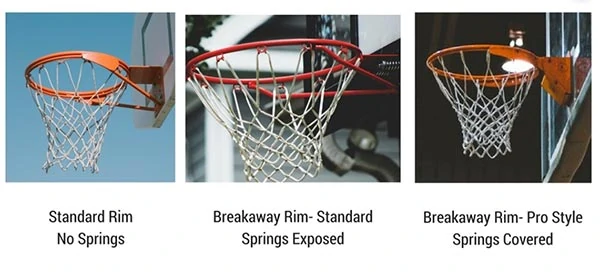 There are different types of rims you'll find in basketball hoops of these days. There are three main types of them.
Standard rim
The most common type of rim is the standard rim. It has no compression spring. This feature makes is susceptible to break. Still, their performance is better in most conditions.
Rim with covered compression springs
This type has compression springs that stay covered. These can withstand a lot of pressure without breaking or warping.
Rim with uncovered compression springs
This type has uncovered compression springs. The rim easily gets sprung back due to these springs. These are more damage prone than the covered compression springs.
Base system of postable basketball goal system
In base system you have to check about 3 things.
Hoop Base Capacity and Wheels System
Most of the hoop bases of these days have water capacity ranging from 25 to 35 gallons. The top portbale basketball hoops ones are those which contain 50 or more gallons of water, sand or baswgel. The hoop needs to be stable, and for that, this much of capacity is necessary.
Check the wheels on the base. The purpose of transportation depends on the base and the wheels.
The material of the base should be heavy-duty. It's better if the base uses a weather-resistant material.
Height Adjustment System
Look out for the hoops that have height adjustment mechanism. Adjusting the height of the pole sometimes require two persons. If you want to do it alone, look for the items that have handles or other technology to adjust heights.
Most hoops are adjustable to a height of 7.5 to 10 feet. Observe these qualities to meet up your needs.
How to Ensure a Safe Playing Area
After buying a portable basketball hoop, now it's time to set it up in your driveway. Before setting up, you need to find a place that is safe for playing basketball. Choose an area that has a smooth, flat surface. Cracked or high-low surfaces will disturb the stability of the hoop.
If you find no flat places near your house, you might need to call a specialist to smooth out the driveway. Choose a spacious area where enough wind and sunlight have access. This way, your kid will get a friendly and safe environment for playing.
Is a Portable or In-Ground Hoop Better?
Hoops, portable or fixed ones are best in different aspects. If we consider several facts, we see that,
Driveway System
For mobility or transportation, you cannot think of a fixed one. Portable hoops are easily moveable with one or two person's help. If you have to move out to some other place, what is better than a portable hoop?
Adjustable height
Portable hoops offer another significant advantage. It provides you height adjustment system. If you have a growing kid, a fixed hoop will not be a good option for him to play. Portable hoops come with adjustable height system. So, the growing kid gets a suitable hoop to play basketball.
Though fixed hoops give you the great experience of basketball especially for the game-lovers, portable hoops stand out with their unique features and specs. You can set them up quickly wherever you want and enjoy the game.So, according to me, a portable hoop is better.
Winterizing the Portable Basketball Hoop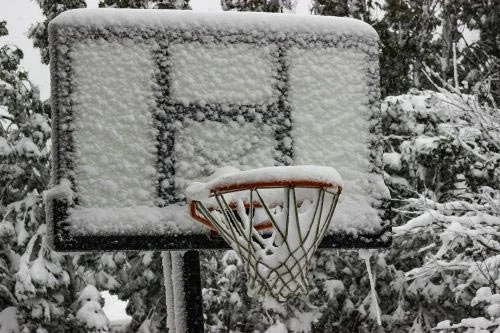 If you are using a portable hoop, you need to winterize it before winter hits in. If you live in an area where the temperature remains below freezing point during winter, you must winterize the hoops.
At first, you need to remove all the water from the base. You have to do it because the water will freeze inside the base and expand the volume. This extra volume will create cracks in the base.
If you think you'll use the hoop during winter, stabilize it with sand. Or you can use water by adding antifreeze in it.
If you plan on leaving the hoop outside during winter, cover it with a tarp and bungee cords. Use duct tape if necessary. Secure the net. Lower the height of the pole. Heavy snowfall can damage the parts and the net so take measures required to keep the hoop safe.
If you think you won't use the hoop in winter, keep it in your barn or storeroom. Don't forget to cover the whole thing. To know more about how to keep your portable basketball hoop from falling over Click Here.
Preparing for inclement weather and rust
Alike all other things, the basketball hoops also need some care and maintenance. You need to take steps to guard the hoop against harsh weather and rust. Stormy, strong winds can damage the backboard and the pole. Always check the material of the hoop.
Cover the pole and the backboard with a tarp and store it somewhere in your house. If you think you'll keep the hoop outside, remove the net and keep it inside your home. Lower the height of the hoop; this will help the pole to stand rough and stormy winds.
It's better to buy a hoop that has weather resistance. A hoop that has weather-resistant coating will cost a little extra than the others. But it comes with its advantages too. Most of today's companies claim their hoops rust-resistance. Try to buy the item that has a powder coated finish and made of a rust-resistant material.
Acrylic is a weather-resistant material. It can withstand the harshest weather conditions. If you buy a portable hoop that has an acrylic backboard, you won't need to worry about the inclement weather in a few upcoming kinds of weather. For rust-resistance, try the ones that have powder-coating.
How to Use Base Gel for Basketball Goals and Benefits
If you're a basketball lover and use a portable hoop, you must've heard the name of base gel. For a portable hoop, the usefulness of base gel is noteworthy.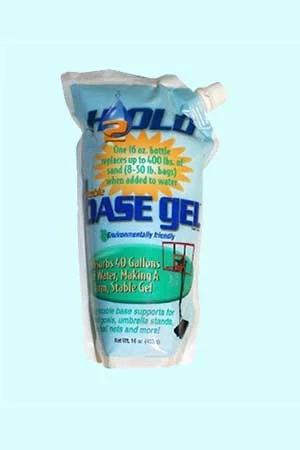 What is Basketball Goal Base Gel and Why?
For many people who don't know what base gel is, here's a small introduction.
A base gel is a polymer with a high absorbance that can replace sand or water and provide that ballast weight with only a little quantity of this material. So, this means, you don't have to fill the hoop's base with sand or water anymore. You can replace them with base gel.
We fill the hoops bases so that they can stand firmly. Most common hoops have a capacity of 30 to 40 gallons of water. Filling this amount of water or sand inside the base is time-consuming and tough. The base gel can get you rid of this painful work.
Regular bottles contain 16 ounces of base gel. This quantity of base gel can absorb more than 40 gallons of water. For capacity more or less than this, you should add one teaspoon of gel per 2.5 gallons of water. This quantity will do the job!
How to use base gel for basketball hoop
Step 1: Taking the right quantity of gelTake half of the gel polymer out of the bottle and put it on the base. For every 2.5 gallon of water, you have to add 1 teaspoon of this polymer. So, calculate the quantity and add half of that in the beginning.
Step 2: Filling waterNow, fill the half of the base with water.
Step 3: Taking time before adding moreWait at least one minute before adding more gel and water. In this time, the gel you added first will start to absorb the water.
Step 4: Adding the remaining gelAdd the remaining gel and fill water in the base keeping 1 to 2 inches of airspace.
Step 5: Letting the gel absorb waterIn two to three minutes, the polymer will start to absorb the water and make a firm gel. It might take more than three minutes. Wait till then to get the base as stable as the root of a tree!
Benefits of using base gel
The base gel you fill once will last up to 7 years. It doesn't exceed the volume of water you add and gives the exact weight you wanted from sand or water with a little quantity.
It will freeze at a temperature below 0 degree Celsius and get back to the gel state again when the temperature reaches normal.
With the help of base gel, you won't need to fill sand or water and refill the base again and again. You can pass as long as seven years without thinking about the base.If you want to remove the gel from the base, just drain it with a lot of water. The gel is environment-friendly so that you can drain it out anywhere you want.
So, you see, base gel is a tremendous help if you are a portable hoop user. Also, it keeps you out of worry for 6 to 7 years at a stretch!
Frequently Asked Questions
Are portable basketball hoops safe?
Portable basketball hoops are extremely safe as long as they are properly set-up. These hoops have bases that can be filled with water or sand to make them stable so they are not going to tip over. You can also put extra sandbags on top of the base to further secure them, or tie a ground wire to them that anchors them.
How do you hold down a portable basketball hoop?
You can use a strap that stretches from the hoop pole to the ground and anchors in place. You can also get sand bags and place them on top of the weighted base to hold the pole in position.
Can I convert portable basketball goal to in-ground?
You can make this conversion but it will take some time to do so. You need to disassemble the portable unit, remove the backboard, and then remove the base from the bottom of the pole. Once that is done you can then place the pole into the ground and concrete it in place.
Final Verdict
Now, after reading this whole review and buying guide, you might have found the best portable basketball hoop for the money yourself. This long buying guide is for them who are searching for a great basketball hoop, and I ensure you, upon buying any of the items I covered here, you'll be satisfied