If you are a serious young basketball player, especially in North America, then your goal is a career in the NBA. It's the best league in the world with the best players and the salaries to match. Making the NBA is an honor reserved for only a very select few players. Most players get there by attending a US college on a scholarship and playing on their team.
At some point, after at least a year of playing, the best players get drafted to the NBA. Most of those drafted players end up on NBA teams, while others might end up on the D-League teams for their parent clubs. D-League stands for Developmental league, and it serves as the minor leagues for the NBA.
Many players who play in the D-League never get a shot to play in the NBA. They are drafted or signed as free agents to fill out a roster. Earning a spot on one of these teams means being a step closer to the NBA, but it is still difficult. Very few players get the call, many play for several seasons without being promoted. The salaries in the D-League can vary, but players make anywhere between $12,000 and $24,000 per season. That means needing to have another job in the offseason to have a proper living.
There is another option for great basketball players that probably will not play in the NBA. There are many leagues in Europe that are very competitive and pay better than the D-League.
But how much do European basketball players make?
The answer is that a North American who travels over can expect to get paid anywhere between $65,000 and $100,000, depending on the league and the market.
Some players who are more high profile, such as former NBA players, might get paid more. A star players such as Alexey Shved makes more than $4,000,000. Many clubs will also pay for a player's taxes and provide other benefits such as housing and a vehicle on top of their salary.
With such a disparity in compensation, why would any player want to stay in North America rather than play overseas if their chances are slim to make the NBA?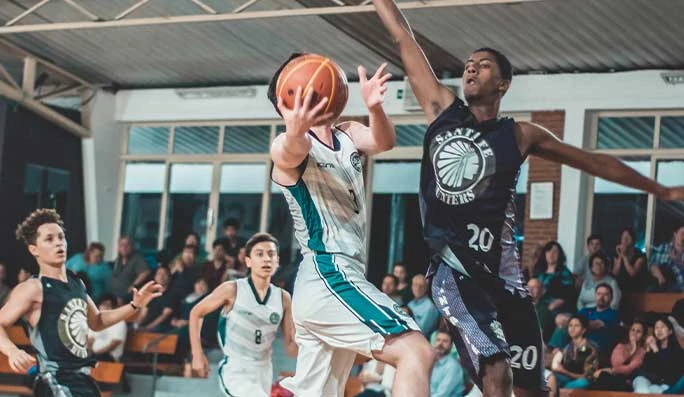 There are many reasons for this. For one, some players will just hold on until every opportunity to "make it" is gone. It's tough to give up a dream. The other is that a lot of these players have young families and uprooting them to another country with a different language and culture can be difficult.
The fact is, these players are missing out on a lot of money by choosing to stay. By looking at the big picture, the best choice should be to take the money and perks in Europe. Let's imagine a 20-year-old young man who travels overseas to play. At an average of $100,000 a year, they will make a million dollars over the life of their career, with little in the way of living expenses, plus more endorsement opportunities. They can then move back to North America with money in their pocket and start a life in coaching, or outside of basketball.
Most players who quit playing for one reason or another, continue their career as basketball coaches. Coaching is also very popular option for ex sportsmen, so if you decide to stay in Europe afterr your career as a player, you can stay as a basketball coach there. For example, there are plenty coaching jobs both in USA and abroad on Jooble you can browse browse for to have an idea of what you can do once you retire playing basketball.
By staying, they may get to play for 10 years in the D-league, and if so they will make between $240,000 and $300,000. That's a difference of over $700,000! The player could very well struggle financially for years and end up out of the game without a safety net.
The other thing to consider is that playing in Europe is not the exile that it was once assumed to be. The world is smaller than ever before. There are scouts attending EuroLeague games all the time, and young players are regularly drafted to the NBA. Putting in a good showing in Europe could very well lead to an NBA contract offer at some point. Not only that but during the off-season, many players come back to North America. They play in the NBA's summer league hoping to turn some heads. If they do, then great. If not, then they can still go back to Europe and their great paying job overseas.
Moving to Europe isn't everything, and money isn't everything either. There may be many reasons for a basketball player to stay in North America instead of going overseas. That said, a young player should not dismiss playing in Europe out of hand. You should do the research, draw up a list of pros and cons, and decide. You never know, you may end up with a long career playing the game you love for good money.