The buzzer beater is the last minute, or better yet, the last second, shot that takes a team to the win. It is an exciting, exhilarating, fan favorite that causes the crowd to leave their seats cheering. It is the last play that causes the coaches of the opposite team to hang their heads in defeat.
Not every NBA player can pull of a buzzer beater. There have only been 772 recorded buzzer beater shots in the history of NBA.
What Defines a Shot as a Buzzer Beater?
To be considered a buzzer beater the shot had to meet the following criteria.
The shot must have been taken when the team was tied or when the players team was behind in score so that the shot created a win
The shot had to create a win for the team and there had to be no time left on the clock afterwards
Players who have beat the buzzer four times each.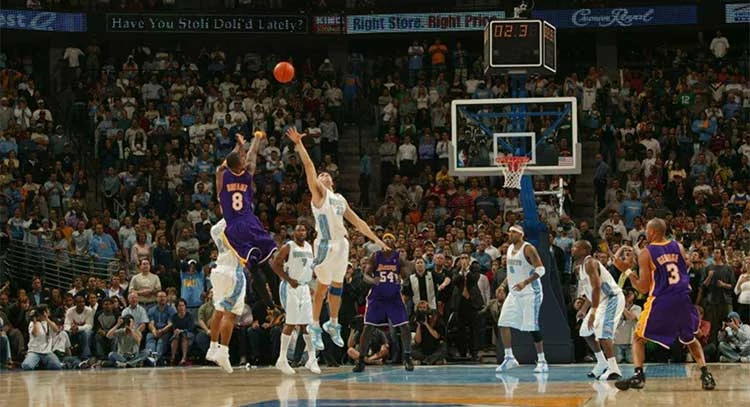 Carl Braun
Braun was a guard who played for the Knicks and the Celtics in 1947 to 1950, and in 1952 to 1962.
Braun's most memorable buzzer beater occurred after he caught an in-bound pass sent by Ernie Vandeweghe. Braun then launched a 35-foot shot for the win against the St. Louis Bombers.
Braun has the distinguished reputation as being the first NBA player to have multiple buzzer beater shots. In 1950 he had 2, then in 1953 and 1954 he landed 2 more.
Cliff Hagan
Hagan was a forward for the Hawks in 1956 to 1955. He achieved his first beater in his rookie season. This shot was also the first beater to be thrown during a play-off game.
Jerry West
West was a guard for the Lakers in 1960 to 1974. West not only has four buzzer beaters to his credit he has multiple beaters that occurred during play-off games. To top that he created the opportunities to make those buzzer beating shots by stealing the ball.
Greg Ballard
Ballard played as a forward for the Bullets, Warriors, and the Super Sonics, from 1977 until 1989. Ballard is a surprise in this category. He was never an All-star player, and he was never a Hall of Fame player, but, between 1980 and 1985 he pulled off four winning buzzer shots.
All four of his buzzer beater shots occurred from a distance of at least twenty feet. Two of his shots were 3 pointers, and he holds the record as being the first player to do that.
Larry Bird
Bird played as a forward for the Celtics from 1979 until 1992.
We all expected to see Bird's name on this list. The astonishing point about his four buzzer beaters is they all came in games where he was the dominant player. He had four buzzer beaters that occurred in games where he had scored 45 or more points.
Larry also won two consecutive games by throwing buzzer beaters. In 1985 on January 27 and again on January 29, he made legendary shots for the win, just getting his points in before the buzzer ended the games.
Bill Laimbeer
Laimbeer played from 1980 to 1994 for the Cavaliers and the Pistons. He was a center, and his four buzzer beaters made him the first center to reach that achievement. All four of his game winning shots were taken from no less than ten feet away.
9 Career Buzzer Beaters!
Michael Jordan is the buzzer beater king with a total of nine. His shots were taken anywhere from 14 feet to 26 feet away.
Seven of his "buzzer beating" shots were made unassisted. Six of those game winning throws occurred during regular season games. Three of his beaters were made during playoff games, and two of those fantastic plays ended the series.
Jordan retired at the end of the season in 1993. At that time, he had four buzzer beaters accredited to his name. He came out of retirements and five years later he had a record of making twice as many of these game ending shots as any other NBA player. He retired again, and then when he retired the last time at the end of 2003, he had a spectacular list of nine buzzer beaters. At that time no other player had a record of making more than four of these spectacular shots.
The Player who has shot the most buzzer beaters when their team was behind
There have been numerous players who have seen their team lagging in points, and shot a buzzer beater for the win. Each player was considered a fan hero when they did this. There have been some players who have done this feat of last-minute wins on multiple occasions.
Kobe Bryant has the leading number of buzzer beaters for a win when his team was behind. He shot 6 of those game changing shots in his career.
Vince Carter came in with five times that he made game changing buzzer beater shots for his team.
Larry Bird and Michael Jordan have both saved their teams on four occasions by throwing buzzer beaters when the team was behind.
Special Mentions
Kobe Bryant has made seven regular season buzzer beaters. He is tied with Joe Johnson for the most ever buzzer beaters during regular games.
When it comes to post-season play-off buzzer beaters there is only one who can claim 5 of those game winning shots.
LeBron James made a 19-foot shot on January 23, 2009, and then a 25 foot shot against Magic Johnson. He is the leading champ in post season grand shots.
Final Thoughts
The buzzer beaters are exciting to see and they give the crowd an unexpected surprise. When a player has seconds on the clock and takes the ball into the basket for a win it is something to cheer about and something to remember.
We also have to remember that no player wins a game by themselves. It takes all of the team working together to create a win.