What do you wear to a basketball game? Do you dress nice, go casual or is there a dress code for the fans of these events?
If you are not one of the players, then you have a wide variety of things you can wear to a basketball game. You need to consider a few things before you choose your wardrobe.
When you look over a crowd at an NBA game you will see people dressed in suits and ties, dresses and heels, jeans, and a variety of outfits. The NBA fans are made up of a wide variety of people, who have a wide variety of lifestyles.
Dress for Comfort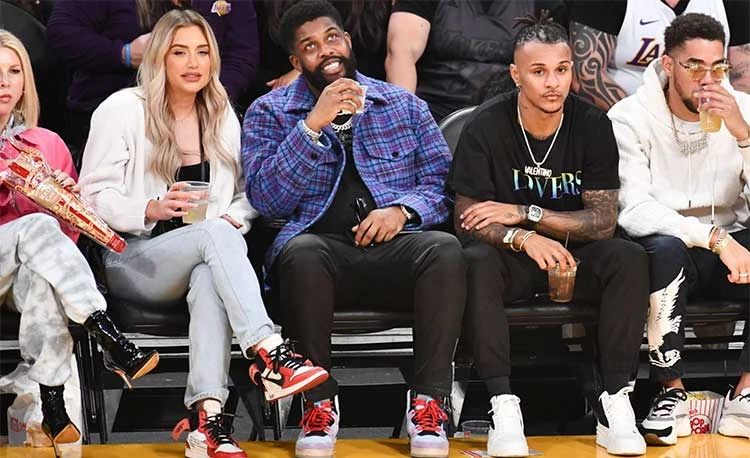 The first thing you have to remember is that the game you are going to see is likely to last as long as here hours, depending on how many overtimes are played. You could be sitting in the outfit you have chosen for three hours. You want to be comfortable.
Loose clothing is not restricting and allows you to move. I know that you are not playing in the game, but even the fans jump up and move during a fast paced and exciting game even the fans are liable to jump from their seats. Loose clothing allows you to move in anyway you want to move.
Loose clothing allows your body to relax. If you are wearing a tight pair of pants you do not have a tendency to relax. You sit straighter, and tend to hold in your stomach when you are wearing tight clothing. You are going to the game to have fun. Wear loose pants that allow you to relax and enjoy yourself.
Your Pants
When you are choosing pants to wear to a basketball game you want to choose ones that are easy to handle when you go to the restroom. When you go to the restroom at a basketball game you want to get in and out as quickly as possible.
If you are wearing pants that require you to take a long time to buckle, button and close them then you miss more of the action. Wear pants that do not require you to wear a belt. You do not want to have to fasten a belt.
Wear pants with pockets on the front. You want to be able to put your money or wallet into a front pocket. In a back pocket a wallet or money can be lifted from the pocket by a skilled thief. If the valuables are in your front pocket, no pick-pocket is going to be able to get their hand in the pocket without you knowing.
Your Shoes
You want to have on shoes that allow you to climb on bleachers and move easily. You do not want to wear shoes that hurt your feet, or that have really slick soles.
The walkways outside of a basketball game are apt to get slick with spilled drinks, and more. A good pair of walking sneakers, or athletic shoes will allow you to travel to the food stands, the restroom, climb the bleachers to your seat, and not worry about falling while you are doing any of that.
Your Shirt
If at all possible, wear a jersey! Support your favorite team and favorite player by wearing a jersey with their name, colors and number on it. Dressing in your favorite player's signature style is the best alternative. Carry the legacy of your favorite hot player, whether it is Jeff Hamilton, Michael Jordan, or Kobe Bryant. All you have to do is pull a baggy Lakers jersey or Black Mamba's Kobe Bryant Jacket (available at theleathercity.com) to share your love for the players with the world. Fan of basketball? So, head to theleathercity.com and get your favorite player's jacket immediately!
Dress for the Weather
You have to dress for the weather in the area you are in. If it is hot you can wear short sleeves, and go without a hat. If it is cold you might want to layer your clothing with an undershirt, an outer shirt, and possibly a jacket.
If it is raining you will want a jacket or something that will stop the rain from getting your clothing wet when you are walking to and from your car.
Final Thoughts
When you are going to a game dress in your own style. You are going to have fun, and you should not be trying to impress anyone or worried about your clothing. You are a super fan just because you are going.