A vertical jump is performed when you jump straight up. These jumps lift your center of mass. They are performed using nothing more than your own muscle power.
The measurement of the vertical jump tells you how high you can elevate yourself from a standing still position.
The Highest Standing Vertical Jump
The heights of the vertical jump they can make are a part of the NBA and NFL players' statistical records.
In 2016, Evan Ungar from Canada set the highest vertical jump Guinness World Record at 63.5 inches.
NBA Standing Vertical Jump Records – 48″
Wilt Chamberlain is listed as having the highest recorded vertical jump in NBA. He could make an impressive 48" jump. It must be noted that the record of a 48" jump is also held by Darrell Griffith.
NFL Standing Vertical Jump Records – 45″
It may not be obvious to you how importantthe vertical jump is in the NFL.Football players must be able to jump up and catch the ball.
NFL players are generally physically stronger than NBA players because football requires a different physical input that basketball does. Often NFL players can make higher vertical jumps because of their different body strengths.
Chris Conley, of the Kansas City Chiefs, can make a 45" vertical jump. Donald Washington, who also played for the Chiefs, could match Conley with a 45" jump.
The Highest Running Vertical Jump
The NBA draft records say that in 2001, Kenny Gregory performed a running vertical jump that measured 44.5". The closest anyone else has come to this record happened in 2015 when Pat Connaughton jumped 44.0".
In 2005 Gerald Sensabaugh performed a vertical jump reaching 46". This achievement equals that of Zach Levine.
Kadour Ziani Vertical Jump
KadourZianna is said to have made the highest vertical jump ever. He stands 5'11" and hails from France. He performs as a member of the team Slam Nations dunking exhibition.
The KadourZiani vertical jump that got him this notoriety measured slightly less than 60". Zianni said that his best jump was 56" and the French version of Wikipedia reports him to have jumped 57". Other sources report his greatest jump to be 60". We will concede that Ziani can get plenty of air when he jumps.
Vertical Jump Records in the NBA
When we look at the NBA statistics we discover that 3 players hold a record for jumping 46"
Zach LaVine – 46 Inches
Zach LaVine was the winner of the 2015 NBA slam dunk contest. Lavine stands 6'5", and has regularly wowed the crowds with his jumps that reached 46", and impressive "air time".
Jason Richardson – 46 Inches
Jason Richardson also holds the 46" jump record.Richardson is a 6'2" small forward and shooting guard. He hails from Saginaw, Michigan, where he attended Michigan State University. He retired in 2015.
James White – 46 Inches
James White was born in the District of Columbia and attended the University of Florida and the University of Cincinnati. He is a 6'7" small forward and shooting guard, with a vertical jump measuring 46".
The following NBA players have vertical leaps that bear mentioning. They are:
Spud Webb at 46"

Shannon Brown at 44.5"

Muggy Bogues at 44.3"

David Thompson at 44"

Andrew Wiggins at 44"

Harold Miner at 44"
Dee Brown at 44"

Deshawn Stevenson at 44"

LeBron James at 44"

Nate Rpbinson at 43.5"

Julius Erving at 43"

Vince Carter at 43"
Vertical Jump Records in the NFL
After Conley and Washington of the Kansa City Chiefs, the following 3 players have executed amazing vertical jumps.
Byron Jones – 44.5 Inches
Jones played for the Dallas Cowboys in 2015 when he executed a 44.5" jump. He is the world record holder,in the NFL, for the highest standing vertical jump. Jones attended college in Connecticut, and plays the Cornerback position.
A. J. Jefferson – 44 Inches
Jefferson has an amazing 44.0" vertical leap. He played for the Arizona Cardinals and the Minnesota Vikings. He attended Fresno State college, and like Jones he is a cornerback.
Dorin Dickerson – 43.5 Inches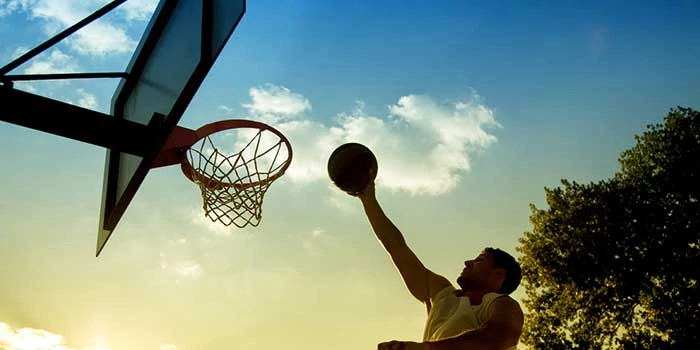 Dickerson has a vertical leap measuring 43.5". He has played as a tight end for: The Texans, the Pittsburgh Steelers, the New England Patriots, the Cleveland Browns, the Buffalo Bills, Detroit Lions, and the Tennessee Titans.
We should note that other players have amazing records for their vertical lifts as well. Some o these include:
Kashif Moore at 43.5"

Eric Berry at 43"

Darius Butler at 43"

Christine Michael at 43"
Ameer Abdullah at 42.5"

Jarett Dillard at 42.5"

Virgil Green at 42.5"

Roger McIntosh at 42.5"
The Highest Standing Jump Outside of the NBA and NFL
Christopher Spell, of the USA, made the highest standing jump to be executed by a male on July 28, 2019. His impressive jump measured 1.628 meters, or 5.34 feet. According to Guinness World Records this leap earned him the title of the highest standing vertical jump in the world.
The Highest Box Jump
Box jumps are done by standing on the ground and jumping up onto a box, or platform. These jumps are done regularly as a part of physical training for many different sports. Box jumps benefit athletes by:
These jumps strengthen your leg muscles

They help you maintain stamina

They help improve your balance

They burn calories and help you maintain perfect weight

They help to improve your coordination for other sports and activities

They can be done without any expensive exercise equipment
The highest box jump, according to the Guinness World records, was executed by Darren Jackson. Jackson, who hails from Australia, jumped 58.1". This beat the previous box jump record set by Jonas Huusom of Denmark, by 1.41".
The High Jump World Record
The highest vertical jump in the NBA and the NFL are impressive. The highest vertical jump and running vertical jump, according to the high jump statistics kept by the track and field event, are astounding. The first records for this event were noted in 1900.
Javier Sotomayor, of Cuba, achieved a jump height of 8' and o.46". This jump happened on July 27th of 1993.
1993 was not the first time that Sotomayor achieved great heights with his jumps. In September of 1988, in Salmanca, he reached a height of 2.43m. Then in San Juan, the very next year, he beat his own record with a 2.44m leap.
Satamayor also holds the record for jumping 2.40m or higher more times than any other athlete. He has achieved these heights a total of 63 times.
Frequently Asked Questions
How high can NBA players jump?
On average an NBA player can jump 28 inches consistently. There are players who have made vertical jumps as great as 40 inches or more, but those vertical jumps are singular and not consistent repeated jumps. Most of the NBA players who are able to jump up and reach the net practice this move repeatedly to obtain this skill.
Who has the highest vertical in the NBA Combine?
Michael Jordan holds a record of having a vertical jump that measures 48 inches. That is a full four feet off of the ground. Some records indicate that Darrell Griffith has a 48" record and that Michael Jordan may have only a 46" jump total.
Who has the highest vertical jump in NBA History?
Michael Jordan is thought to have one of the highest vertical jumps. His average jump height was consistent at 46" and reported to get as high as 48".Zach LaVine and James White and Darrell Griffith all hold vertical jump records comparable to those of Michael Jordan. Shannon Brown holds a 44.5" jump record, Muggsy Bogues holds a 44 inch along with Andrew Wiggins.
Final Words
Many people strive to achieve the highest vertical jump. They do this to improve their playing abilities in sports like basketball and football.
There are two schools of thought on the ability to perform great vertical leaps.1) people believe that you either have an outstanding jumping ability, or you do not.2) People believe that you can train yourself to perform greater jumping heights.
It stands to reason that you could improve your jumping ability through practice. When you practice you train your muscles to respond in certain ways, and those muscle responses help you to jump higher, run faster, and perform better.
If you would like to learn more about basketball, and the things it takes to create a great basketball player, visit us, for articles, facts, information, and tips.