The Gold series by Pro Dunk basketball hoop is considered as one of the most popular hoops. Its lift assist mechanism is this much powerful that anyone even a kid of 7 years old can easily fixed it up. To give the opportunity of experiencing a high competitive match it has 60-inch extended backboard which is made of the toughest glass.
And the offer of padding set makes the whole package attractive to the players. To protest the rusting problem the whole hoop is under the armor rust package which ensures its longtime durability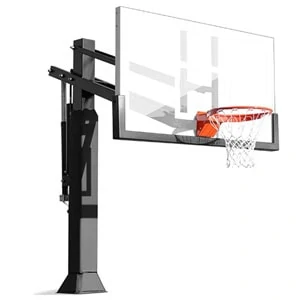 Product Specifications
Brand: Pro Dunk
Product Dimensions: 96 x 60 x 24 inches
Item Weigt: 470 pounds
Shiping Weight: 520 pounds
Size: 60 Inches
Features at a Glance
High quality 60 inch tempered glass backboard
6/6 inche massive one piece pole
Height adjustable between 5 feel to 10 feet
Complete padding set included
Heavy-duty rim with internal dual spring
Limited lifetime warrenty
Rust armor package
Main Features: Make the Basketball Hoop Popular
This popular basketball hoop not only will complement your property but also will provide you a opportunity of having an amazing match through its features and they are;
Great Size Backboard
To deliver the high level of performance and to build up the skill for competitive level this hoop provides the big backboard which is made of glass. It comes 60 inchs in size. The toughest glass is tempered glass which is 1/2 inch thick. So, you may enjoy a gym quality backboard.
One Piece Pole
By following the new technological designs this basketball hoop also maintains massive one piece pole which is 6*6 inch in size. By one-piece pole, you can be sure about your security. Because by lessening the pole sections will diminish the risk of loosening the joints.
Effortless Adjustability
By only this one basketball hoop you can cover up all matches as it is way too much flex for all ages to play. The hoop can be adjusted within 5 feet to 10 feet. To make the adjustable process more easy there is a handle for effortless adjustment. The whole process can be done only by turning on and turning off the handle.
Free Padding Set
To increase the comfort level and ensuring the highest level of safety a complete set of padding will come along in extra which is free of cost. The pads are 1 inch thick which will cover up the pole section and backboard. This offer you may hardly get through any other basketball hoops.
Superior Rust Protection
Rusting is a common problem with every basketball system. So, this basketball hoop has the rust preventative package. The package contains stainless steel made hardware and the whole system is also made of zinc galvanized.
Warranty
This basketball hoop offers the limited lifetime warranty but you can cancel the order or return the hoop.
What We Love
The effortless height adjustment system is amazing

Complete set of padding is provided

It has long durability for superior rust protection

This hoop allows the youngest players to play

Gymnasium quality backboard for competitive playing experience

It has break-away rim for comfortable dunk
What Would Make the Hoop Better
All facilities are good but price is little bit high comparison to other hoops

The rim is break away but not flexible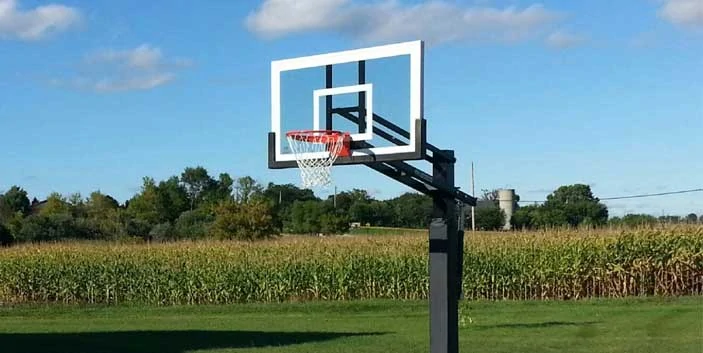 Frequently Asked Questions: To Satisfy The Queries
What are the return policies?
In case of dissatisfaction you can return the product but in complete unused condition.
Is the basketball hoop portable?
No, the basketball hoop can move a little bit but cannot be moved as a whole frequently.
What are the rules and regulations to replace the hoop?
In case of dissatisfaction you can return the product but in complete unused condition.
Wrapping Up
When you choice a thing for your family you choose the best option without seeing the price tag. Though the price of this basketball hoop is little bit high, you can be sure about its quality and long durability. So, get the hoop today to enjoy the experience of having a good match.
If you would like to read more about some high quality in-ground hoops, then we recommended you to have a look on Ryval C660 or Goalrilla FT Series.