Spalding 88351 NBA basketball hoop made of polycarbonate backboard will help the beginners to handle the basketball during the probationary period. Because the specialty of polycarbonate is to make the basketball less bouncy.
With 44 inches steel frame, you can be sure about its long durability. And the incremental process of adjusting height is just amazing. So, if you are looking for a basketball hoop to train the beginners this basketball hoop will be an outstanding choice.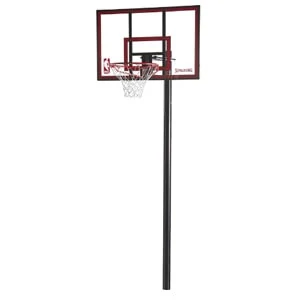 Product Specifications
Brand: Spalding
Item Weight: 77 pounds
Shipping Weight: 81.8 pounds
Product Dimensions: 48 x 44 x 6 inches
Size: 44 inch
Features at a Glance
Steel framed 44 inch polycarbonate backboard
Height adjustment from 8 to 10 feet
Three piece 3.5 inch round pool
Slam Jam® breakaway rim
Ground sleeve anchor system
All-weather supported net
Main Features: Reason Behind For Being The Best
This basketball hoop will provide good service undoubtedly with its beneficial features and they are:
The Polycarbonate Backboard
With the highest level of durability in low-cost polycarbonate backboard are made of. And this basketball system contains a polycarbonate backboard. The backboard comes in 44 inches into 30 inches with 2 MM thickness. The whole backboard is covered by the steel frame which certainly ensures the long durability.
Incremental Adjustability
Incremental adjustability is a kind of new technology which a few basketball hoops are carrying out over the market. By following the professional level standard this hoop has ratchet lift system for flexible adjustment. The hoop can be easily adjusted from 8 feet to 10 feet and to make the process easier it comes in 4 increments.
Goalrilla FT Series also provide great adjustability besides that you may also check our pro dunk gold hoop reviews.
Breakway Rim
The highest level of recreation can be provided after securing a top level of safety. To enjoy the game properly you must have a breakaway basketball rim and this basketball hoop provides so. In this hoop, players can mount over the rim without any fear of breaking down.
Three Pieces of Pole
Having 3.5 inches pole makes strong the connection of internal as well external. There are three joints to set up the whole basketball system. First and most important pole goes for anchor system which will make the installation process easier. And the rest two are for an internal connection where the backboard belongs to 16 inches offset from the 2nd pole. The poles are made of steel and come in a round shape
Anchor System
This basketball hoop can be installed directly to the ground and will become rigid as it has anchor system to fix up. By the first pole, the anchor gets connected with the whole basketball system unwaveringly
Warranty Issue
There is no doubt about the quality of this well-known brand but to keep the customer fully satisfied they have a lifetime warranty for the whole basketball system. In case of major damage, you may replace your basketball system's parts but having the proof of buying the original series is a must to enjoy its warranty facilities.
What We Love
Great service at a cheap rate
It has ratchet lift system for super flexibility
Thick backboard ensures long durability
Breakaway Rim for enhancing the enthusiasm level
Easy installation process with ground sleeve anchor system
It comes with the complete set including the net
What Would Make the Hoop Better
This hoop is specially designed for young players at beginning level
With this basketball hoop, you may get less the opportunity of making bounce
Frequently asked questions: for more queries
Is the basketball hoop strong enough for 14-16 years old players?
If your players are the beginners they certainly can get it (otherwise not) but forbidden to mount over the rim.
What are the replacement policies?
To gratify the customer this basketball hoop has offered to do the replacement in case of damage but the damage cannot be caused by misuse.
Is it possible to install the basketball hoop using less pole than provided?
It is possible. You can use any two of them (at least) but it would be better to use all of them.
Wrapping Up
In the probationary period, players need lots of time to do practice for making their every move perfect. Considering this point of view this in ground basketball hoop has been introduced in the market at cheap rate with long durability to make today's beginners tomorrow's sports stars