The Spalding NBA Official Game Ball itself is produced using top quality full grain leather.
It adheres to NBA's strict weight and size requirements. It is designed to be suited for competition level play indoors.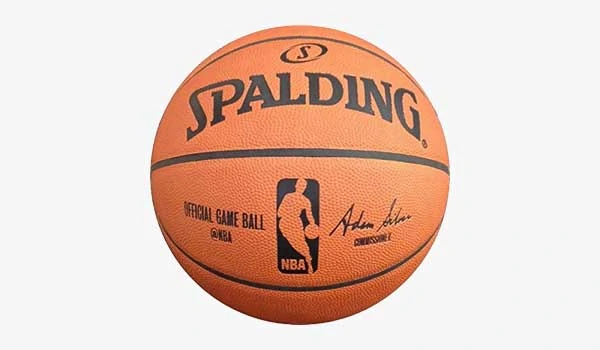 Product Specifications
Brand: Spalding
Shiping Weight: 1.9 Pounds
Product Dimensions: 10.4 x 7.6 x 10.4 inches
Features at a Glance
Premium quality composite cove
True official size and weight
Our In Depth Review of Spalding NBA Official Game Basketball
I have always loved basketball since I was a kid, watching the NBA games in awe, so it was a natural move for me to take up basketball.
Over the years I've had several different balls, but having a passion for the art of basketball made me want to own something more authentic and traditional than the composite balls. This led me to the Spalding NBA Official Game Ball. Unlike composite balls, which from my experience may perform well in the beginning but seem to wear down quickly, the high quality leather does what you expect it would; provide durability, excellent grip and feel which is perfect for those who take it seriously and play in competitions or those passionate about the sport.
One thing that throws some people off and even I at first was surprised by, is that despite looking great it won't be quite ready to become a game ball from the first bounce as there is some breaking in required. It has been suggested to me that some leather conditioner and plenty of dribbling will quicken the process.
There was a slight slick feel to the leather but after some good use, the grip, weight and performance felt superior to any ball I had used before, it really is worth the time breaking it in as the reward of using an official game ball pays off in how it functions on the court.
Another great thing about the official game ball is that it actually gets better with age instead of declining. This ball will last you for years, I find I no longer want to play with anything else now that I have broken in my leather ball, it's difficult not to become attached.
If you are only used to composite balls it can be a bit of a shock to have to break it in but I found it to be a worthwhile investment because of the quality and how long it will last.
One thing to note is that attempting to use the official game ball outdoors will dramatically reduce the life of your ball, it's really not worth the risk. This is designed to be an indoor ball, and performs perfectly on an indoor court. There is just something that feels nostalgic and right, not only about the way it feels but the sound when you dribble it and that's something that other people who own this ball have picked up on too.
What We Like
Best for the money
Good quality outside composit layer
Size available
What We Don't Like
Sometimes valve broke after few month
Overall I would recommend this ball to anyone who is either into playing competition level indoor basketball or just passionate about the sport and wants to know what a real basketball should feel like.