Street basketball is awesome. It's a place to shine and showcase your skills to the rest of the wannabe ballers in your community. However, there comes a time in every basketball players career when they must make some decisions in order to take their practice sessions and their game to the next level.
Our Top Picks
One of those decisions is to spend more time on an indoor court, and the only way to fully experience the thrill of indoor basketball is to invest in a best indoor basketball.
Because an indoor basketball does not have to worry about being worn down by the dust and gravel that you will find on an outdoor court, they are usually made of a softer material with considerably more grip. This increased grip alone can take your game to the next level.
The only problem? There are way too many indoor basketballs to choose from. That is why we have decided to do all of the hard work for you, by personally reviewing the top recommended indoor balls and narrowing the choice down to just five.
If you are looking for the best of the best when it comes to indoor basketballs, here they are at a glance:
Expert Review of 5 Best Indoor Basketball
While the list above provides a solid number of high quality indoor basketballs we feel that there are three basketballs that deserve special notice. Here are our picks for the top five basketball for indoor: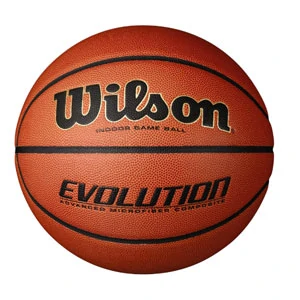 First up on our list of the top indoor basketballs is the Wilson Evolution. Before we dive into the review, it's worth mentioning that technically, there are "better" indoor basketballs than the Wilson Evolution (the official NBA game ball is the first to come to mind), but how many rookies would be willing to invest over $100 for a single basketball? If you are looking for value for money, you will struggle to find an indoor basketball that is as close to perfect as the Wilson Evolution.
With all of that being said, let's dive straight into the review and see what makes this ball such a steal for the price.
As the number one best-selling indoor basketball in the country for high schools, the Wilson Evolution is undoubtedly one of the most popular indoor balls on the market, and in our opinion, it's the combination of the extremely soft microfiber composite leather, the grippy laid-in channels and the unbelievably reasonable price point that made it so successful.
Let's start with the grip on this thing. The Wilson Evolution obtains its superior levels of grip from both the composite leather cover and the patented aqua-grip pebbled laid-in channels (a fancy name for composite leather laid-in channels). Where most other basketball manufacturers use traditional rubber for the laid-in channels, Wilson have replaced them with a pebbled composite leather strip, that adds to the overall grip and performance of the ball.
Initially, we thought this was nothing more than marketing fluff to sell more balls, but once we gave this bad boy a lap of the courts, we realized that it makes a huge difference. It's subtle, but the enhanced grip does really help to improve your ability.
The bounciness of the Wilson Evolution was very consistent and comfortable. Combined with the softness of the composite leather and the high levels of grip, it feels like a dream to dribble this ball up the court. The core of the ball is made using a combination of low-density sponge rubber and butyl rubber, giving the ball its light, but durable feel.
The Wilson Evolution is available in three different sizes, from youth (size 5) to official (size 7) and is fully pumped up and ready to use out of the box.
What We Like
Great value for money
The composite leather used for the outer shell is soft and easy to grip
Pebbled laid-in channels adds to the already excellent levels of grip
Holds air pressure very well
What We Don't Like
Will not bode well with a single outdoor session. It's 100% not suitable for any other type of court
Panels can start to peel after prolonged use
Our Final Verdict: The Wilson Evolution is probably the most popular indoor ball in the country and it's used for a lot of official NCAA games. After shooting a few hoops with this thing, we realized why it was so popular. When we discovered the price, we were blown away by its value for money.
If you are looking for a soft indoor basketball with incredible levels of grip that won't break the bank, the Wilson Evolution is the one we would recommend.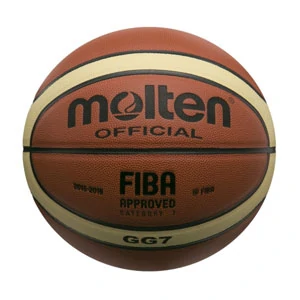 Another indoor basketball that provides excellent value for money is the GG7 from Molten. This game-sized ball is FIBA approved and is used in the Olympics and other international tournaments. The reason we mention that this is an international basketball is because most international basketballs tend to be smaller than US regulated basketballs.
In this case, the GG7 is around a half inch smaller than an official US basketball, so keep that in mind when considering this option. With that being said, don't let the small difference in size alter your opinion of this ball. It's still one of the softest and best-performing balls that we have ever got our hands on. The outer shell is made from a high-grade composite leather and the two-tone design is easy on the eyes.
If you are a fan of international basketball, the design of Molten balls will not be so foreign to you, but if you are new to this style of ball, it may take a while for you to fully register them as legitimate basketballs.
The inside of the GG7 features a butyl bladder which adds to the overall feel of the basketball. It's a solid dribbler but at the same time, it's grippy enough to dunk if that is what you're into. Whatever your style of game, the Molten GG7 will most definitely surprise you. Here you got another model of Molten basketball review.
What We Like
The unique, 12-panel design improves the grip and feel of the ball like no other
Some of the best composite leather we have felt. Almost like real leather
It's 'unique' design is very appealing
What We Don't Like
Measures a half inch smaller than regular US basketballs
Doesn't hold air for as long as other popular indoor basketballs
Our Final Verdict: If you can get over the fact that the GG7 is a little bit smaller than the balls you are used to playing, you will be awarded an experience that you struggle to find with American made basketballs. The way the GG7 feels in your hand has to be experienced to really understand. There's a reason why this thing is so popular overseas!
If you're in the market for a quality, well-rounded ball that is not too expensive, you will not be disappointed with the Molten GG7.
Do you wish to buy basketball socks? Read our buying guide to know more..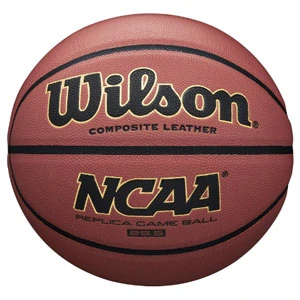 Another terrific indoor basketball from Wilson is the NCAA official game ball replica. The technology used to manufacture this basketball is pretty similar to the Evolution that we reviewed earlier in this article, but there are a couple of huge differences that set these balls apart.
First of all, let's look at the similarities between the NCAA replica and the Evolution. Both basketballs are made from quality composite leather and both feature the pebbled aqua grip laid-in channels. The quality of composite leather is a little bit better on the Evolution, in our opinion, but the trade-off is not so one sided when you consider that the NCAA replica can easily be used outside without too much damage.
The ability to play on outdoor courts does not take away from this basketball's indoor playing capabilities – it is still primarily an indoor basketball, but if you want the freedom to be able to shoot a few hoops outside every now and then, this ball will be perfect for you.
What makes the Wilson NCAA replica perfect for both indoor and outdoor play is the moisture absorbing abilities of the outer cover. Not only is the composite material extremely soft and grippy, it also does a great job of keeping out water and dust. This provides a consistent feel regardless of the conditions you are playing in.
What We Like
Performs incredibly well on indoor courts, but is durable to take outdoors as well
Excellent moisture and dust control
The pebbled laid-in channels are far superior the regular rubber counterparts
High quality materials that will last a long time
What We Like
The grip on the bar code of the ball is smooth and non-existent
May need a few days to wear in the leather before it shows its true potential
Although we have touted the NCAA replica basketball as a hybrid ball that is perfect for both indoor and outdoor play, it's worth noting that we only provide you with information to fully inform you about the possibilities with this ball. It's an indoor basketball through and through, but it just does a better job of holding up on outdoor courts a lot better than most other indoor basketballs.
If you want to experience what it's like to play with an official NCAA basketball, you won't get a more accurate representation than this ball.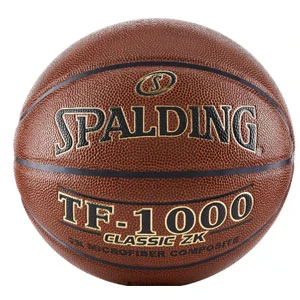 The next basketball on our list is the TF-1000from Spalding. If you have been playing basketball for a substantial period of time, chances are you have already come across one of these balls. They are extremely popular in the United States and Canada. For good reason, too.
The grip of this indoor only basketball is second to none. The reason for the superior grip is the ZK microfiber outer shell that is exclusive to Spalding balls. It's soft, feels great in your hands and it has the level of grip that you would expect from an official NBA game ball.
Just like the previous basketball that we reviewed, the TF-1000 also includes a moisture controlling technology, designed to keep the feel of the ball as consistent as possible. The only difference is that the TF-1000 is not designed for outdoor use at all. Of course, you can always use an indoor basketball on an outdoor court, but we would not recommend it whatsoever. Indoor basketballs are drastically different to outdoor balls, so we recommend that you respect that if you want your balls to keep for longer than a few games.
The deep channel design that Spalding employ in this basketball is supposed to improve control, which is pretty hard to test for as you can imagine. However, from our own experience with this ball, we found that there was something unique that we couldn't seem to put our fingers on, so maybe we did recognize the subtle differences in the channel design. Either that, or our game has improved dramatically overnight. Which one is easier to believe
What We Like
The moisture management technology does a great job of keeping the ball easy to grip when covered in sweat
Deep channel design helps to maximize the ball control
Some of the best grip that we have ever felt
Great value for money
What We Don't Like
Not as good as the original TF-1000 from back in the day
Spalding have been known to have quality control issues so don't hesitate to return and swap if it's not up to scratch
Our Final Verdict: We loved playing with the Spalding TF-1000 and it's obvious that millions of other basketball players love playing with it too. It's soft, has lots of grip and is very easy to control. If you are a heavy dribbler, this ball will be right up your alley. For the price point, it's an amazing indoor basketball and we can't recommend it enough.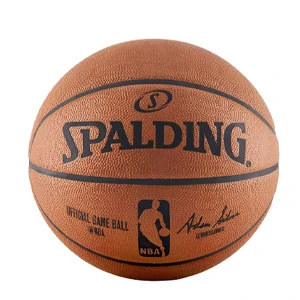 For those of you with dreams of making it to the big show, you had better get practicing with the official game ball as soon as possible. Playing with the official ball of the NBA from Spalding is a unique, authentic experience that we would recommend everyone experience at least once.
There are a few caveats with this ball, however, so we thought we would cover these first before we get to the good stuff. First of all, the official game ball is made from real, Horween leather. This is actually a positive and a negative at the same time, as the real leather can provide feel, grip and longevity that composite materials can never dream of coming close to, but as it's real leather it will be hard initially.
How long it takes to break down and starts to feel like a good indoor basketball will depend on how much you use it, but be warned that you may not enjoy the hardiness of the ball at first.
The other caveat is the fact that the ball is considerably lighter than most others. Again, this is both a positive and a negative at the same time. A lighter ball can take a long time to get used to, especially if you are used to playing with the more common composite leather balls, but at the same time, a lighter ball will give you more control and handling ability once you have grown accustomed to it.
Now, once you have managed to get over the initial aforementioned hurdles, you will be introduced to the greatest indoor basketball on planet earth, bar none. The NBA is the pinnacle of basketball, so there must be a reason for them to choose this ball over any other. The softness, grip, control and responsiveness of the official game ball is second to none and is an absolute pleasure to play with.
The real leather may take a while to break in, but when it does, it is almost guaranteed to last you a long, long time – considerably longer than a composite leather ball.
What We Don't Like
Available in a huge varieMade of real leather to provide superior grip, feel and longevityty of colors
It's the only mass-produced real leather ball on the market
The official ball of the NBA
With proper care, this ball will last for years
What We Don't Like
Costs over $100 which is 2-3 times more expensive than the others on this list
Takes a few months to fully break in and show its true potential
The first few times playing with this ball will feel uncomfortable, but it does get better
Our Final Verdict: It wouldn't be fair for us to list the top indoor basketballs without mentioning the official game ball. Initially, it may not be everyone's cup of tea but if you give it time and have the patience to break it in, we promise that it will be the best basketball you have ever played with.
It's not cheap, but it's definitely worth it.
Still Struggling to Choose the Best Indoor Basketball?
So, you have decided to take your game to the indoor courts but you are still struggling to decide which indoor basketball will be the best choice for you. We completely understand how overwhelming it can be to choose a new product when there are literally hundreds to choose from. That's the reason we created this review article – to help narrow down your choices to just the top five.
To complement our own reviews, we have also decided to put together a short buyer's guide to best indoor basketballs, to help further increase your knowledge of the indoor ball, what makes it different to an outdoor ball and what you should be looking for when shopping around for one.
So, without further ado, let's jump straight in…
What's the Difference Between an Indoor and an Outdoor Basketball?
There are a few main features that can instantly differentiate an indoor basketball from an indoor one. The most obvious one being…
1. Material
Indoor balls are generally made from either a high-grade, softer composite material or full-grain leather. The softer material is designed to work alongside the softer, smoother surface area of an indoor basketball court. The softer materials tend to be more grippy but can take a little bit longer to wear in.
Outdoor basketballs, on the other hand, are typically made from rubber or a harder composite leather. Outdoor courts are rough, rugged and dirty, so an outdoor basketball is designed to work alongside that sort of surface area, without causing any detriment to your playing or damaging the ball. Outdoor balls tend to have less grip, but they can be used straight out of the box with no issues.
2. Lifespan
The longevity of each type of ball is another big difference between an indoor and outdoor basketball. As you would expect, a basketball that is constantly being used on a hard, rough surface with the inclusion of gravel, and even broken glass will generally not last as long as a ball that is used on a smooth indoor surface.
Using an indoor ball on an outdoor court is a sure-fire way to drastically reduce the longevity of an indoor ball. The materials are simply not designed to withstand that sort of damage. Outdoor basketballs are not prone to the same sort of damage if you decide to use them on an indoor court, but the experience will not be a fun one. The ball will feel hard, heavy and uncomfortable.
3. Cost
Outdoor balls are usually made from rubber and other durable materials, compared to the higher quality composite leather or real leather of an indoor ball. Obviously, this is going to influence the price of each of them.
You can pick up a decent outdoor basketball for less than $20 if you shop around, but you will be lucky to find a decent indoor basketball for less than $50. A tournament standard indoor basketball can range anywhere from 50 bucks to well over a hundred.
How to Care for an Indoor Basketball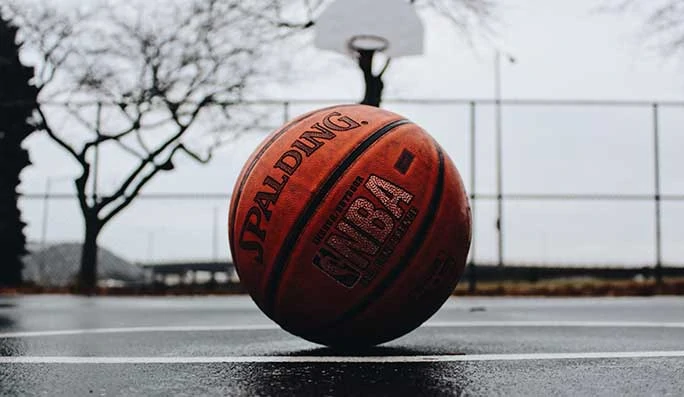 As you can probably tell from reading the differences between indoor and outdoor basketballs, indoor balls are what you would consider more 'fragile' than their hardier cousins, especially the ones which are made using real leather.
To maintain the same level of quality that you can expect from a new indoor basketball, you will have to spend a little bit of time maintaining and caring for your ball.
First of all, the best way to care for an indoor basketball is to respect the fact that it is an indoor basketball. Unless you specifically purchase an all-court basketball, you should never use an indoor basketball on an outside court. That includes bouncing the ball on the way to the gym. The more you can prevent your indoor ball from touching the gravel outside, the longer it will last.
The same level of respect should also be applied when using the ball indoors, as well. We don't recommend bouncing an indoor basketball off of the wall during drills, and absolutely no kicking them. We know it's tempting, but indoor balls are expensive!
Finally, when you have finished your training session or indoor game, make sure you wipe off the basketball with a clean cloth to remove any excess dirt or sweat. Your goal is to keep the ball as clean and as dry as possible.
Follow these few tips and you will have no problem keeping your ball in tip-top condition for months, or even years.
Frequently Asked Questions
What is indoor basketball?
Indoor basketballs are made from 100% genuine leather instead of rubber or rubber composites. A basketball designed to be used outdoors often feels heavier and they feel firmer than the leather balls that are used inside. Both balls have the same circumference, the material just changes how they feel and how they bounce.
What basketball has the best grip?
The Spalding NBA basketball is just about the best indoor basketball on the market. It provides the utmost grip and that gives the player more control over the ball so your play will be enhanced by this ball.
Which is a better basketball Spalding or Wilson?
Both Spalding and Wilson make excellent sporting equipment including basketballs. The Spalding NBA basketball is rated as the very best, but the Wilson ball offers a good grip and moisture wicking that helps you maintain control over the ball. Personal preference plays a big part of this selection.