Athletes are inevitably prone to injuries and other physical mishaps. That is why many devices and gears have been invented to help them stay protected while they get their head in the game.
Whether you're into basketball, football, or martial arts, and whether you're playing professionally or not, you should check out options that can help you become even more secure while playing your favorite sports. Especially if you already have existing injuries like a broken nose, you would need extra protection all the more. You can go for basketball face masks and the like to ensure a smooth and safe game.
Our Top Picks
Why do basketball players wear masks
Using face masks has a lot of advantages. The following are some of the main reasons why athletes, particularly basketball players, love them.
Wear one for Precaution
Athletes use a basketball protective face mask mainly for protection. Many basketball players who haven't tried getting facial injuries yet might not have considered wearing one. But many of those who have felt the consequences have gone more cautious and usually wear one during the game.
Injuries could last forever, and so it's important for basketball players to secure one as a layer of precaution. If you have experienced a facial injury before, don't let the same bad thing happen and play peacefully with nose guards for broken noses.
Wear one if you have/had a broken nose or cheekbone injuries
The basketball game has a lot of elbows, and getting hit is somehow unavoidable. Broken noses are the most common injury during the game. That is why face mask for broken nose is highly recommended.
If you dread the thought of getting a broken nose or cheekbone injuries, a protective mask is your trusty buddy. Especially if you are into playing aggressively, don't get complacent and go get a face mask to get you covered. If you already have a broken nose or cheekbone injury, a face mask helps you continue the game with less risks.To keep safe your teeth during game time check our best mouthguard post
Wear one to look cool and intimidating
Basketball players who wear face masks do look special while on the court. It makes them stand out. It could even be an intimidating look that could daunt the opponent in a way. Take, for example, how Kobe switched from a clear face mask to a black nose guard in March 2012 and literally stole the show. Thus, if you want to look cool and extra intimidating, a basketball face mask is a functional and aesthetic choice.
History of NBA players in face masks and nose guards
It all started when Detroit Pistons Bill Laimbeer got hit by a teammate right in the face. But being the best big man on their team, they could not afford losing him and went looking for a savior.
An orthotist from Detroit had an idea to take an actual cast of Laimbeer's face and ensure that this mask fits well. He adopted this molded mask also to treat burn scars, and from then on, this invention helped thousands of athletes from prolonged downtime. Even popular NBA players became a fan of it.
A lot of NBA players rocked wearing nose guards for broken noses. LeBron James is the most popular example. Way back 2014, Lebron wore a black carbon fiber mask that caused a lot of buzz among fans. But after he wore it, NBA decided to forbid black masks since the shadow right around the eyes might hinder other players from seeing his eyes while guarding him, giving him an advantage.
Kobe Bryant loved and rocked nose guards as well. With or without a mask, definitely Kobe is going to score. But with his mask on, he managed to put up 38 points and 8 rebounds in a game against Sacramento Kings way back March 2012. Other NBA players enjoy face guards, including Kyrie Irving, Chris Paul, Richard Hamilton, Tracy McGrady, Alonzo Mourning, Bill Laimbeer, Jason Terry, Joe Johnson, and more.
Generic face masks or custom-made protective mask?
NBA players won't have a problem purchasing custom-made protective masks. However, for the younger, amateur basketball players, custom masks could cost a fortune. Thus, average players just go for generic masks.
Generic masks are way cheaper and are readily available. But if you want the most thorough fit and the best visibility, custom masks really got it. The downside is that it takes time before it gets finished. Your face dimensions will be measured by an orthotist, and it would take time to get one finished. Thought custom masks sound perfect, it does not mean generic face masks cannot do the job.
A lot of high school athletes reported that they did not have any problem wearing generic face masks during their games. You just have to choose the right size for your—small, medium, or large.
Overall, just choose the option that fits your needs and budget. Generic masks aren't bad as there are a lot of good options in the market like Sports Knight Face Shield, Qiancheng Nose Guard Face Shield, and more. We'll highlight your generic mask options right below.
Best Basketball Clear Face Mask and Nose Guard That Really Worth The Value
We understand how important it is for you to choose the right face mask that can get you covered as you play. That is why we have carefully picked the most comfortable, durable, and fairly priced options for you. Here are some of the most reliable face masks for different types of sports. These are probably the closest one can get to a custom face mask.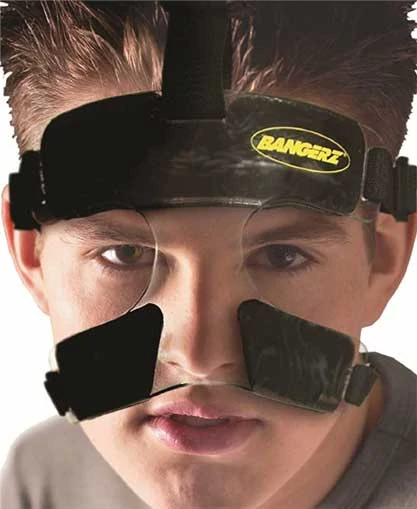 This is a medical-grade and high-impact face guard made of polycarbonate with two adjustable straps to come up with a more customizable fit. It also comes with 1 replacement strap for free. There's no vision obstruction, and the design fits most, if not all, faces. It comes in one size, which could fit the average head circumference (between 22 and 24 inches).
It does the job well in protecting your injured cheekbones, forehead, and nose. It also has EVA foam padding for more comfort. Whether you're into basketball, soccer, martial arts, volleyball, or any other sports that don't require a helmet, the Sports Knight face guard is a great choice.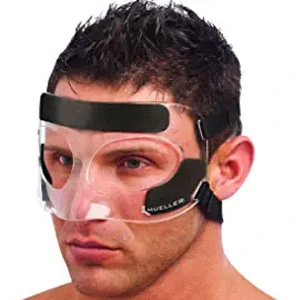 This is another high-impact plastic face guard for all kinds of sports—wrestling, basketball, karate, baseball, etc. Be it nasal, maxillary, orbital, or zygomatic injuries, this nose guard can get you protected. It's also made of polycarbonate, making it shatterproof. The contour design is also made for comfort and to minimize obstruction.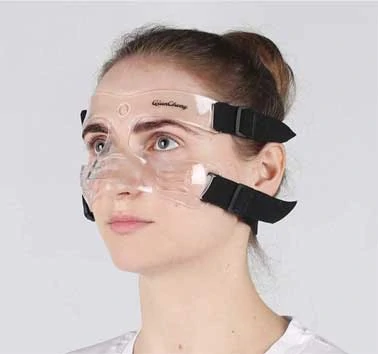 Remain active while getting protected. Like most Sports Knight products, this face shield is made with medical-grade, high-impact polycarbonate plus EVA foam padding. Its straps right around the forehead and cheek are totally adjustable and offer a comfortable and secure fit. It also comes with an additional strap in case of necessary replacement. Vision and comfort issues are also minimized due to its ideal design. It comes in one adjustable size for those with 22-24 inches' head circumference.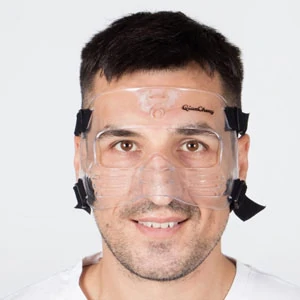 This is another reliable face shield made of high-impact material. It is easily adjustable and doesn't obstruct vision. The size is universal, for the cheekbone width range of 12cm to 14.5 cm. For those with sensitive skin, opt for the silicone gel protective pads designed for pressure points.
It does a good job preventing injuries or reinjures. It's best used for football and basketball games. For children and teens, QC-L5-M or QC-L5-S is recommended. For those with a higher nasal bridge, L5 – High Nose Bridge is ideal.
Final word
For basketball players and other athletes out there, if you want an extra layer of protection during the game, nose guards or face shields are a must-have for you. If you have an existing broken nose or cheekbone injuries, they can also come in handy.
Face masks are functional and practical options that give you safety while also making you look cool during the game. You've got a lot of options, custom-made or generic, and your final pick definitely depends on your needs and budget. Just choose one that gives the best bang for the buck.