This Wilson Basketball functions well indoors or outdoors. Such versatility makes it suitable for novices and seasoned players alike.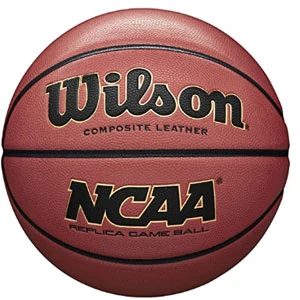 Product Specifications
Brand: Wilson
Item Weight: 1 pounds
Size: 28.5 and 29.5 inch
Features at a Glance
Cushion core technology
Best for indoor and outdoor game
Best replica NCAA basketball
In-Depth Review Of Wilson NCAA Basketball Replica
As a composite ball its ready to use fresh out the box, with no breaking in required. The materials moisture absorbing capabilities allow for greater grip and a good bounce in various conditions and there is a good feel to the ball, it's not slick or too hard like some balls can be at first.
Wilson basketballs are well trusted, they have been at the forefront of best indoor basketball design for a long time now so you can generally expect a quality product from them. It's also the ball of choice for the NCAA Championships and you can tell the balls are designed for that. The Wilson basketball is a popular choice as a game ball, and is regularly chosen for my own team games.
It's also a great ball to introduce yourself to basketball, if you don't have access to an indoor court you can practice outdoors all year round, with the only exception of when it is really icy in winter perhaps. It's a good starter ball too because you won't get many balls that are as versatile as this one and it's not a big investment when it comes to the price either.
As far as durability of the Wilson basketball is concerned it may not last you as long as an expensive leather ball but so far it has held up remarkably well. Even after a year of regular use the performance and grip is consistent. The only change I've noticed is the minor marks on the surface of the ball which really only effects its aesthetics.
Price wise this ball is excellent value for money and is marked at a competitive price. Taking into account that it is an wilson NCAA replica game basketball that is for indoor and outdoor use, it's the best ball I've encountered for these purposes. Often with outdoor balls durability is sacrificed but because of the high quality material and other patented technologies exclusive to the Wilson basketball range this one is very tough whilst still being comfortable to use.
It's also worth noting that it performs just as effectively indoors as it does outdoors which is also a rare quality.
What I look for from a basketball is durability, grip, performance and affordability. It isn't the cheapest ball because of the high quality materials and design but it's far from the most expensive. As for meeting my other expectations this Wilson basketball exceeds them.
What We Like
Rotating detachable ball return scoop for easy retrieval and repeated shooting
Breakaway steel rim for spring action dunking
Adjustable height, no tools needed
Over-the-door hoop saves space indoors
Electronic scoring system and voice recordings
What We Don't Like
Ball return sends ball back pretty fast, which can be good and bad, depending on the player
Overall I found it difficult to fault this ball. I would go as far as to say it's probably the top indoor basketball out there. It seems to have a 5 star rating on amazon so it is likely a safe choice for the beginner or the pro, whether you're shooting hoops in your driveway or playing competitively it really is an all-rounder.