Basketball is a fascinating sport played by people in different areas of the world. And it has no age limit as people of all ages participate in the excitement of the game both indoors and outdoors. When i initially picked up interest in the game, I went out to get myself a basketball, but I ended up making the wrong choice because of lack of knowledge on how to choose the right basketball.
One thing that can have a significant influence on your game is the kind of basketball you use. After my first mistake, I always wondered about the factors to consider when the right one. So I started scouring through the internet till I was able to find reasonable information after a long research where I then put together a guide for all on how to choose a basketball.
Choosing a Basketball By Size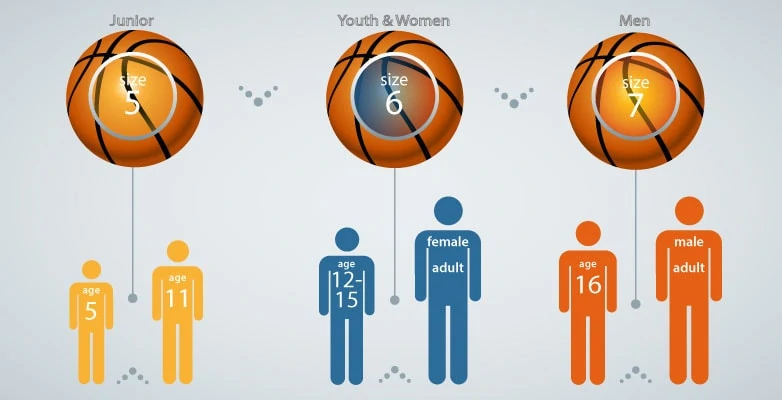 Image Source: biggamehunters.co.uk
Picking the size of a basketball is very simple if you have the knowledge of the right basketball for you.
Factors like who will be using the basketball and the kind of court it will be played on will help you determine the basketball size that is the best fit for you.
Choosing the right size of the basketball for either you or your child is best done when you put the age group into consideration.
That would be utterly wrong; you should know that there are different sizes of basketball suited for every age group.
Mini Basketball
First is the mini basketball which is a perfect recreational basketball, with a circumference of just 22 inches and weight of 8-12 oz, it helps promote proper handling and eye coordination.
Kids Basketball
The size 5 ball which is the smallest size is considered suitable for young children below the age of 10, preferable for children between the age of 4 to 9 years. It has a circumference of 27.5 inches and weight of 18-20 oz.
Their small hands can comfortably fit around this size of the ball, and it has a perfect weight that allows for easy ball control. Although if you have a child who is under 11 but has a larger than average hand span of children his age, then you can opt for a slightly bigger ball.
Transition Basketball
For children aged 11 and above, this is the intermediate size basketball and it is preferable for children between the age of 11-15 years, the size 6 ball is the correct basketball size for them.
This size of ball measures 28.5 inches in circumference and weighs 20 oz. This ball is used in competitions for young adult males and females in high school, college and even in some professional games.
It is a perfect transition ball for both young male and female teens who are gradually becoming adults.
Official Basketball Size
Finally the size 7 ball, which is the official basketball size with 29.5 inches in circumference and a weight of 22 oz which is the legal National Basketball Association (NBA) basketball size and weight. It is also used in Federation of International Basketball Leagues.
This ball size is used by professionals or semi-professionals at a different level from the age of 16 years upwards.
Basketball Materials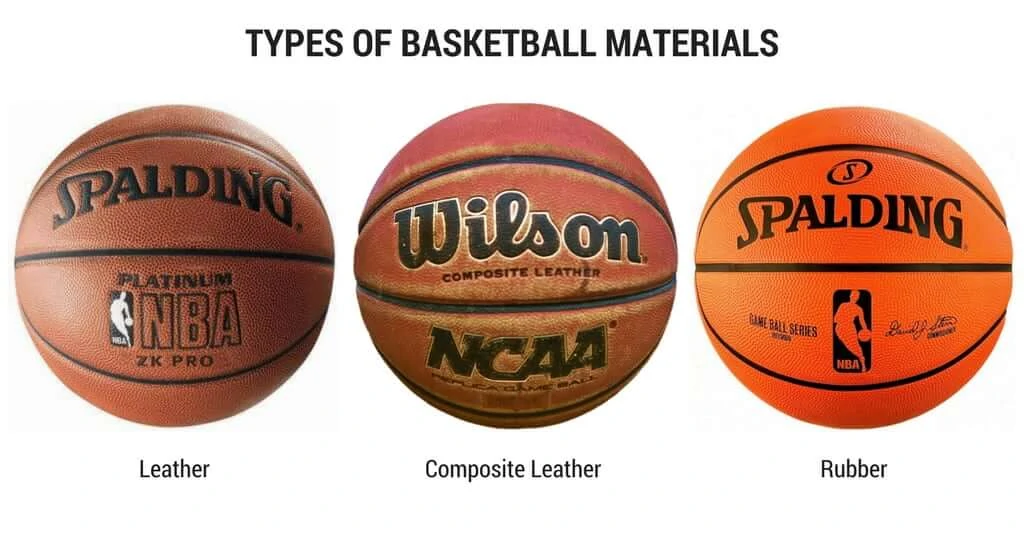 In choosing a basketball, you have to consider the kinds of courts it will be played on.
Basketball courts can be either indoor or Outdoor; the Outdoor basketball ground surfaces are usually rough compared to that of indoor courts which are quite smooth and less abrasive.
Using the wrong basketball for each court can affect the general play of the game, it can make bouncing very awkward and can lead to fast wear/damage of the basketball.
Basketballs come in three primary materials which are suitable for either indoor or outdoor basketball courts.
Leather Basketball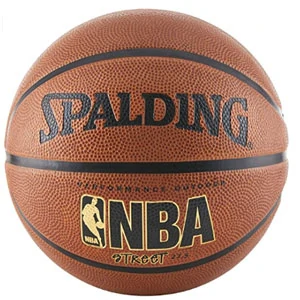 Basketballs made from leather are good for indoor games. Indoor courts are usually made of wooden floors which are best for leather basketballs, it makes them last longer and also provides a better grip even when the player is sweating.
Professional basketball leagues make use of this kind of basketball as they are made from genuine leather and give the softest and most comfortable feel.
You should avoid using leather balls in outdoor courts because they are usually made of concrete or asphalt which can ruin leather materials and reduce their durability. And leather basketballs are generally the most expensive of all types.
Synthetic Basketball
Synthetic basketballs are made of composite leather and are produced synthetically to have the feel of leather. These kinds of basketball are designed for both outdoor and indoor courts. It is the most durable for use in outdoor courts because it doesn't wear out like that of the full leather.
And unlike leather basketballs, synthetic type balls don't require prolonged usage for it to break in and take control and grip better. When played strictly in indoor courts, synthetic basketballs are very durable and sometimes last much longer than leather balls when played on outdoor concrete courts.
The cost for synthetic type basketballs is generally in the middle. Between Leather which is the most expensive and rubber which is least expensive.
Rubber Basketballs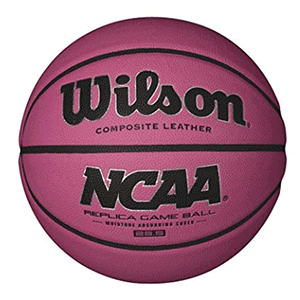 Rubber basketballs are designed for use in both indoors and outdoors court. Mostly used by beginners and is best for people who are on a budget.
It is the most affordable type of basketballs and can bounce well and it is the best fit for outdoor courts and for someone who doesn't want any particular kind of ball, who needs it just for recreation and not for any competition.
Rubber basketballs are the most durable for outdoor concrete or asphalt floor courts.
Choosing Basketball Based on Colour
The colour most known to everyone is the burnt orange but basketballs also come in many other colours. Basketballs that are made of nontraditional colours usually come in two different colour shades between the lines.
This makes it suitable for areas that are not adequately lit, the different colour shades provide contrast and make it more visible in areas of low light concentration. Colorful basketballs are great for fancy dribbling and basketball tricks like twirling the ball on your finger.
But basically, there are many colours of basketball out there, making the best choice of basketball colour for either kids or adults is quite easy. Basketball colours vary from that of kids, females, and males.
Kids basketball colours
Children have no particular preference in the colour of basketball they play as far as it is colourful and eye-catching they will jump at it. It's mainly fun for them and less of completion. Children basketball colours are numerous, from red to blue, white, yellow, orange etc
Attractive colours for females
Females equally have no specific preference in basketball colours but they like something attractive and welcoming. The colours are most times mixed with red and white, yellow and white, pink, green and lots more.They equally use the normal burnt orange basketball too, especially in competitions.
Professional colour for Pro-player
The primary color of basketball used by men is the traditional burnt orange basketball, the colour is signified for its easy visibility. It is utilised by men and in all professional leagues, NBA, FIBA and more. The burnt orange basketball colour is more matured and masculine.
Choosing a Basketball By Price
In choosing a basketball based on price. There are merely two basic options for you, its either you go for the branded basketball or you go for the replica.
The branded basketballs are usually much more expensive, even up to 6 times of the replica basketball which is budget-friendly. Notable basketball manufacturing brands like; Spalding which has been the official NBA game ball brand since 1983.
Molten which is mostly used in FIBA world championship events and very common in Asia and in many domestic leagues in different countries around the world. Other brands are Wilson, Rawlings, Nike, and Nivia which produces basketballs used in different basketball leagues in India.
These branded balls have their cost actually in that other. Then you can get a replica of these branded basketballs at many affordable rates and they are usually very durable and will entirely serve their purpose.
Frequently Asked Questions
Which basketball is better leather or rubber?
This depends on the court you are playing on. If you are playing on an indoor court you want to play with a leather ball. If you are playing on an outdoor court the concrete surface can damage the leather balls so a rubber or composite ball may be a better choice.
What size should a basketball be?
A 29.5 circumference is the standard ball size for adult male players over the age of twelve. This is the size of the standard NBA regulation balls. Women play with a smaller ball and children under the age of twelve play with balls of smaller size.
What material should I look for when buying basketball?
When you buy a basketball consider where you will use the ball before you choose the ball. Leather balls are the best and they are recommended for indoor play on wooden courts. Rubber and composite balls are recommended for outdoor play and concrete or asphalt courts.
Final Word
The steps or factors listed above will help you in making the best choice of basketball because it is fit for every category, for all genders and age groups, be it indoor or outdoor courts/ wooden floors or concrete floors and even if you are on a budget.