Are you looking for a professional level in-ground basketball goal at your home?
The revolutionary height adjustment with Mammoth pump feature will provide proper comfort to play. And the effortless process of height adjustment saves the time as well as stamina too. The spring flex rim adds a different kind of excitement to the players.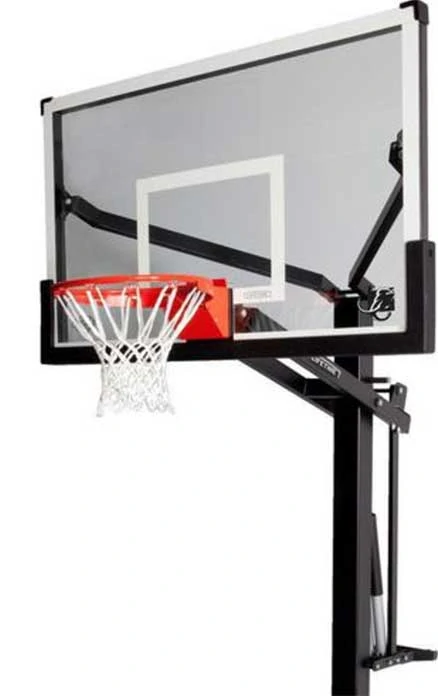 Product Specifications
Brand: Lifetime
Item Weight: 180 pounds
Size: 54 inch
Price: High end budget
Features at a Glance of Lifetime 90179
54″ Steel Framed Tempered Glass Backboard
One Piece 5 x 5 inche Pole
Height Adjustment from 7.5 – 10feet
Orange Spring-Flex Heavy Duty Rim,Size 18 inches
Instant and effortless adjustment system
Weather resistant finish
Flexiable and much confortable for dunking
Main Features: Reason Behind For Being Incredible
The overall features of this basketball hoop make this hoop just incredible and the features are:
Tempered Glass Backboard
For a professional looking it is very obvious to have glass as the backboard of basketball system. In this basketball hoop you will get the same, even the manufacturers of this basketball hoop have attached the strongest form of glass means tempered glass to ensure its lasting for a long period. The backboard comes 54 inches in size.
The Frame
If backboard decides the durability of basketball hoop then the life of backboard depends upon the frame. Regarding the matter, this basketball hoop has the frame in steel which is 54 inches in size. And to keep the frame in its place fixed the frame pad has been also provided.
The Fancy Rim
In this basketball hoop, one thing will draw your attention at the very first glance that is the fancy rim in orange color. The rim is about 18 inches. To add extra fun for the audience and to give enough comfort to the players during playing the hoop has spring flex feature. Produnk gold is another one with fancy rim, you alos check this one too.
Mammoth Height Adjustment
When adjustment feature comes in the form of pump nothing can be better than this. Despite having pump height adjustment system this hoop also offers the infinite incremental facility. You can make the adjustment from 7.5 feet to 10 feet. So, you could play in a comfort zone.
One Piece Down Pole
With one pole the risk of loosening the connection decrease. In this basketball hoop, the whole backboard system settles down with only one piece of the pole. The pole is square (5 into 5 inches) in size. And it is made of powder-coated steel comes in bolt form to make the joint stronger
Offset Extended Arms
Creating offset from backboard by expending the arms encourage the players to play more professionally. And in this basketball system, you are going to have 35 inches offset.
What We Love
Strongest glass as backboard
Steel frame of backboard with pad
List Effortless height adjustment
Heavy-duty rim in fancy design
Effortless height adjustment
Graphic design with fade resistant
Lessening risk of being disjointed as it has one-piece pole
What Would Make the Hoop Better
The glass of the backboard is not thick enough
It comes in an unsuitable size
Frequently asked questions: for more queries
Is there any padding set for rim like the backboard frame pad?
No, the pad comes only for the backboard frame. If you need, you can buy them in extra.
What is the size of the hole to install the basketball hoop?
To install this hoop by anchor system you have to have a hole of 24 inches deep and 18 inches wide.
Who can make the best use of this size (54 inches) of basketball system?
To train the beginners who are taller than the regular height according to their age.
Wrapping Up
For the younger players who need to practice more and more, they can start their journey with this basketball hoop. This hoop comes in such a size which will not go with everyone. But the beginners who face trouble for their fast growing up height this hoop will complement their up growing height. So, if you are such a kind of parent or coach get this basketball system and let them play comfortably. For better comparison you may alos check lifetime 1084 and Goalrilla GS54 hoop reviews.