We're going to sound like trainspotters, but bear with us. If you're a die-hard fan of all things Nike and have been following their basketball story from the 90s, you've probably heard of the legendary Nike Air Shake NDestrukt, made famous by Dennis Rodman when he played for the Chicago Bulls. There is now a 21st century equivalent of that, and it's called the Nike Zoom Hyperrev 2016.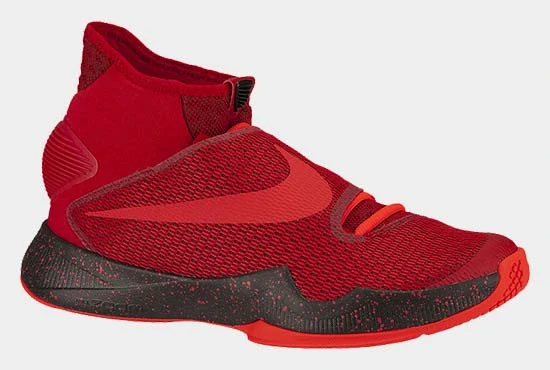 Look
First released in 2013, the Hyperrev series boasts silhouettes like no other – none of them look anything like their precursors. This particular model has a unique forefoot strap that holds down the mesh, with a neoprene slip-on construction that ensures a solid fit with additional support around the ankle.
While we like design, its rather controversial so make sure you have a good look at it first before buying.There are those that love the overall look and feel of the Hyperrev 2016, while others don't think it's great. For some, the slip-on construction doesn't make sense, with people complaining they can't get the shoe on – almost like Cinderella's ugly sisters with the glass slipper.
The opinions were very much split; there were a few folk who swooned (or swooshed) at the sight of them and others were left thinking that Nike had finally lost the plot.
We have taken everything from the design and construction of the shoe to the fit, support and cushioning into account to bring you an honest, unbiased opinion. We have never, and will never, judge a book by its cover – or a shoe by its leather – so let's take a closer look.
Traction
Everyone knows how important the traction is when it comes to basketball shoes, and this is where this shoes really delivers. The multi-directional diamond grip pattern provides excellent traction on most surfaces, both indoors and outside, while the rubber on the outsoles isn't too hard or too soft, ensuring a solid grip.
Having said this, it's probably a good idea to use them indoors, as they might not handle the wear and tear of a rougher surface. The Hyperrev 2016 is a great shoe with really good traction and Nike has done their homework on this one.
Cushion
When it comes to cushioning, you know Nike's on point with their Zoom technology. While there's no arguing how good the cushioning is – and no one's complaining – a lot of people are wondering how a shoe that is so well cushioned retails for less than a signature sneaker. Fans of Nike basketball shoes for big men even go so far as to compare it to the LeBron 12's heel setup. All we can say is:
Dear Nike, please make sure all your Zoom based shoes are made this way, they're responsive, give you stability and excellent court feel. Besides nike zoom hyperrev check our another post – Adidas Dame 4 performance review.
Materials
This is where opinions differ as well. The Hyperrev 2016 has a full-length mesh inner sleeve, fitting as snug as a sock, which works for some people, i.e. me, while others don't like it at all. The Hyperrev line has always featured mesh uppers and there seems to be a new material added with each new model.
For example, the OG model was a mesh upper with Fuse overlays, the 2015 Hyperrev had neoprene and there was a bit more Fuse for increased durability. The 2016 edition has all that plus a Hyperfuse outer shell, which again is good for durability but while I like it, there are those who don't. The shoe just feels too confined, which I get. For better comparison also, check our Nike Kyrie 3 & Nike Kyrie 5 reviews posts
Fit
When it came to the fit, I was like Cinderella while few of the others were more like her ugly sisters. As much as they squeezed, pushed and tried to twist their way into the sneaker, it just didn't go in, whereas I found it fitted perfectly – although I did have to try out a few ways of getting my foot in.
Because it's a true fit, the Hyperrev 2016 isn't going to work for players who wear any kind of over-sized ankle brace. However, before you write it off, it might be a good idea to try them without a brace and see if you still need one. You might find with the reinforced support a brace isn't necessary. But that's going to be up to you. For good fit best best quality basketball socks.
Support
The Zoom Hyperrev 2016 is built with support in mind. The way the diamond-patterned grip is used on the shoe gives you peace of mind as you move around on the court and the outrigger on the lateral sides provides the correct stance and stability. While the upper materials don't necessarily offer additional support, the lacing system definitely does and in terms of how it plays, for me, it's a low-top, which is ideal, but again, if you wear an ankle brace you're not going to feel confident.
Overall
If we were judging the Hyperrev 2016 purely on value for money it would already score top points with us, but the fact that it is so well-priced and a really best shoe means there's not much we can find fault with.
We're not sure how or why Nike has managed to release a shoe that outperforms some of the more expensive signature models at such a competitive price, but like we said we're not complaining. The 2016 edition of the Hyperrev pretty much does everything well and has one of the best cushioning setups we've seen, in fact, I'd go so far as to say it's one of the best on the market.
If I had to really nitpick I could say the lockdown could be a little better at the heel, but it's not a major concern, and it's definitely not a dealbreaker. Also, if you have a wide foot or consider yourself to be bigger than average, you are going to struggle to get it on, even with some fancy footwork. It's a good idea to try a pair on in a store first before you decide to buy it.
Players who prefer wearing an ankle brace might want to choose something else because there isn't a lot of upper support, but if you play fast, change direction often and need good impact cushioning with proper traction, you will appreciate this shoe from its performance right down to the price.
What We Like Most:
Designwise a really great looking shoe
Excellent traction both indoors and outside
Cushioning gives you excellent stability
Fitting is as snug as a sock
The diamond-patterned grip gives you peace of mind as you move around on the court
What We Dislike:
Probably better to use them indoors, as they might not handle the wear and tear of a rougher surface
For some people the shoe might feel too confined
If you wear a ankle brace this shoe might not fit well
Excellent!
I'm not a shoe designer, not by a longshot, but it's safe to say Nike is onto a winner with the Zoom Hyperrev 2016. They've gone back to basics with this one and it's probably one of their best decisions to date. If they can use this cushion setup and traction on future models, it'll be a Nike world and we'll all be wearing Nike shoes again.