Silverback SB54 and SB60 in ground basketball system comes with the option of being portable means double advantage in single hoop. With its bolts and anchor mounting mechanism the whole system can be moved any where. With this features you may protect your basketball system by shifting it in a secure environment in case of need. Its tempered glass backboard gives a professional looking. The orange colour fancy rim attracts the audience from the gallery. So, if you are looking for a rim with all least features this one should be first priority.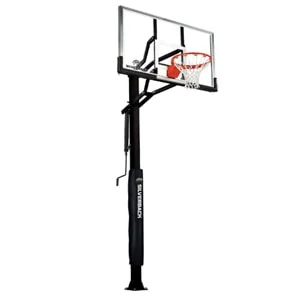 Product Specifications
Brand: Silverback
Item Weight: 203 pounds
Shipping Weight: 204 pounds
Price: High end (over $500)
Size: 54 and 60 inches
Features at a Glance
Tempered glass reinforced backboard come ith two size 54 and 60 inches
Pro-style orange color breakaway rim
Powder-coated steel pole
Height adjusts from 7.5 to 10 feet
Backboard pad included
Concrete anchor system
Main Features: For Being The Great Choice
Great choice comes with great features. This basketball system has introduced most updated mechanisms and they are:
Backboard
For any basketball hoop backboard needs to be very strong. With this hoop you are going to have the toughest backboard as it comes in tempered glass. And the glass is covered by the backboard frame including the pad to keep the glass fixed in its place. Being in the size of 54 and 60 inches this backboard is stable enough to face any kind of tough matches. You may also check Goalrilla FT Series hoops reviews.
Gymnasium style goal
A gymnasium style goal certainly can ensure a competitive match. This basketball hoop have introduced premier basketball goal which is very rear in the world of basketball systems. This goal have especial facilities which have made it as gymnasium style.
Flexiable Rim
For this hoop most updated feature is flexible rim. This basketball hoop has a breakaway rim with pro-style looking. And when the players will hang over the rim a pressure will be created on the rim. And under pressure the rim flexes and this is one of the best part of this super rim.
Steel Pole
Steel's another name is strength when pole comes in steel materials nothing can be more secure than this. To take the safety level one step ahead this pole sections have brought powder coated steel.
Height Adjustability
With the help of steel actuator the height can be adjusted from 7.5 feet to 10 feet. This mechanism provides safety of by tightening the pole sections of properly. Based on your interest also check our Ryval C660 in-ground hoops review.
Anchor System
Anchor System is a kind of process by which the whole basketball hoop get installed with the concrete. Including anchor system in this hoop you will also have anchor mounting which will make the stability long. Including all these facilities this basketball system also offers the advantage of portable. So, you can play with your favourite system whenever you want.
Service Time
After having all the features if you face any problem with the system you have the option to return the basketball hoop. But this offer will be valid only for limited years. After this limited years all responsibility of the hoop will be only yours.
What We Love
For height adjustment actuator is used
It gives the advantage of portability
Anchor System with mounting facilities
This hoop contains fancy rim with pro style looking
Steel pole with powder coating
Tightest joints of pole sections
Backboard pad for extra safety
What Would Make the Hoop Better
This basketball system does not not have rust protection materials
For more security the backboard should be more thick
Frequently asked questions: for more queries
What are the elements of installation come along with the basketball hoop
All the elements of installation like the anchor for the base, anchor plate, rebar, j bolts and nuts (to unbolt in need) will come along.
Is the warranty offer also available for the backboard pad?
Certainly, in the warranty offer the whole system is included (only for limited time).
Wrapping Up
In this hoop all the features updated features have been introduced. And for players comfort as well as regarding the safety of the basketball hoop portable facilities have been attached. So, you can enjoy the match in your comfort zone whenever you prefer.
If you are looking for more in-ground system in professional look we would to suggest you the Lifetime 90179 mammoth backboard hoop.