You don't need a standard basketball court to enjoy the sport. There's a wide range of basketball hoops available in the market today yet outdoor basketball hoops appear to be the most popular. The best in-ground basketball hoops offer more stability, allow for better playing flexibility, and are generally stronger compared to portable ones.
In light of this, they are very popular with many buyers. Well, in case you are in the market for a brand new inground hoop or perhaps you just want to replace the one you already have, stick around and read this guide, it will indeed be quite helpful.
Our Top Picks For Inground Basketball Hoops
IMAGE
PRODUCT
DETAILS

Best Overall

Best Overall

Backboard size:

60″

Height Dimensions:

147″

Support Pole:

4 x 4″

Check Price

Best Under $500

Best Under $500

Backboard size:

54″

Backboard Material:

Makrolon polycarbonate

Height Adjustablity

7.5′ to 10′

Check Price

Best for Beginner

Best for Beginner

Backboard size:

60″

Backboard Material:

Tempered glass

Height Adjustablity

7.5′ to 10′

Check Price

Best High-End

Best High-End

Backboard size:

60″

Heights:

7.5 to 10 feet

Support Pole:

6 x 6″

Check Price
Best In-Ground Basketball Hoops – Reviews & Comparison for Every Budget:
With all the factors above considered, it all comes down to which ones of the many available options you will go for. Coming up with this top 12 list of in-ground basketball hoops was not easy but then again, if you take your time you can really narrow down the options.
Just to give you some concrete suggestions of which hoops to go for…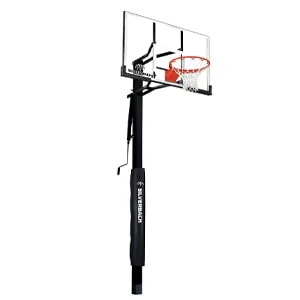 The Silverback In-Ground Basketball System is also a premier quality basketball goal that offers the high performance and high-end durability of a gymnasium style goal. The hoop comes fully fitted with anchor mounting capabilities to deliver outstanding strength and support.
The poles are also strong and the backboard is made of tempered glass to deliver the perfect bounce for the ball. The powder coated steel as well as the simple height adjustment system make it the perfect choice, especially when you consider the cheap price.
What We Like
Relatively affordable compared to other major hoops with almost the same features
Offers outstanding durability on the poles and the rims
List Easy to install and get started
What We Don't Like
Some users have complained that the hoop vibrates slightly when in use
Verdict: For people who are on a budget and are still looking for a high-end hoop with great features, the silverback in-ground basketball system will not disappoint.
Read Full Review of Silverback SB60 in-ground hoop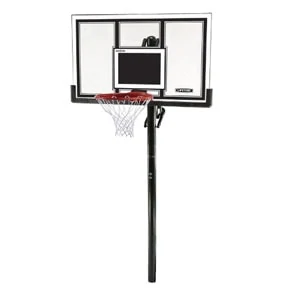 One of the most distinguishing features that the Lifetime 71525 System has is its unique 56-inch shatterproof backboard. This is a vital feature that drastically improves the user experience. But that is not all! The hoop also features a power lift height adjustment system as well as a sturdy makrolon polycarbonate backboard.
The Lifetime 71525 is generally billed as a durable in ground hoop ideal for a rugged and high intensity play. The hoop is also covered with an all-weather nylon net on the rims and has double compression springs for the perfect dunk.
What We Like
Well-designed rims with advanced technology for easy and high-quality dunking
Incredibly easy height adjustment system
Top of the chart backboard system that's usually available on top brands
What We Don't Like
Some users have complained that the hoop is very difficult to assemble
Verdict: Although you will need to be quite the handyman to get this hoop up and running, it's still a great choice due to the quality features.
Read Full Review of Lifetime 71525 Hoop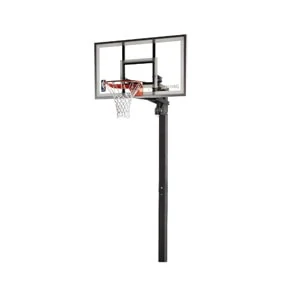 The Spalding NBA In-ground basketball system is a relatively cheaper choice. It is a low-end hoop that still offers great capabilities. The hoop comes with a 54-inch aluminum trim glass backboard that is steel framed to ensure quality and durability. The hoop also has a Pro-ImageTM breakaway rim that will offer just about the right strength for recreational basketball.
What We Like
Simple design to ensure a simple set up and the strength of the entire system
Features a unique height adjustment system with lift technology for the perfect ease
Can easily be afforded since it's very cheap
What We Don't Like
Some users say that it can be labor intensive during the installation process
Verdict: For just under $400, you won't find another best in-ground basketball hoop that offers the same features as the spalding NBA in-ground basketball system. It's truly worth everything you spend on it and more. Read Full Review of Spalding 88454g in-ground Basketball Syastem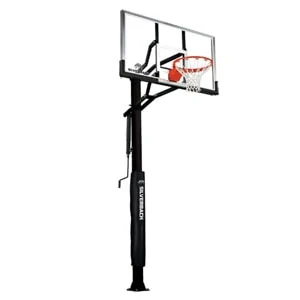 The Silverback 54" In-Ground Basketball System comes in to close our top 5 list and make no mistake, it's a top brand too. The hoop features a 54" backboard designed with advanced tempered glass to ensure the best bounce on the ball.
The hoop also features a pro style breakaway rim for strength as well as a backboard and pole pad that offer additional protection during layup. The steel pole is powder coated and is easily set up on the ground before getting concrete reinforcement.
What We Like
The best strength you will get for a medium range hoop in the market
A bigger, high-quality backboard will add to the fun of playing using this hoop
Easy to maintain and resistant to wear and tear
What We Don't Like
The backboard is heavy and may need more than one hand to install
Verdict: In the category of medium range hoops, this one is indeed up there among the most recommended options. And why not, it has so many features to offer. Read Full Review of Silverback SB54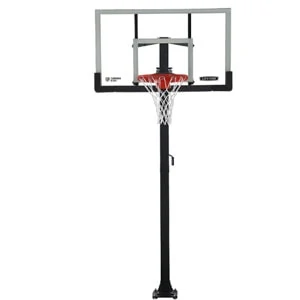 Are you a basketball enthusiast who is constantly on the go? If so, your answer lies in a hoop that is portable and easier to install. This is one and perhaps the most outstanding of those hoops.
Its rim on which the nets are attached is very slim. It enables you to derive higher performance and rigorous maneuvers as well. It has projections on which the net hook and wires are attached.
The pole on which all the other parts and components are attached is made of steel.
It is two-piece, square in shape, and is shielded with powder-coated and weather resistant finish.
This hoop utilizes the bolt-down anchoring mechanism. This allows for precision leveling in the sense that it can adjust automatically to keep the playing level flat. This seals loopholes for any distortions. Lifetime brand is very popular for portable hoop, to know more details about portable basketbakll hoop for driveway read this post.
What We Like
Sharpens your slamming skills courtesy of the double compression springs
Can withstand the harshest external environmental elements
Exudes great aesthetics also
Can be adjusted to 'grow' with you
What We Don't Like
Not for competitive tournaments
Verdict: Satisfy your craving for basketball wherever and whenever you might want with this best inground basketball goal. Its portable nature, ease of assembly and disassembly and convenience are irresistible, to say the least.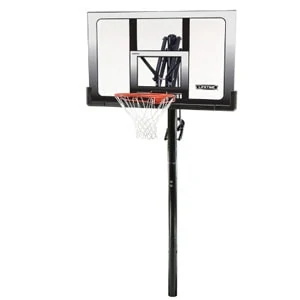 The beauty of basketball is the ability to be played just about anywhere. If you plan to play it in your residential neighborhood, this hoop could be yours for the taking.
The pole which is the main part of the hoop is coated with powder. It also features the Ultraviolet projection. In light of these two, the pole lasts longer and is less susceptible to damages.
Its backboard does not shatter even under intense pressure or impact. This is because it is manufactured using the High-Density Polyethylene material. It also measures 52 inches and is thus large enough.
To safeguard you from unwanted movements and fidgeting, the hoop comprises a friction-weld joint. This comes in the form of three round pieces that measure 3.5 inches each. You may thus rest assured of your safety as well.
What We Like
Lighter than most similar poles (weighs only 84 pounds/38.1 kg)
Accommodates heights that range from 7.5 feet to 10 feet
Exudes great durability and superior strength
Resistant to discoloration and rusting
Easier to adjust and operate as a whole
What We Don't Like
Quite large and hence needs more storage space
Verdict: As you may well have noted, this in-ground basketball hoop has what that may be necessary to enjoy the game in your residential neighborhood. Its compact nature and ease of use are two particularly outstanding traits.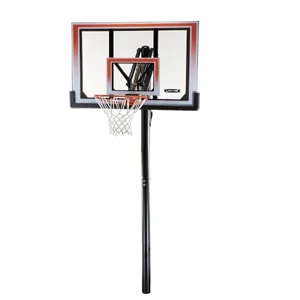 Other than competitive and professional purposes, the game of basketball can also be played for everyday leisure. This requires a special kind of hoop such as this one under review.
Both the pole and the frame of the hoop are made of steel material. They are further coated with the rust-resistant finish to shield them from external agents of wear and tear.
Its rim is pretty reliable and able to serve you well under the most extreme of circumstances. This is because of its heavy-duty and classically styled construction. You may count on it not to disappoint you at all.
Lastly, this feature is intended to provide you the ability to easily adjust the hoop. It makes that possible by reason of enabling you to use just one hand for the role.
What We Like
Made of the durable high-impact polyethylene material
Works well in all weather conditions
Withstands shatters and breakages with ease
What We Don't Like
Not so convenient to move around
Verdict: Enjoy your basketball games leisurely by opting for this hoop. As you can see, it has all the trappings that are necessary and sufficient for the said feat to be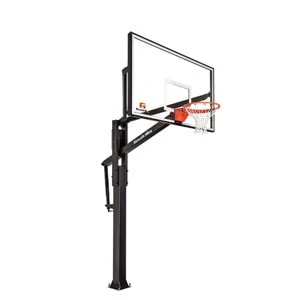 Are you searching for a basketball hoop which you may use for competitive games? If I heard you answer yes, you might want to pay more attention to this mini-review. That is because this particular hop is designed with such a need in mind.

Unlike most other hoops, the backboard of this particular hoop is made of clear View tempered glass. As such, it exudes great aesthetics indeed. These include a pro-style look and great rebound performance.
Its frame is anodized with a black color. This creates a professional and arena style appearance. The frame is also comparatively stronger than most other ordinary varieties and is hence more reliable.
To guarantee you maximum stability, the pole comes along with the in-ground anchor system. This is cured in concrete material. It also provides you the freedom to unbolt and move the goal.
What We Like
Has a dual extension arm for added stability
Creates a full surface area contact
Allows you to unbolt and shift the goal
Can adjust height accordingly
Withstands strong impacts of competitive plays
What We Don't Like
Beyond the affordable range of many deserving users
Requires great manpower to fix and handle
Verdict: Well, place your bet on no other hoop apart from this. As you can clearly see, it has all that may be necessary for you to play competitive games with ease.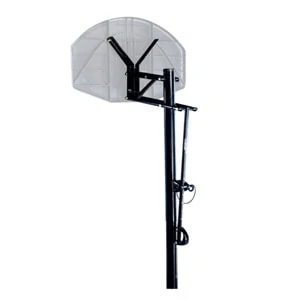 Perhaps no other part of the typical home offers a conducive environment for play the game of basketball as the backyard. A hoop that is exclusively intended for the environment is therefore by all means called for.
In its entirety, the pole comprises three pieces which are roundly-shapes and measure 3.5 inches each. They offer firm support to all the other components of the hoop. They also make it possible for you to perform rigorous maneuvers. It comes along with a ground sleeve.
This is basically an extra attachment with which you can attach and secure the pole firmly onto the ground. It expedites the process of assembly and removal as well.
By use of this feature, you can alter the height of the pole from around 7.5 feet to 10 feet. It generally has some 6-inch increments in between these two limits. It can hence accommodate several cadres of players.
What We Like
Takes up less space than most other hoops
Accommodates different heights and ages
Finished with a durable and powder-coated paint
Quicker and less tiresome to install
What We Don't Like
Verdict: Bring your backyard to life by fixing this basketball hoop. You will also enjoy the benefit of maximum enjoyment of the game. You will have the rare privilege of not having to travel far for your games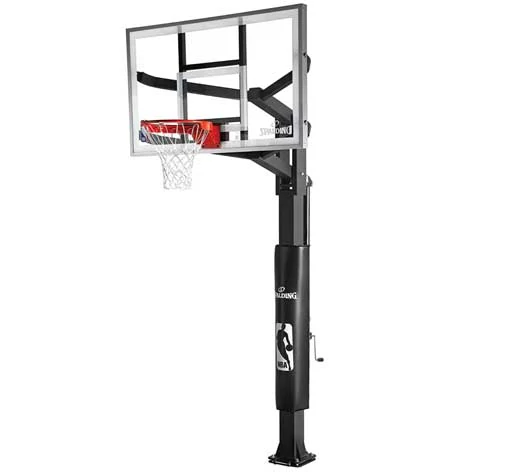 Sometimes you may want to try out your skill with those around you. This is where a hoop that is designed for friendlies and practices comes in handy. This is an example of such hoops.
Its backboard, which is by far its most prominent feature, measures a whopping 72 inches thickness. It provides great strength and support that is needed for excellent performance. You will find it handy for rigorous games.
At its edges are the Aluminum trim decorations. These are put in place purposely to enhance the visual appeal of the basketball hoop.
You will hence derive the benefit of added aesthetic as well.
With this feature, you will be able to alter the heights of the basketball from 7 feet to 10 feet. This way, you will be able to accommodate players of varying heights.
What We Like
Enables professional performance levels
Generally speaking easier to assemble
Confers maximum stability to prevent you from tipping off
Has a comfortable clearance from the pole (4 feet)
Lighter than most high performing hoops
What We Don't Like
Lasts shorter when compared to similar poles
Demands frequent repairs
Verdict: There you have it! Go for this hoop for your regular friendlies and practices. It indeed has all that may be necessary for these two feats to be achieved with ease.
11. Pro Dunk Gold Driveway In-Ground Basketball Goal Reviews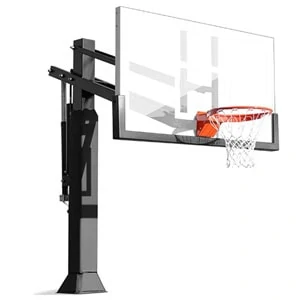 The Pro Dunk Gold is a high-end, high quality, and high performance in-ground basketball hoop that features a wide range of capabilities. The hoop comes with a 60-inch high-performance and a highly durable glass backboard. The backboard can also be easily adjusted down to an industry low 5 feet that allows even people who aren't that tall to enjoy what it has to offer.
The hoops also feature a 6" by 6" pole that is thick enough to offer strength and stability. The Pro Dunk Gold is expensive but it's worth it.
Besides, you will also get a complete padding of the backboard, the pole and the gusset to protect it against the weather elements.
What We Like
High performance hoop with amazing features
Offers rock solid strength for safety and excitement every time you play
It's covered to prevent quick wear and tear
The hoop also comes with a rust armor package to guarantee a long lasting service
What We Don't Like
The hoop is a bit expensive and it would be ideal for people who aren't afraid of spending a bit more money
Verdict: Price aside, the Pro Dunk Gold is perhaps one of the top in ground basketball system that you can find in the in-ground hoops category.
Read Full Review of Pro Dunk Gold In-ground Basketball Hoop
12. Hercules Platinum Fixed Height In-ground Basketball Hoop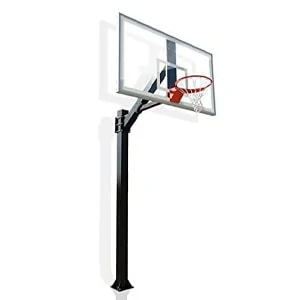 In case you are intent on sharpening your basketball skills, you need a tough and specially designed hoop. This one is intended to meet the need for regular practicing. It thus fits the bill well.
You will enjoy the benefit of anchoring this hoop firmly in the ground. This is courtesy of a 72-inch high-performance in-ground backboard. This will also enable you to perform rigorous moves and maneuvers with ease.
The pole that anchors into the ground is one piece. It has a thickness of 7 gauge and measures 6 square inches at the base. This arrangement provides the unparalleled stability that is essential for long-term reliability.
Its backboard is made of the tempered glass that measures ½ inches in thickness. For this reason, it can withstand huge impacts and serve competitive tournaments pretty well. This is not to mention that it lasts longer.
What We Like
Backed by a lifetime warranty which covers hanging and dunking also
Its pole is safer and able to withstand high impacts
Delivers unparalleled performance and strength
Much better than the competitors at exceeding expectations
Has special warranty that guards against corrosion
What We Don't Like
Quite weighty (weighs 425 pounds/192.8 kg)
Verdict: For all of your regular practicing needs, this indeed is the hoop to look up to. You just cannot overlook its splendid characteristics and features, can you? It will not let you down also at all!
How to Buy a Quality In-Ground Basketball System
Now that you are aware of some of the features and the categories that in-ground hoops come in, it's now important to look at how you finally make the purchase.
Before moving on, it's important to emphasize that buying a basketball hoop, especially an in-ground one is more than just stepping into a favorite store of choice and making the purchase. It has to be a process and here are a few steps that you should take:
The first thing is to do some window shopping. You can do this online or offline. The aim here is to simply look at available products in the market, how much they cost and what they offer. This will help you pick the right hoop.
Secondly you must narrow down your choices. Once you've looked at various options online and offline, you need to go ahead and settle for at least 3 products. There are many in-ground basketball hoops and you can't buy all of them. What you are looking for here is to shortlist the available hoops based on your budget, your playing needs, and the kind of preferences you have.
Once you have shortlisted 3 options, try and now look at which one offers the best value for your money. Note that this should be value for money and not low cost. It would be a big mistake just going for the cheapest hoop. You should make sure that you are buying an top in-ground basketball hoops that will last long and one that offers more features for the money you'll spent.
In-Ground Basketball Hoops at a Glance (Video)
Best In-Ground Basketball Hoops – The Ultimate Buying Guide
The idea that you can step into any store and get yourself thebest hoop is not really practical. There're simply so many things you need to look for before settling on a hoop of choice. After all, to get full value for your money, you must be in a position to assess each available in ground hoop and see if it meets the specifications you have in mind or at least those that the manufacturer says it does.
Pre-Purchase Considerations
The in-ground basketball hoops come with supporting poles that are dug into the ground and supported by concrete. This gives them better stability and strength compared to the portable hoops. Ideally, the in-ground hoops are designed for people who want to play basketball professionally.
They are also ideal for schools and other institutions. Because of the strength that the hoops offer and the stability, the cost will be relatively higher. Nonetheless, they will be full value for your money. The in-ground hoops offer the best possible playing experience.
Before moving on the actual guide that will ultimately help you pick the best quality hoop, there're some pre-purchase tips that you can benefit from.
Here they are:
Space – You should make sure that there's enough space for the hoop and for the people who will be playing basketball with it. Although ideally a basketball hoop won't need a lot of space in order to offer an enjoyable experience for each player, at least make sure you have enough space to cover half a normal court. This will make it easier for you to unleash the full capabilities of the in ground hoop that you'll decide to go for.
What's Your Budget – Because of the strength and durability offered by many in ground basketball hoops, you may realize that some brands tend to be quite expensive. For someone who just wants a hoop for the occasional basketball game once in a while, you can't afford to spend so much money on the hoop. The great thing is that you really don't have to.
There're so many quality in ground hoops designed for the average player and they are quite cheap. These are the hoops that you should be going for, especially if you are tight on cash. If money isn't a problem for you, perhaps getting a full professional experience won't be a bad idea. There're high-end in-ground hoops that feature an amazing backboard material and outstanding strength. Try them out and they will truly be worth it.
Know What You Are Buying – While many people know what a basketball hoop is, very few really get into the technical details that actually make such hoops work. If you are going to spend money buying a basketball hoop, it's only fair if indeed you understand the technical aspects of each hoop.
These're the things that make the difference between a quality hoop and a poor one. Going into the market without knowing this can really blindside you. In light of this, take your time and read about hoops and see some of the technical details that truly matter and then work to ensure that the hoop you buy has all these features.
Key Features of Best In-Ground Basketball Hoops
Basketball hoops whether in ground or portable have some very unique features. As a buyer, you should know these features and how they contribute to the overall quality of the hoop you are about to buy.
Well, here are some of the key features each in-ground basketball hoop should have:
Backboard
The backboard is an essential part of any basketball hoop and it can affect the playing experience of each person playing on the court. The backboard basically determines how the ball is going to bounce off and on the board. For people who are not good atdunking, the layup is always a great choice but then again, you can never do a good layup without a quality backboard.
The materials that are used to make backboards can vary. Polycarbonate materials are used in low-end backboards for low-end in ground basketball hoops while the most advanced hoops will usually feature tempered glass backboards that are relatively better in terms of functionality and longevity.
Rim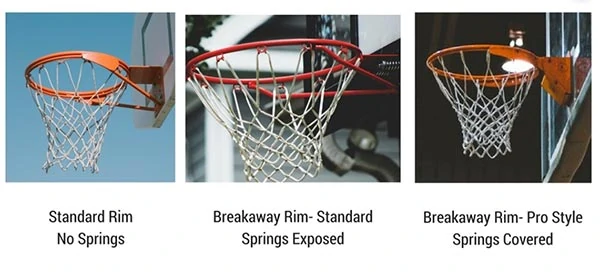 The rims are also very important. The rim is basically the round ring at the top of the hoop where the ball goes in. Just like the backboards, rims are also designed using a wide range of materials. The strength of the rim will be determined by the nature of the in-ground hoop you are buying.
If you are buying a high-end professional hoop, you will realize that the hoops tend to be strong and highly durable. They are also covered to prevent any possibility of rust. As for low-end basketball hoops that are usually cheaper, you will realize that the hoops are uncovered and not so strong.
Poles And The Support System
An integral part of the in-ground hoops is the poles and the support system. The most important thing for these hoops is to make sure that they stick in the ground strongly so that they are not risky for the people who are playing. While generally most in-ground basketball hoops will feature steel poles, there're some additional design features that are made on the high-end poles for additional strength and support. Of course, such poles will cost more but they will offer you full value for money once you buy them.
Height Adjustment System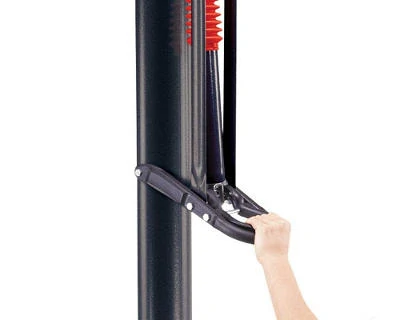 The majority of people who will go to the store to buy a basketball hoop will be amateur players who may not have the height of pro players. Since most of these hoops are designed using standard specs, they will be a bit high for most people. This is the main reason why hoops available in retail stores have aheight adjustment mechanism.
The height adjustment is designed to help you customize the hoop based on the height you feel comfortable. As for people who have kids, this is a very important feature. As a rule of thumb, make sure the height adjustment mechanism is simple enough for you.
Legal Restrictions
Not every city or local authority may allow you to fix and install this equipment in your home or backyard. This is because they may put in place certain restrictive measures. It is in your interest to find out whether your city or local authority has these restrictions or not. You should thereafter proceed to conform to these standards.
You do not want to ruffle feathers or get into unnecessary problems with the prevailing government or legal jurisdictions, do you? Be sure to pay a visit to the local government bodies concerned with such issues. Thereafter, carry out the necessary paperwork that is intended to actualize those requirements.
Check for Underground Utility Lines
The typical city has numerous lines traversing beneath the ground level. These include fiber optics, water pipes, gas pipes, sewage, and so much more. Since installing such poles entails some boring of holes, the likelihood of interfering with these subterranean infrastructures is high.
However, you do not want to do so. You might land in trouble unnecessarily with the local authorities. This is not to mention untold damages and financial costs.
For these reasons, you should check out for these issues before deciding to take this step. Pay a visit to the city surveyor to determine whether your area of residence has these issues first and foremost.
The Dimension of the Court
Basketballs can be played in courts of varying sizes and shapes. The size of the court you choose largely depends on your unique tastes and preferences. Regardless of the size of the court, you have to see to it that it fits nicely in the amount of space you have at your disposal.
Bring in a quantity surveyor to demarcate the court area for you. Let him advise you on the best way forward also.
Installation of the Support Pole
This perhaps is the most crucial of the entire installation process. This is because it is the support pole keeps all the other components of the basketball in check. Because of this, you do not want to gamble with this procedure at all. You just have to see to it that it is flawless.
To do this, find someone who is an expert at installing these poles. He need not necessarily be a technician. He, however, must possess some experience at least. Let him do the task to guarantee you the robust outcomes you definitely want. Do not forget to test the installation before use.
The Thickness of Support Pole
Other than the installation, the thickness of the support pole also matters. This is because there is a direct correlation between the thickness of the support pole and its overall reliability. Because of this, the support has to be as thick and broad as can be.
The precise measurement is not standard. It depends on the firmness or looseness of the soil, the intended speed of the game, as well as the frequency of the games. These have a bearing on the pace at which the poles may deteriorate and fall off. Bring an expert to help you out as well.
The Overhang of the Backboard
Lastly, the backboard also has to be given the necessary attention. It has to be fixed in such a way as to give appropriate clearance and at a comfortable height from the ground. These parameters are largely determined by the heights of the players as well as the nature of the tournaments concerned.
In case the basketball hoop is installed for competitive gaming, it has to satisfy the standards, rules, and regulations laid down by the National Basketball Association. It is only then that the competition might be credible and trustworthy. Once more bring in someone to help you out in this in case of any doubt.
Best In-Ground Hoops by Budget
In-ground basketball hoops are categorized into 3 major budget. As a buyer, you can either go for the high-end budget, the low-end budget and the middle-end budget. Each of these categories will have unique products that will have very unique features. However, the higher-end hoops are expensive and are designed to offer the full professional basketball playing experience.
Here is a full breakdown of these categories and what you can expect to find in each and every one of them:
Low-End Category (In-Gound Basketball Hoop Under $500)
The low-end budget is designed for the lower-end of the market. These are basically in-ground basketball hoops that you can buy as an amateur player, install easily on your property and start playing. While the low-end in-ground basketball hoop will lack the required features to offer you a professional feeling as you play, they are still good enough for the occasional game every now and then.
The low-end brands will also last quite some time if you are aware of the simple maintenance techniques needed.
As for the most recommended brand in this category, the Spalding 88351 In- Ground Basketball System and Lifetime 71525 Height Adjustable In Ground Basketball System will really do. It's one of the few options in this low-end section that will offer great value for money.
Medium Range Category (In-Ground Hoop Under $1000)
The medium range hoops are designed for the average player who's trying to make that transition to a pro. They are also ideal for institutions and schools that are offering basketball as a recreational activity to their employees or students. The advantage of medium range in-ground basketball hoops is that you can easily find a good hoop with a very good price. While for an amateur player the medium range hoop is not really needed, it's recommended.
If you have the money or perhaps you don't really mind digging in deeper to get a medium range hoop, then you have to do it. After all, the price difference between a low-end hoop and the medium-end hoop is not that big. Silverback In-Ground Basketball System with Tempered Glass Backboard is one of the most recommended products in this category.
However, if you need a better option with a bigger and better backboard, you won't go wrong with the Silverback SB-60 In-Ground Basketball System which has a 60-inch aluminum framed backboard. Besides, the hoop also comes at an average price and would be a great choice for anyone.
High-End In-Ground Basketball Hoop
The high-end category is for the professional players. The design of these products is so good and so advanced that when you are playing, you will be able to explore anything a professional basketball player can. So what does this really mean? Take this as an example.
When you are watching a live basketball game, it must be nice to sit there and watch these professionals fly over the air to dunk for 2 points. It's an exhilarating feeling and most of us consider the idea of dunking a very important personal achievement. The sad thing is that while you can still dunk on the low-end basketball hoops, you do it 3 or 4 times and there's a risk that the entire system may just come down.

But this is not a problem you will have to deal with if indeed you were to buy these high-end brands Lifetime Mammoth Height Adjustable In Ground Basketball System and Goalrilla GS In-Ground Basketball Systems with Tempered Glass Backboard. They are designed for this kind of activity and trust us, they will offer you an exciting and exhilarating experience. In addition to this, the top brands tend to also last long and are safer compared to the low-end and the medium range hoops. As for the most recommended product, we strongly recommend the Spalding Are na View In-Ground Basketball System. While it will cost more, the strength, usability, and the overall design will truly give the best experience.
Frequently Asked Questions
How much does it cost to put a basketball hoop in the ground?
The typical amount you will pay to have an in-ground basketball pole established is about 450 dollars. This amount is for professional installation. You can save money by doing the work for yourself, or by mounting the hoop on the end of your garage.
How long should concrete cure a basketball hoop?
Once the concrete has been poured there is a minimum of three days you need to wait to let the concrete completely cure before you begin to play on it.
Is 72 inch backboard too big for driveway?
This depends on the width and size of your driveways. If you have a large driveway then the 72" backboard is fine, but for smaller drives you will want to scale down to a 44" to 54" backboard.
Final Word
Well, there you have them! As you may see, the best in-ground basketball hoops reviews are great possessions indeed. They are great for general enjoyment, competitive sporting events, and friendly matches, among others. Because of these, you just cannot afford to overlook them.
It is against this backdrop that we urge you to make appropriate arrangements to acquire at least one of them soonest possible. In case you do not have any in mind, we suggest these two: Goalrilla FT Series in Ground Basketball Hoop and the Lifetime Crank Adjust In-Ground Basketball Tempered Glass Backboard.
These two can be adjusted. This allows them to 'grow' with you. This trait also makes it possible for them to fit just about every other kind of player. You are therefore more likely to derive greater returns and higher value for your money by opting for them.
We also ask you not to wait too long before arriving at the purchasing decision. This is because the prices of these items change every quite often. This is also not to mention that they may run out of stock in future. This indeed is the time to make that first step. We look forward to receiving your inquiry and acting on it soonest possible.